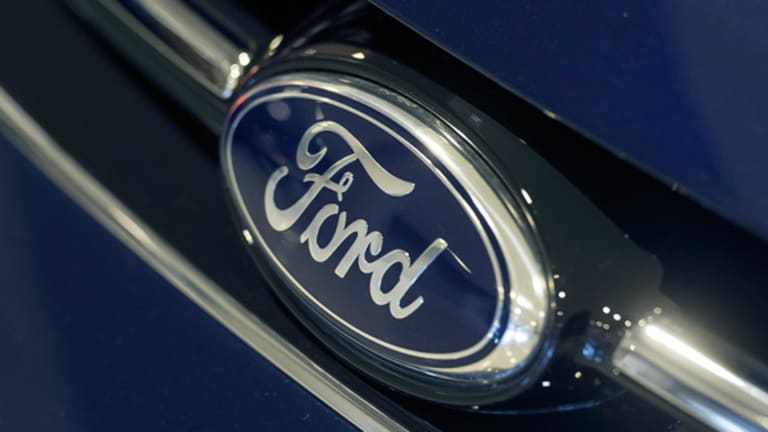 Note to Ford and GM: Tell Us Something - Anything - Good About Europe
Ford and GM pickup truck sales benefit from housing market gains, but Europe scares investors away.
Ford and GM pickup truck sales benefit from housing market gains, but Europe scares investors away.
DETROIT -- (
) -- Despite their immense success in restructuring, one in bankruptcy and one outside of it,
Ford
(F) - Get Report
and
GM
(GM) - Get Report
are still treated by investors as crippled companies, their shares hobbled by massive investments in Europe.
Although U.S. auto sales have been a bright spot in the economy throughout the year, Ford shares have fallen 7% year to date, closing Friday at $10.17. GM shares, which closed Friday at $24.59, are up 19% year to date but still well below their November 2010 IPO price of $33.
"People want to hold these stocks because the U.S housing market is constantly getting better," said Jefferies analyst Peter Nesvold, in an interview. "The leverage to that is pickup trucks, which have a disproportionate benefit to Ford and GM. But Europe is keeping these stocks back from breaking out."
Ford and GM are expected to lose about $1 billion each in Europe this year. "Both face the same problem: excess production capacity," Nesvold said. "This is an industry-wide problem in Europe, where overall capacity utilization is 75%. It's even more pronounced at Ford and GM, which are only at about 70% utilization. Europe needs to cut 20% to 30% of industry capacity, similar to what the U.S. domestic industry was facing in 2008."
In the U.S., however, restructuring involved negotiations with one labor union and one government. "The European auto industry must coordinate multiple sovereign governments with multiple unions, whereas the U.S. industry only had to negotiate with one government and one union," Nesvold said. "It's next to impossible to get everyone to move in the same direction.
He said GM is probably stuck until its labor contract opens in 2014, while Ford is hampered because it has a barrage of new product introductions scheduled over the next year and cannot risk sympathy strikes or public backlash against the brand.
Why are GM shares doing so much better this year than Ford shares? Nesvold said GM is benefiting from the scheduled 2013 introduction of its new pickup truck.
"The market perception is that GM will have a brand new truck just as the housing cycle takes off," he said. "That tips the balance." GM also has new or refreshed products in several automobile segments.
Ford, of course, could benefit from the 2013 Fusion, which is now being rolled out.
Ford reports earnings Oct. 30, while GM reports Oct. 31. Analysts surveyed by Thomson Reuters estimate earnings of 29 cents a share for Ford and 59 cents for GM. UBS analyst Colin Langan recently reduced his estimates to 29 cents for Ford and 58 cents for GM in order "to reflect the relative sales underperformance in the European Union.
"Pricing in the EU is tough as August incentives at some manufacturers reportedly reached up to 30% of gross price," Langan wrote in an Oct. 10 report. "Investors are familiar with the EU challenges and likely expect further second half deterioration. However, there is an increased urgency for the manufacturers to articulate their EU restructuring plans." According to media reports, GM is preparing to phase out the Opel plant in Bochum, Germany over the next several years.
"While we expect Ford will also close an EU plant, we think this announcement may come after Q3 earnings," Langan wrote.
Standard & Poor's analyzed the European market in a September report, and doesn't see any immediate promise.
"Competition has become fiercer than ever in the depressed European car market, and all manufacturers are struggling to preserve market share while considering how to cut excess production capacity," S&P said. "GM's Opel unit and Ford are among the losers in share so far: Each currently holds an 8% share of the EU passenger car market, down from some 10% back in 2008."
Among other manufacturers, those with the most exposure to southern Europe, including
Fiat
,
Peugeot
,
Renault
and the Japanese manufacturers, also experienced significant declines in the first half of 2012, the agency said. The only automakers doing well in Europe, are
Hyundai-
group, whose share has risen to 6% at the of June 2012 from 3.4 % in 2008, and
Volkswagen
, which "has been able to boost or maintain its market share in several European countries while maintaining a disciplined premium pricing strategy across the continent." Volkswagen market share in the EU passenger car market was 23.3% at the end of June, up from 20.6% in 2008.
"Our base-case outlook for full-year 2012 foresees no significant improvement in demand in the European market," S&P said. "We now expect the Western European market to decline roughly 6.5% to about 13.4 million vehicles in 2012, followed by potential anemic growth of about 0.4% next year. At the current pace of planned capacity reductions, we think it will take well into 2013, if not longer, to restore healthy supply and demand in the European mass market."
-- Written by Ted Reed in Charlotte, N.C.
>To contact the writer of this article, click here:
Ted Reed