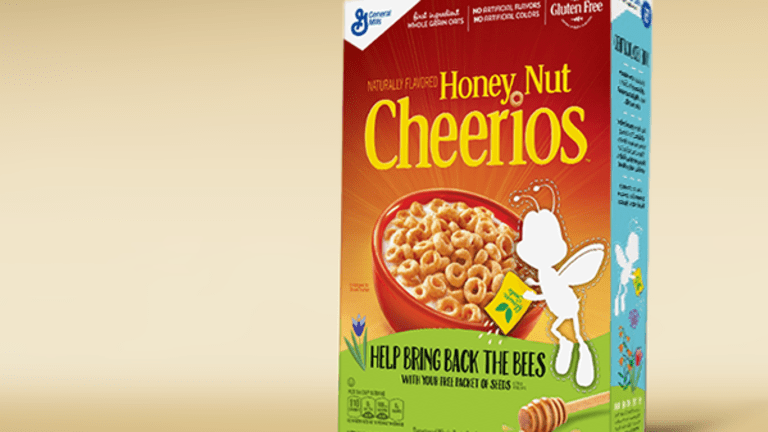 Could This Be Why General Mills Removed Its "Spokesbee" From Honey Nut Cheerios Boxes?
Cereal sales are continuing to drop both for General Mills and across the food industry.
General Mills (GIS) - Get Report  may be hoping that a newly launched campaign to raise awareness for the plight of bees is able to boost soggy sales of its cereal brands.
In a statement last week, General Mills revealed that the "iconic spokesbee" for its Honey Nut Cheerios, "BuzzBee," will be removed from the cereal's boxes this spring (see photo of the new box below). Citing Greenpeace data about the worldwide honeybee colony collapse, Honey Nut Cheerios launched #BringBackTheBees, with a goal for families to plant over 100 million wildflowers. You can order free wildflower seeds from General Mills and partner Veseys Seeds online.
"As a General Mills cereal built around nutrition, helping pollinators get the key nutrition they need through fun, family-friendly activities like planting wildflowers is a natural fit," Cheerios marketing director Susanne Prucha said in a statement.
About 30% of General Mills products rely on pollination, the company said, adding that it has invested more than $4 million over the past six years with bee conservation group Xerces Society.
The move follows a commitment last year in which General Mills said the farms growing oats for Cheerios will host 3,300 acres of designated bee habitats, out of 60,000 acres of land, by the end of 2020.
To be sure, General Mills could use any boost that the buzzy campaign brings to its cereal sales.
The cereal giant reported that retail cereal sales fell 3% during the second fiscal quarter ended Nov. 27, and 4% for the year to date period. While newer gluten-free Cheerios continued to perform well, most other products were under pressure as General Mills cut back on marketing in what is a challenging part of the supermarket.
General Mills overall retail net sales fell 9% and 8%, respectively.
Trends are grim throughout the whole cereal industry. According to Nielsen data, sales of ready-to-eat cereals fell 1.7% for the year ended Feb. 25 to about $8.64 billion, while unit sales during the same period were down 3% to about $2.66 billion. Adult cereals fared the worst, with sales down 3.2% to $2.58 billion and units down 4.6% to $749 million.
Editor's Pick: Originally published March 16.