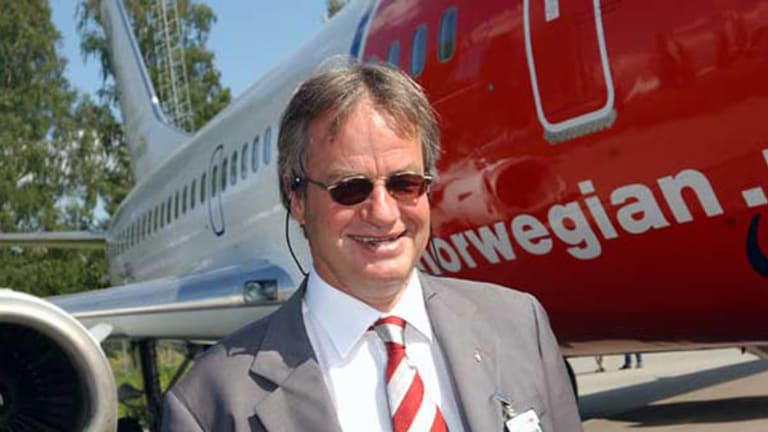 Publish date:
Norwegian Air CEO: 'I Need Experienced Pilots and I Pay Them Well'
American, Delta, United, ALPA, AFA and 38 Senators all oppose a scheme by Norwegian Air to register its airplanes in Ireland and operate low-cost trans-Atlantic flights.
American, Delta, United, ALPA, AFA and 38 Senators all oppose a scheme by Norwegian Air to register its airplanes in Ireland and operate low-cost trans-Atlantic flights.
OSLO (TheStreet) -- Norwegian Air Shuttle CEO Bjorn Kjos said that all the forces arrayed against him -- including 38 U.S. senators, the pilots union, the flight attendants union and the big three airlines -- have it wrong. Norwegian is not anti-union and does not pay employees too little and is also among Boeing's (BA) - Get Report best customers, the European launch customer for the 737 MAX, Kjos maintained.
"Nobody would work for Norwegian if we paid them peanuts," Kjos said in an interview. "We have to compete for (employees.)" In fact, he said, about two thirds of Norwegian Air Shuttle employees are unionized.
Last week, 38 senators signed a letter to the Secretary of Transportation questioning whether Norwegian Air should be granted a permit to expand U.S. service, now that it has sought to register its aircraft in Ireland. The carrier currently operates flights to the U.S. under Norwegian registration, but has relocated its long-haul company's registration to Ireland, which is part of the European Union, while Norway is not. 
The 38 senators wrote that that the Open Skies agreement between the United States and the European Union includes a labor protection provision that says no flights operated under the agreement will undermine labor standards in the countries involved.
The senators are backing challenges filed with DOT by the Air Line Pilots Association and the Association of Flight Attendants. In December, the big three U.S. airlines -- American (AAL) - Get Report, Delta (DAL) - Get Report and United (UAL) - Get Report -- also filed with the DOT in support of the challenge. They said Norwegian wants to "set up a shell company in Ireland to operate its aircraft using imported labor."
Kjos said the U.S. carriers "hate competition and have incredibly high fares (while) Norwegian offers low-cost flying on the 787."
Norwegian pays its captains about $170,000 annually and pays first officers about half that, Kjos said. A typical hire might be a pilot who is about to retire, has flown 20 years for a major European carrier and would like to spend a few years flying the Boeing 787 and living in Bangkok. "They think the pay and salary are quite good," Kjos said, adding: "For me to sleep well at night, I need experienced long-haul pilots."
Norwegian pays flight attendants $35,000 to $40,000 annually. Norwegian has said that since October, when it began recruiting U.S. cabin crews for its Fort Lauderdale and New York bases, it has received more than 5,500 applications for 300 jobs.
Oslo-based Norwegian Air Shuttle began flying the Boeing 787 in August on European routes as well as Oslo and Stockholm to Bangkok and New York. It plans to operate a fleet of 14 Dreamliners, with three in service and four to be delivered by summer.
Fuel efficiency, high utilization and tight seating enable the carrier to offer low trans-Atlantic fares. It has 291 seats on its 787s, compared with 219 seats on a United 787. The bulk of Norwegian revenue is derived from short-haul European flying, with the trans-Atlantic accounting for about 5%.
The 38 senators are seeking to ensure "that U.S. airlines have a fair opportunity to compete internationally and continue to fuel the U.S. economy, support the national defense, and provide U.S. jobs," said Lee Moak, president of the Air Line Pilots Association, in a prepared statement.
Moak said that by registering in Ireland instead of its home country, Norwegian is seeking to avoid Norway's labor laws. "The scheme is clearly designed to undermine the labor standards contained in the laws of Norway and the United States, and its operations in the transatlantic market would be inconsistent with the provisions of the U.S.-E.U. Air Transport Agreement," he said.
Kjos said the fleet is registered in Ireland because Norway is not part of the EU, while Ireland is. Many airlines from throughout Europe register planes in Ireland, he said; failure to register in an EU country would prevent much of Norwegian's planned international flying. Additionally, Ireland is the biggest provider of European feed traffic to Norwegian, he said.

Written by Ted Reed in Charlotte, N.C.

To contact this writer, click here.