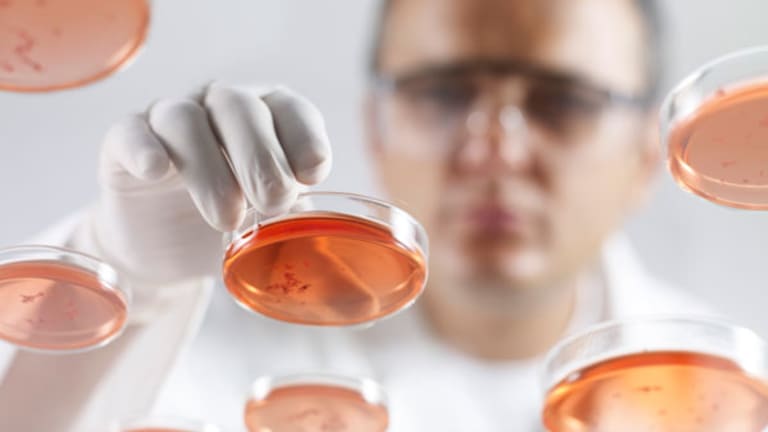 Northwest Bio DC-Vax Study Changes Hint at Failure
It's obvious DC-Vax came up futile in the early look at the phase III study data, leaving almost no chance the experimental cancer vaccine would benefit patients.
BETHESDA, Md. (TheStreet) -- I long believed Northwest Biotherapeutics (NWBO)  buried the interim efficacy analysis of its DC-Vax brain tumor clinical study in a deep hole, never to be seen again. But these things have a way of rising to surface.
It's been nine months since Northwest Bio initiated an interim efficacy look at the DC-Vax phase III study. The company has stubbornly refused to disclose those results. Monday, I believe we found out why. It seems obvious that DC-Vax came up futile in the interim efficacy analysis of the phase III study data conducted in December 2013, leaving almost no chance the experimental cancer vaccine would delay tumor progression or prolong survival.
Absent any hope of rescuing DC-Vax from failure with the brain tumor study designed as is, Northwest Bio announced a radical -- and seemingly desperate -- re-working of the study. Monday's press release said the DC-Vax study changes were made following a "9-month process of regulatory submissions and reviews by regulators in the US, UK and Germany..." Nine months? That means Northwest Bio started the process last December, which is also when the interim efficacy analysis of the study was conducted. What a coincidence! In classic spin mode, Northwest describes the DC-Vax study changes as "enhancements" which will improve the odds of success.
Northwest Bio is adding more patients to the DC-Vax study. The company hinted about an increase in enrollment previously, so this isn't much of a surprise. Northwest Bio said Monday it will increase enrollment for the DC-Vax study to 348 brain tumor patients from its previous target of 312 patients, even though the company has never disclosed how many patients are currently enrolled. In June, Northwest Bio CEO Linda Powers promised to complete enrollment in the study by the end of 2014. Monday, the company said enrollment in the study would now be completed in the third quarter of 2015.
Why will it take extra time to enroll 36 additional patients? Northwest Bio has claimed in the past to be expanding the number of German and United Kingdom hospitals participating in the study. As of today, none of those promised European trial sites have materialized.
The most devastating and damning change made to the DC-Vax study is the more than doubling of the number of "events" (tumor progression or patient deaths) required to trigger a final analysis of the primary endpoint. The study had been designed with statistical power allowing for an analysis of progression-free survival (PFS) after 110 patients had progressed or died. Monday, Northwest Bio raised the number of required events to 248 -- a whopping 125% increase! In my 13 years covering biotech, I have never seen a company make such a large change to the statistical analysis of a phase III study.
If DC-Vax was demonstrating a positive effect on brain cancer patients, there would be no need to wait for 248 of 348 patients to progress or die before analyzing the study results. Again, Monday's announced changes make it clear that the interim efficacy analysis conducted nine months ago showed DC-Vax to be futile. Northwest Bio can argue all it wants to the contrary, but the need to dramatically boost the statistical power of a study years after it begins shows that there is no efficacy signal with DC-Vax at all. Northwest Bio is flailing, but then, anyone who bothered to dig deep into the prior DC-Vax studies knows the cancer vaccine is nothing more than a placebo. 
Adam Feuerstein writes regularly for TheStreet. In keeping with company editorial policy, he doesn't own or short individual stocks, although he owns stock in TheStreet. He also doesn't invest in hedge funds or other private investment partnerships. Feuerstein appreciates your feedback;
to send him an email.