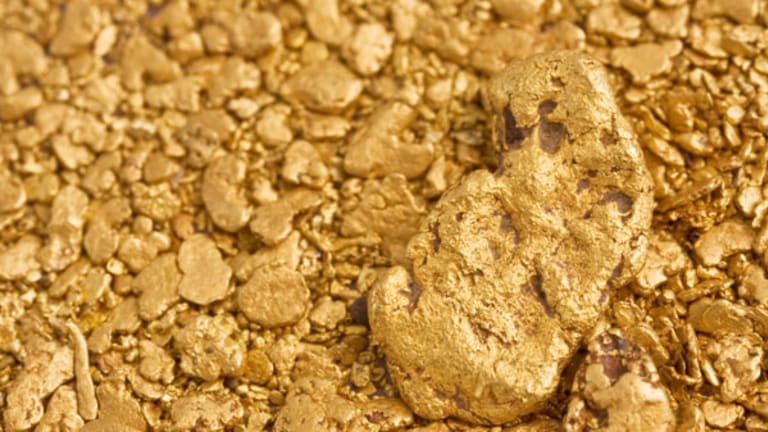 Northern Dynasty CEO Thiessen: Q&A
The small-cap miner is a partner on a large mineral deposit in Alaska. In an interview, the CEO explains the company's upside potential, its buyout prospects and its exit strategy.
NEW YORK (
) -- As
thrash around the $1,100 an ounce level, mining companies pray for upside.
Mining stocks typically offer a 3-to-1 leverage to gold's spot price making them both attractive and risky investments. A recent trend in the sector, as gold prices continued their bull run, is consolidation. Large-cap miners avoid developing assets in favor of buying out or partnering with a junior that has potentially lucrative projects but minimal financing.
Junior miners typically have a market cap of under $1.5 billion. They also are primarily in the exploration or developmental stage of production. It can sometimes take up to 10 years for a miner to actually bring metal out of the ground. Meanwhile, the junior must battle financing issues, geopolitical risks and permitting problems. As above ground gold supply tightens and investment demand grows, many analysts expect prices to keep rising, a potential catalyst for junior mining stocks.
Northern Dynasty
(NAK) - Get Northern Dynasty Minerals Ltd. Report
is a mineral exploration company with a market cap of $815.66 million. Shares currently trade at $8.77, but the stock has four "buy" ratings and an average price target of $20. I recently spoke with the CEO, Ron Thiessen, to get a candid look at the company, its potential upside and exit strategy.
Give me a snapshot of Northern Dynasty
.
Thiessen: Northern Dynasty is a 50% partner with
Anglo American
on what is probably the world's largest mineral deposit located in Southwestern Alaska. It's predominately a copper deposit but it is fully metallic -- has copper, gold, molybdenum, uranium, silver, and palladium. And it's probably one of the most important mineral deposits ... in North America.
How do you mitigate risk?
Thiessen: Well, first of all risk comes in various forms. So you've got geological risk
which we mitigate by doing a tremendous amount of drilling. I think we've got something like 700 core holes in this property and many, many miles of drilling. ... Then there's engineering risk. And we've got our own engineering team which consists of about 16 people plus we're engaged with about a dozen of the world's largest engineering companies on everything from infrastructure ...
and power to the typical process of engineering ... and then you've got environmental risk. So we've spent probably something
like $120 million on environmental base line and socio-economic studies.
Those are the main risks that you face
when taking a project up to permitting and feasibility ... Northern Dynasty has spent about $180 million and Anglo American spent about $220 million ... to date. And we're still working on that feasibility and getting to that permitting stand point.
So when do you expect to have all your permitting in gear and when would you start producing?
Thiessen: We would anticipate that permitting start in 2011 ... It's a two-year program for a project like Pebble. We're engaged in what's called a 'large mine permitting fee' at the Department of Natural Resources in Alaska ... We have hired, as our part of our permitting team, people who have permitted large mines previously in Alaska so they're fairly comfortable with the process and how to go about it.
You previously said that 2016 is when you will start producing. Are you still on track?
Thiessen: When we go into production is purely a function of when the permit is issued. One of the things I like to say is that I'm not going to pre-empt the state regulators on telling them when we're going to have a permit. Yes, if everything went according
to plan we'd probably get a permit in two years and construction and development would take two to three years so hopefully we can be in production by 2016. But those are just estimates. ... that
estimate will probably have to be changed as we firm up actual permitting dates and that will come through from the Pebble management team a little later this year.
Now of course one of the biggest problems for small-cap miners is funding, so six years plus is a significant amount of time. How are you doing for money?
Thiessen: Well, fortunately the way the deal is structured is that Northern Dynasty brought the asset and Anglo brings the money. So Anglo, in order to complete their side of the transaction, must provide $1.5 billion in funding. And that's on an as-needed basis. Up until the end of 2009, Anglo had spent about $220-$225 million .... So they've got quite a bit of funding left to go ... So actually Northern Dynasty itself doesn't have to raise any money.
What happens if Anglo runs out of cash. Would it ever turn to you guys?
Thiessen: If Anglo American runs out of cash ... then they're out of the project ... We, ourselves, have $40 million in the treasury and a lot of people who would love to be in Anglo's position.
What does this partnership do to your ability to profit once you go on stream? Is it a 50/50 profit share?
Thiessen: Yes it is ... we get 50/50 ... I like to tell people we actually brought more than they did. We brought an asset that has 10.8 billion tons of resources ... 100 million ounces of gold
and 90 billion pounds of copper. The value of that asset is well in excess of the $1.5 billion they have to put up to retain their 50% interest ... I've not received any indications whatsoever that Anglo is interested in walking away from the project or even slowing the project down.
Do you have an exit strategy?
Thiessen: We like to take assets to a point where we believe we've delivered the highest value that we think we can get to and at that point we need to decide whether we develop the asset, joint venture the asset or sell it. Now we took the Pebble project to a certain level we brought
Rio Tinto
( RTP) in to give us credibility ... We then brought Anglo American in to basically fund the balance of the engineering, feasibility and permitting and a large part of the development capital. And ... then
Mitsubishi Corporation
came in as a large shareholder to add further credibility to its project. We've got three of the world's leading metal companies that are involved in the project and we're probably at the point where we've delivered as much value as we can. We know that there are a lot of companies that would be interested in owning a big piece of the Pebble project whether that is 50% of the project or 25%. Probably the easiest and best way to get to that position is with the acquisition of Northern Dynasty. I do believe that at the end of the day there will be a minimum of two and maybe as many as four companies who develop the project. It's unlikely that Northern Dynasty is one of those. Northern Dynasty will have been bought out of its position at some point in time.
Are you anticipating a buyout war at any point?
Thiessen: I think that's what will transpire is that at an appropriate point in time. One of the major mining companies is going to step in and acquire Northern Dynasty.
Let's talk about Pebble -- do you have any idea what your copper to gold exposure ratio is?
?
Thiessen: Well at current metal prices the copper probably represents something like 60% of the value, the gold represents 35%, and the other minerals are in that 5% range.
Do you have an estimate resource per share yet?
Thiessen: No, we haven't calculated that ... Normally companies trade in the 3-5 cents per pound of copper or in the $25-$75 per ounce of gold. And our copper value per share is probably a tenth of one cent or a half of one cent. Our value in gold ... is probably in the $5-$10 range. So there's lots of upside in the company.
What is your own personal view price target for gold and copper for the long term?
Thiessen: Well, I travel to China a lot and I know that the Chinese are really just starting down the path of western economies in
terms of development ... There is very little we can do in terms of our offices, how we live, without electricity. In fact, homes in North America typically have 200 amp services for electricity and I would venture that in China the average is probably 20 amps or 1/10. Everybody in China at least wants a fridge, a stove and a TV. And most homes in China you couldn't run a fridge, a stove and a TV on the amount of power that gets delivered to their houses. So there's going to be a tremendous amount of power needed and you can only deliver electrical power efficiently on one medium and that's electrical wiring ... I've dealt with one of the companies in China,
a large utility
company with over 1 billion customers. They're the largest purchaser of copper wire in the world. And they tell me that they add to their distribution grid every year in China
which is the equivalent of the entire electric grid of the United Kingdom. I believe that China is going to be one of the leading countries in terms of electrical cars for their major cities ... current cars use about 50 pounds of copper per car, a hybrid uses about 100 and electrical cars will probably use at least double that.
So do you see copper providing more long-term upside than gold?
Thiessen: We'd like to be on both sides of that equation. Copper is an industrial use and growth
story whereas gold is a financial asset ... One provides you with financial risk diversification ... and the other one provides you with a growth opportunity ... I mean I actually see copper prices going quite a bit higher than they are today just because all of the easy copper mines have been built.
So do you have price targets for copper and gold?
Thiessen: We as a company we don't have price targets ... When we look at an asset we say 'can we be in the lowest quartile of production?' Because that means regardless of what the price is we'll stay in production ...
but five years out, I honestly believe copper prices are going to be in the $5 range, and maybe even more. And I think gold is in a long-term bull trend. I see more and more central treasuries starting to add gold to their holdings. I believe ... in the next three-plus years, gold could easily be over $2,000.
Do you have any finding costs yet?
Thiessen: We haven't calculated those but you can say we've spent $430 million to date on the project and you know we've got 100 million ounces of gold and
90 billion pounds of copper ... those finding costs would be very small. The asset itself, if you multiply out $100 million ounces of gold and
90 billion pounds of copper, this is worth hundreds of billions of dollars. I believe that strategically and economically
it's one of the most important metal deposits for America. It represents a tremendous
opportunity for America to be self-sufficient in copper and add tremendously to the gold production especially if, we
are able to ... melt and refine the metal in North America.
How many people to you expect to hire in 2010?
Thiessen: Ultimately when the project goes into production, they'll probably be 3,000 people working on construction and development and long term there will be somewhere between 1,200-1,400 people working directly for the mining company.
Currently Northern Dynasty has 250 employees
.
You have four 'buy' ratings and an average price target rating of about $20.10. Do you really think your stock could double? When do you think you are going to see the big catalyst?
Thiessen: I think as we go public with what the project is all about. There's a tremendous amount of uncertainty that people have ... because we haven't announced what kind of project and when will we start permitting. That's something that I think will probably happen a little later this year because we should be in a position mid-year or third quarter to say, OK, here's what this project looks like ... right now there's quite a bit of speculation out there because we haven't gone public with what the plan will be.
And you said that you expect to do that later in the year, when? Fall?
Thiessen: That's right. We'd like to see that happen later this year ... I think that will take, what I like to call, the fear speculation out of it.
>>Slideshow: How to Invest in Gold
>>More stories on gold investing
--
Written by Alix Steel in New York
.
Alix joined TheStreet.com TV in February 2007. Previously, she held positions in film and theater production, management, and legal administration. Alix has a degree in communications and theater from Northwestern University.