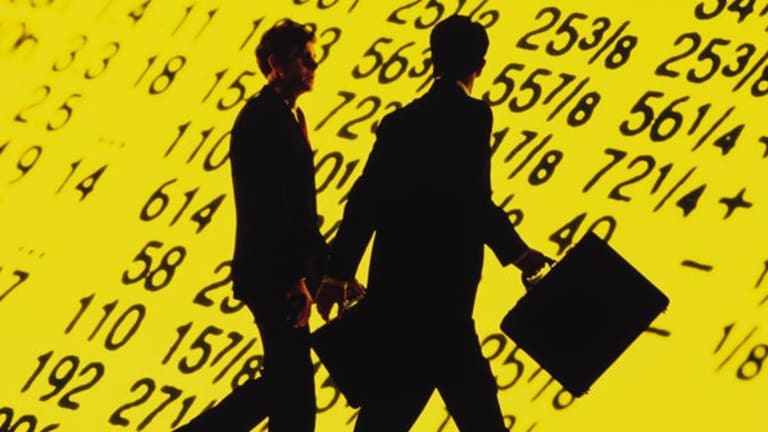 Northeast Storm in Pictures: Travel Delays
Commuters and travelers in the northeast U.S. face transportation cancelations and delays as another winter snowstorm batters the region.
Northeast Winter Storm slideshow updated with information regarding flight cancellations and airline change fee waivers.

An MTA employee makes his way along a snow-filled platform in front of the Manhattan skyline in the Brooklyn borough of New York.
NEW YORK (
) -- Commuters and travelers along the East Coast are facing transportation cancellations and delays after yet another winter snowstorm battered the region.
Most of the New York and New Jersey metro areas endured more than a foot of snow, while areas of Connecticut and Massachusetts were
.
Winter weather advisories were announced across the northeast U.S. in the face of blizzard conditions. Snow and ice made roads treacherous while many airlines were forced to cancel and delay flights. Some airports had to shut down completely.
John F. Kennedy and Newark airports stopped operations in the face of the overnight storm.
Newark reopened at 9 a.m. EST Thursday morning, while JFK reopened on at 10 a.m., according to the Federal Aviation Administration Web site.
The Weather Channel reported that snowfall in New York City ceased at day-break and diminished in Boston, Hartford, Conn., and Providence, R.I. by mid-morning.
The weather system left behind six to 18 inches of snow from northern Virginia to Maine and in several spots across southern New England. In such places as Newark, N.J., snow was falling at the rate of three inches an hour for several hours on Wednesday night.
New England winds will continue to hamper the cleanup effort across the region, with gusts reaching up to 40 miles per hour for most of the day.
Click through the slideshow for up-to-date information on Thursday's transportation closings and cancelations, and to learn how yet another Northeast snowstorm is affecting travelers throughout the nation.
A maintenance man cleans snow off the sidewalk along Riverside Drive on New York's Upper West Side after the overnight snowstorm.
The commute for many workers in New York City was a rough one after the Metro North rail system experienced cancelations and delays Thursday morning due to the storm.
As of 9 a.m., the New Haven line service in Connecticut resumed on a Sunday schedule, while service remained suspended on the New Canaan, Danbury and Waterbury branch lines.
A number of westbound New Haven line trains, which ride towards Grand Central Station, have been canceled, including the 9:32 a.m., 10:32 a.m. and 11:32 a.m. trains from New Haven.
"This winter's extreme cold temperatures and large amounts of snow have presented numerous challenges that go beyond clearing our yards, switches, and station platforms," the Metropolitan Transit Authority said in a statement on its Web site. "The extreme weather causes the electronic and air systems on our 40-year-old plus New Haven line fleet to fail."
Due to ice conditions on the Hudson River, the Newburgh-Beacon and Haverstraw-Ossining ferries have been replaced by a bus service. The MTA said that ferry service will resume as soon as river conditions permit.
The MTA urges its customers to stay home if at all possible as crews continue to clear snow from the tracks and switches.
"The MTA is working hard to restore service in the aftermath of a storm that dumped more than a foot of snow in parts of the region," the MTA said. "Service is suspended in parts of the system as crews continue to remove snow and ice from tracks, switches, stations and roadways."
A woman walks a dog along a snow-covered side street on Thursday morning in Towson, Md.
The Maryland metro subway and commuter rails are operating according to schedule Thursday after Baltimore country was hit with nearly five inches of snow.
The overnight storm caused the local transit authorities to make adjustments to its bus and "MARC" train services. The local buses are operating with limited service while the region's commuter bus will not operate at all.
Officials say that as crews work to clear the snow from the roads, the local buses will add routes to their operating service.
Meanwhile, the MARC Penn line is operating on a limited schedule, and there will be no service on the Camden or Brunswick lines.
New York City Transit
Pedestrians make their way through the snow near New York's Central Park on Thursday.
The majority of the subway system in New York was is up and running, except for the Franklin Avenue Shuttle, which remains suspended. Bus service in the Bronx is also suspended until further notice.
The MTA said that bus service is being evaluated and restored on a route by route basis in Queens, Brooklyn, Staten Island and Manhattan. As service is restored, buses will be making all local stops.
Subway system service has been restored to lines serving Coney Island's Stillwell terminal and the north Bronx.
Q service has been restored between Prospect Park and Stillwell Avenue while the Franklin Avenue shuttle remains suspended.
"We hope to restore as much service as we can as soon as we can," the MTA said on its Web site.
Staten Island's transit is currently operating with limited service between Tottenville and St. George.
Long Island Railroad
A Long Island Railroad worker spreads salt along the platform of the Port Washington railroad station as trains remain at the station.
The MTA Long Island railroad is operating on a reduced weekday morning rush schedule due to the winter storm.
A number of westbound morning rush trains have been canceled, and buses have been put in place of train services east of Speonk on the Montauk Branch and east of Ronkonkoma on the main line to Greenport.
The MTA LIRR asks commuters to "take extra care when traveling."
"Stay clear of the platform edges, use handrails on staircases and walk carefully when entering or exiting stations and boarding or leaving trains because of slippery conditions," the LIRR said on its site.
Due to poor weather conditions, authorities have completely suspended all Long Island bus services until further notice.
Airport Closings and Flight Delays
Travelers crowd the Continental Airlines' customer service desk in Cleveland on Thursday as they try to book alternative flights.
The heavy snow caused a number of airports to shut down for a few hours, while others experienced severe delays.
Caldwell Wright and Morristown airports in N.J. closed in the early hours of the morning on Thursday and are both expected to reopen by the end of the day.
John F. Kennedy and Newark airports recently reopened, according to the Federal Aviation Administration Web site, but are both experiencing major delays averaging over 2 hours.
Flights arriving in Philadelphia's international airport are experiencing delays an average of 1 hour and 37 minutes
Jet Blue
(JBLU) - Get JetBlue Airways Corporation Report
,
Continental Airlines
(UAL) - Get United Airlines Holdings, Inc. Report
,
US Airways
(LCC)
and
Delta Airlines
(DAL) - Get Delta Air Lines, Inc. Report
are experiencing delays and cancellations at many northeast airports as crews try to clear runways of the snow. Most airlines have announced that they will waive change fees for passengers traveling between affected cities.
--Written by Theresa McCabe in Boston.
>To contact the writer of this article, click here:
Theresa McCabe
.
>To follow the writer on Twitter, go to
.
>To submit a news tip, send an email to:
.
Disclosure: TheStreet's editorial policy prohibits staff editors and reporters from holding positions in any individual stocks.