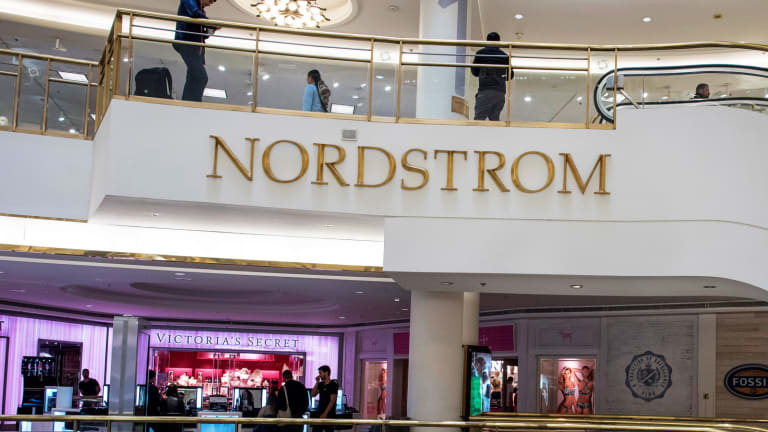 Nordstrom Earnings Inch Above Estimates, While Comp Sales Dip
Nordstrom Rack barely saw any growth in sales in Q3.
Nordstrom Rack barely saw any growth in sales in Q3.
Like its department store cohorts, Nordstrom, Inc. (JWN) - Get Report is barely holding on.
The Seattle-based retailer saw shares fall in post trading Thursday, Nov. 9, after hardly beating Wall Street predictions on third-quarter earnings. It posted earnings of 67 cents per share, compared to analyst predictions of 63 cents. Sales revenue of $3.5 billion fell below expectations of just under $3.6 billion.
The company reported a 0.9% decline in comparable sales for the quarter ending on Oct. 28, while total sales increased 2%. The retailer lost $20 million in sales because of Hurricanes Harvey, Irma and Maria, according to its press release. For its full-price merchandise, the company posted a decline of 1.9% in comp sales. Not even its discount store, Nordstrom Rack, saw a big increase, posting a 0.8% uptick in comp sales.

"This reflected consistent trends at our full-price business while on off-price, we experienced of deterioration relative to recent trends," said President Blake Nordstrom in the earnings call. To address the surprisingly low growth for Nordstrom Rack, he added that the company has made "significant adjustments" to bring inventory in line. As for what accounts for the slow growth in Rack, Nordstrom blamed tepid marketing efforts rather than a softness in demand.  
"In hindsight ...we [didn't] market as aggressively as we would have liked to have been, to ensure that we have the right freshness and flow," he said in the call. 
E-commerce, on the other hand, saw some growth, with an increase of 14% at Nordstrom.com and 26% at Nordstrom Rack's website, compared to the same period last year. It opened 11 new Nordstrom Racks in Q3 and saw a 39% increase in loyalty program members.
Nordstrom has had a tumultuous quarter as its efforts to go private faltered last month. The Nordstrom family failed to secure the $1 billion needed for private equity firm Leonard Green & Partners LP to take over, according to industry sources, and now the family has shelved sale talks until 2018.
The numbers don't look good for fiscal 2017. Blaming the hurricanes, Nordstrom lowered its full-year earnings outlook from between $2.85 and $3 to between $2.85 and $2.95. It also lowered retail EBIT from between $790 million and $840 million to between $755 million to $785 million.
Nordstrom did not disclose plans for SG&A spending or reasons for softness in sales in the earnings call. Instead, the department store redirected focus to its efforts in improving the customer experience. Nordstrom highlighted new initiatives to court and retain customers, including its new Nordstrom Local stores, where customers can pick up or return online orders, interact with personal stylists and tailor their clothes — but the stores don't carry any inventory. For the holiday season, Nordstrom announced that 24-hour curbside pickup will be available in major markets including Chicago, Seattle and Dallas.
More of What's Trending on TheStreet:
What Moves Markets, What Doesn't, and How to Tell the Difference