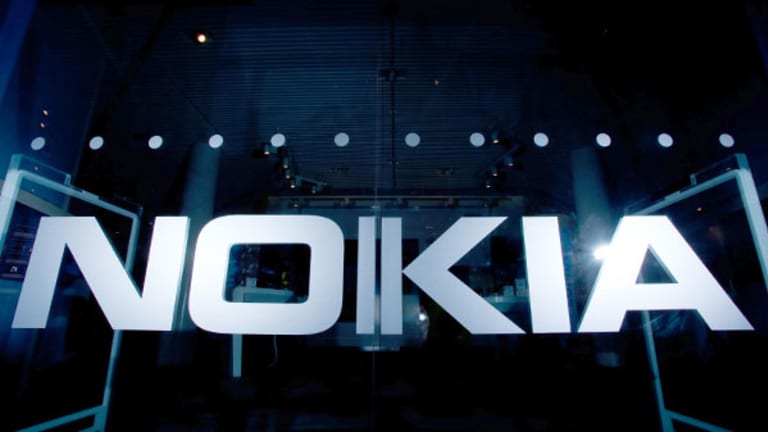 Publish date:
Nokia Shares Plunge After Networks Sales Decline
The telecom equipment maker warns on the fourth-quarter revenue outlook but says it will meet operating margin guidance.
The telecom equipment maker warns on the fourth-quarter revenue outlook but says it will meet operating margin guidance.
Shares in Nokia (NOK) - Get Report   plunged on Thursday after the Finnish telecom equipment maker posted a third-quarter decline in sales at its mobile networks business, an area which triggered rival Ericsson (ERIC) - Get Report to report disappointing results last week.
Nokia shares were recently down 6.6% at €4.37 in Helsinki after the third-quarter statement was accompanied by news of the departure of the Nokia CFO.
The shares fell even though the Espoo, Finland-based company reported better-than-expected overall sales for the three months ended Sept. 30. Revenue from its networks business, which accounted for 89% of  the total, dropped 12% year-on-year, with the major culprit being the mobile networks business.  The stock has recently fallen in synch with Ericsson, which earlier this month identified mobile broadband equipment as its major trouble spot.
Nokia CEO Rajeev Suri warned of sales weakness for the fourth quarter.
"While the fourth quarter is expected to be soft from a topline perspective, I believe that we will meet our guidance for our Networks business of significant sequential sales and operating margin increase for Q4 and our full-year operating margin guidance of 7% to 9%," Suri said.
Nokia said CFO Timo Ihamuotila, who rejoined the company in 1999 and took on CFO role seven years ago, will leave at year-end and become CFO  of ABB in April.  He "was instrumental" in Nokia's acquisition of the Siemen share of Nokia Siemens Networks completed in 2013, the sale of Nokia's device business to Microsoft, and its recent acquisition Alcatel-Lucent, Nokia said.
Kristian Pullola, currently senior vice president at Nokia, has been appointed as the next CFO.
Nokia's third-quarter sales came in at €5.95 billion ($6.5 billion), exceeding the €5.82 billion anticipated by a consensus of 40 analysts compiled by FactSet. On a pro forma basis, which incorporates the figures for Alcatel-Lucent acquired in January, sales fell 7% year-on-year from €6.4 billion. Nokia alone booked €3.04 billion of revenue in the same period a year earlier.
Nokia also booked non-IFRS diluted earnings per share of €0.04, in line with the market consensus. 
Sales from the networks business came to €5.32 billion, slightly below the market consensus of €5.39 billion and down from a pro forma figure of €6.02 billion for the year earlier. Nokia blamed the weakness in the mobile networks business and added that this was partly offset by growth in the fixed networks business.
Sales in the mobile networks business fell 15% to €3.3 billion from €3.9 billion, while sales in the fixed networks business advanced 3% to €585 million from €566 million.
Meanwhile, the technologies business, which focuses on technology development and licensing, saw sales jump to €353 million from €163 million. Nokia pointed to growth in intellectual property licensing income, including from Samsung Electronics (SSNLF) , as well as contribution from Withings, a French consumer electronics company focusing on health and activity trackers that it acquired in May.