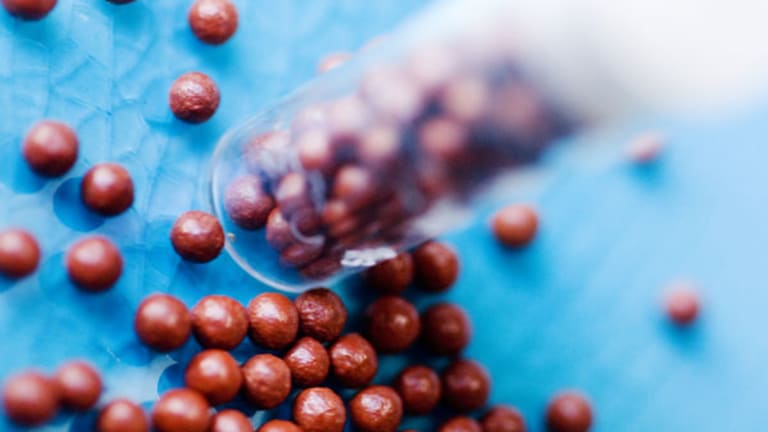 Nobel Win Could Boost Biotechs
The prize awarded to two RNAi researchers is likely good for investor confidence in the sector.
The announcement Monday that the Nobel Prize in medicine will be shared by Andrew Fire of Stanford University School of Medicine and Craig Mello of the University of Massachusetts Medical School was somewhat of a surprise.
The two researchers, who helped determine that RNA molecules could silence specific genes, published their findings just eight years ago, a very short time frame by Nobel standards. Typically, Nobel winners are named many years after their discoveries. The speed with which the Nobel committee validated the importance of the research should boost the confidence of investors in the sector.
The Nobel award could also prompt some health care investors to take a closer look at a small subsector in which few have expertise. But it's important to keep in mind that although RNA interference (RNAi) technology has enormous potential, the first RNAi-based drugs won't hit the market until 2011 or 2012 at the earliest.
RNA, short for ribonucleic acid, is a messenger of deoxyribonucleic acid (DNA). It carries the genetic instructions of the DNA out of a cell's nucleus and into the cell, where it creates proteins that become the building blocks of new cells.
During RNAi, enzymes cut up the RNA of an invading virus or disease. The body's own RNA then attaches itself to the remaining fragments of the virus' RNA and silences the gene. If researchers are able to figure out how to turn off certain genes, the commercial potential is enormous. Everything from cancer to hair loss could theoretically be treated.
But so far, it has only been proven to work in animals, not yet in humans.
Sirna Therapeutics
( RNAI) has completed a successful phase I trial for its age-related macular degeneration (AMD) therapy, Sirna-027. It should go into phase II in the fourth quarter. Partner
Allergan
(AGN) - Get Allergan plc Report
will run the trial. Sirna's hepatitis C therapy is still in preclinical development but could begin testing in humans by the end of the year.
Rival
Alnylam Pharmaceuticals
(ALNY) - Get Alnylam Pharmaceuticals, Inc Report
is working on several treatments using RNAi technology. Pandemic flu, Parkinson's disease and respiratory syncytial virus (RSV) are just a few of the targets. The company has recently completed two Phase I trials for ALN-RSV01.
The U.S. government also believes this technology could be valuable. The National Institute of Allergy and Infectious Diseases (NIAID) recently awarded Alnylam a $23 million contract to develop RNAi-based therapeutics for hemorrhagic fever viruses such as Ebola. With the grant, Alnylam will establish a biodefense program.
Counting on an RNAi Blockbuster
Carmen Tang, analyst with Sectoral Asset Management, is impressed with what she's seen so far, but cautions investors not to get too giddy. "We have seen some data that looks promising when RNAi-based drugs are administered locally," she said.
In wet AMD trials, patients were injected directly in their eye, ensuring that the drug would reach the target. "But what we don't know is how effective the drugs will be when administered systemically." She added that Sirna's product for hepatitis C worked in chimpanzees, but will not be tested in humans until next year. As of the latest
Securities and Exchange Commission
filings, Sectoral owned shares of both Sirna and Alnylam.
It is difficult to figure out a valuation for the stocks in the space, considering the technology is so new and won't be available for at least five years. But some investors believe the monoclonal antibody (mab) is a good roadmap. JPMorgan's Richard Smith points out that both technologies co-opt a natural process to treat disease. Monoclonal antibodies led to blockbuster drugs such as
Genentech's
( DNA) Avastin and Herceptin. He believes RNAi is where monoclonal antibodies were seven to 10 years ago and the current market cap of the mab companies is nearly $8 billion.
The analyst expects similar growth in the RNAi space over the next decade but believes the focus will be on just two companies, Sirna and Alnylam. The two currently have a combined market cap of less than $900 million. (Sirna is an investment banking client of JPMorgan.)
It's these kinds of numbers that are attracting the attention of Big Pharma. Along with Allergan, Sirna is also partnered with
GlaxoSmithKline
(GSK) - Get GlaxoSmithKline plc Sponsored ADR Report
. Alnylam counts among its partners
Merck
(MRK) - Get Merck & Co., Inc. (MRK) Report
and
Novartis
(NVS) - Get Novartis AG Sponsored ADR Report
.
Sectoral's Tang is encouraged by the increasing value of the partnerships with big pharmaceutical companies. She points out that Sirna signed a deal with Glaxo earlier this year that included $12 million in upfront payments and milestones that could exceed $700 million. Six months prior, the partnership with Allergan called for $5 million up front with milestones that could reach $245 million. Of course, it's not an apples-to-apples comparison because the agreements are for different diseases, but the fact that the numbers are indeed going up is promising.
There are a few other companies involved with RNAi research, although they would not be considered purely RNAi companies. They include
CytRx
(CYTR)
(Craig Mello sits on the company's scientific advisory board),
Nastech Pharmaceuticals
( NSTK) and
Qiagen
, a diversified biotech tools company that sells RNAi equipment.
Qiagen CEO Peer Schatz said RNAi represents only a single-digit percentage of the company's sales, "but shows solid growth and will definitely continue to see expanded use
in drug development." He added, "It is certainly one of the most revolutionary technologies in modern molecular biology."
Please note that due to factors including low market capitalization and/or insufficient public float, we consider Alnylam Pharmaceuticals, CytRx, Nastech Pharmaceuticals and Sirna Therapeutics to be small-cap stocks. You should be aware that such stocks are subject to more risk than stocks of larger companies, including greater volatility, lower liquidity and less publicly available information, and that postings such as this one can have an effect on their stock prices.
In keeping with TSC's editorial policy, Lichtenfeld doesn't own or short individual stocks. He also doesn't invest in hedge funds or other private investment partnerships.
Marc Lichtenfeld was previously an analyst at Avalon Research Group and The Weiss Group and a trader at Carlin Equities. He holds NASD 86, 87, 7 and 63 licenses. His prior journalism experience includes being a reporter/anchor for On24 in San Francisco and a managing editor of InvestorsObserver, a personal finance Web site. He is a graduate of the State University of New York at Albany. He appreciates your feedback;
to send him an email.