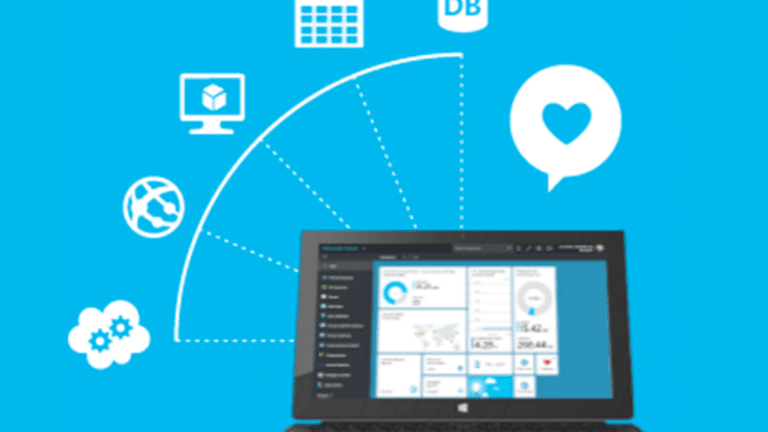 No Wonder Amazon Is Looking for Growth, Its $14 Billion Web Services Business Is Being Challenged
Amazon's cloud revenue slowed for the seventh consecutive quarter in the first quarter
Amazon.com Inc   (AMZN) - Get Amazon.com, Inc. Report  may be a little distracted with its purchase of Whole Foods (WFM)  , but Jeff Bezos' company may be losing ground in one its its most lucrative and expansive business. 
The culprit is none other than Microsoft Corp. (MSFT) - Get Microsoft Corporation Report , and the attack is on Amazon Web Serivces, Amazon's $14 billion in revenue cloud business that operates and owns datacenters and servers throughout the country. 
According to a Pacific Crest on Friday Microsoft's Azure is set to surpass Amazon Web Services (AWS) revenue for the first time this year, according to a note from 
"We estimate that in the second half of this year, Microsoft's Commercial Cloud segment could surpass Amazon Web Services (AWS) in absolute revenue, becoming the largest public cloud platform for the first time in 10 years and firmly marking its transition from cloud laggard to cloud leader," wrote Brent Bracelin, senior research analyst at Pacific Crest. 
The research arm of Pacific Crest analyzed the 60 largest cloud companies and found that the sector is just beginning to go mainstream and has a lot of room to grow. Specifically, cloud spending could triple to $239 billion in five years. To put that prediction in perspective, it took about ten years for cloud spending at the 60 largest cloud companies to break the $70 billion mark. 
Bracelin claims Microsoft is poised to become the market leader in the sector because it has the most to gain from the upcoming surge in cloud spending based on its "unmatched product depth and breadth" across three main categories: Software as a Service (SaaS), Platform as a Service (PaaS) and Infrastructure as a Service (IaaS). "MSFT remains one of our highest-conviction software stocks in our coverage universe," he wrote. "Its business model is being reshaped and reimagined for cloud, AI and edge computing."
Shares of Amazon closed at $987.30, up about 2.4% on Friday. The stock is up over 32% year-to-date. Microsoft's stock closed up less than 1% to $70 per share on Friday and is up 12.5% year-to-date.
Meanwhile, Amazon said in April that AWS revenue grew 43% year-over-year to $3.7 billion (a run rate of about $14 billion annual), which marked the seventh consecutive quarter of year-over-year growth deceleration for the business. Amazon's cloud business suffered in the first quarter due to seasonality, price cuts and fewer billing days, causing growth to decelerate to its lowest level in two years for the first quarter, according to Bracelin. The good news is that AWS activity appears to be picking up steam in the second quarter and should see 9% quarter-over-quarter growth. 
"We remain bullish on the five year prospects for AWS and are encouraged by 2Q cloud activity picking up," Bracelin noted. "However, investor optimism is partially reflected in the valuation." 
AMZN shares trade at a multiple of 31 times eterprise value to free cash flows, while Facebook Inc. (FB) - Get Meta Platforms Inc. Class A Report trades at 27 times, Alphabet Inc. (GOOGL) - Get Alphabet Inc. Class A Report at 19 times and Microsoft Corp. (MSFT) - Get Microsoft Corporation Report at 17 times.
On the same day that Amazon posted a 43% growth in its cloud business, Microsoft reported a 93% sales jump for Azure. While the company doesn't break out its revenue from Azure, the company's division called Intelligent Cloud saw sales grow 11% year-over-year to $6.8 billion. That means, when considering aggregate revenue across SaaS, PaaS and IaaS, Microsoft has already passed AWS in revenue during the 2017 first quarter. When you multiply revenue by four, Microsoft's cloud business has a $15.2 billion annualized run-rate growing north of 50%, vs. the AWS run-rate of $14.6 billion on 43% year-over-year growth.
When you look at market share rather than revenue, Amazon still claims 40% of the public IaaS and PaaS space, according to recent data from Synergy Research Group, a company that tracks data on IT and cloud-related market. Microsoft, IBM Corp.  (IBM) - Get International Business Machines Corporation Report and Alphabet combined only account for 23% of the market share.
"While a few cloud providers are growing at extraordinary rates, AWS continues to impress as a dominant market leader that has no intention of letting its crown slip," said John Dinsdale, a Synergy Research Group chief analyst. "Achieving and maintaining a leadership position in this market takes huge ongoing investments in infrastructure, a continued expansion in the range of cloud services offered, strong credibility with the large enterprise sector, consistently strong execution, and the wholehearted and long-term backing of senior management. AWS is checking all of those boxes and any serious challengers need to do likewise."
This article has been updated to reflect annual revenue for AWS.
Read TheStreet's full coverage of Amazon's purchase of Whole Foods: