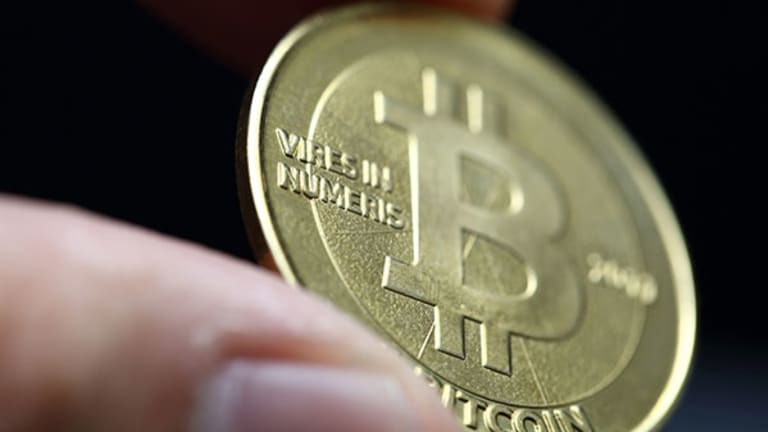 No Surprise That Bitcoin Users Got 'Goxed'
Longtime users of Bitcoin say they were little surprised by exchange Mt. Gox's decision to shutter its Web site.
NEW YORK (TheStreet) -- Bitcoin exchange Mt. Gox's abrupt shuttering of its Web site on Tuesday wasn't an uncharacteristic move to many users who have traded and held the digital currency for years.
Mt. Gox's repeated past errors led to an erosion of trust among individuals who consider themselves part of the "Bitcoin community," and it also encouraged the emergence of more secure exchanges that likely saved the cryptocurrency from a complete collapse.
"Bitcoiners repeatedly warned people not to use Mt. Gox, pointing to the fact that the suspension on their withdrawals was a bad indicator and it made Mt. Gox nearly useless as an exchange if you required a payout in USD," Ryan Shea, co-founder of Halfmoon Labs, wrote in an email.
Mt. Gox, which started in 2009 as a trading card exchange, relaunched in 2010 as an early Bitcoin exchange. Images of 2010 message threads, which were forwarded to TheStreet by a source who asked not to be named, show the early platform was meant for early adopters of the currency to trade online. But even the early stages of its creation foreshadowed chronic problems that faced the exchange.
The three windows suggest Mt. Gox, early in its days as a Bitcoin exchange faced novice programmer hurdles. In the image linked above, the third window shows that Mt. Gox in URLs had programmed the link to actually show individuals' account passwords. The source who spoke on the condition of anonymity called this "a ridiculously concerning mistake that only a novice programmer would make."
Coinapult founder Erik Voorhees took to Reddit (the Bitcoin subreddit) to defend the currency, saying the end of Mt. Gox didn't represent a collapse of the whole space.
"We are building a new financial order, and those of us building it, investing in it, and growing it, will pay the price of bringing it to the world," Voorhees wrote. "This is the harsh truth. We are building the channels, the bridges, and the towers of tomorrow's finance, and we put ourselves at risk in doing so."
For now, Mt. Gox's decision to pull itself offline, possibly erasing Bitcoin assets of most of its users, dealt a heavy blow to Bitcoin's legitimacy. But with the existence of other exchanges, it may be premature to tout the end of the cryptocurrency for now.
"Glitches, leaks, bad software, legal troubles. [Mt. Gox] got so bad that the Bitcoin ecosystem repeatedly warned mainstream users to stay away from them and even started using 'gox' as a verb to mean fuck over (i.e. 'You got goxed!')," the source said.
TheStreet was unable to contact Mt. Gox for comment on this story.
The company, however, has issued an online statment to its customers. "In light of recent news reports and the potential repercussions on MtGox's operations and the market, a decision was taken to close all transactions for the time being in order to protect the site and our users. We will be closely monitoring the situation and will react accordingly," it said.


-- Written by Joe Deaux in New York.
>Contact by Email.