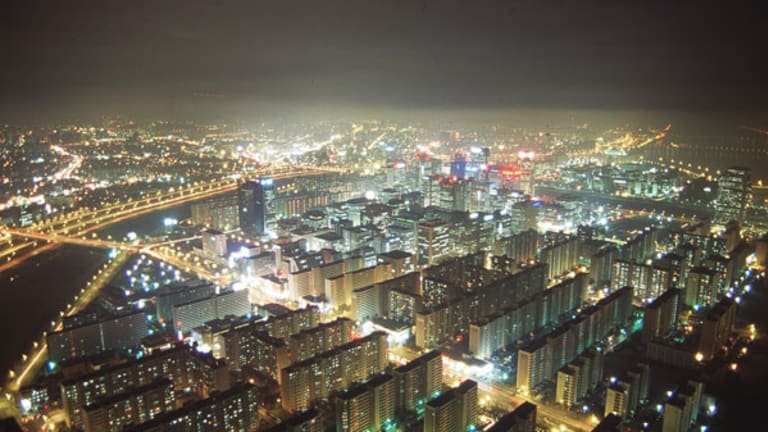 No More Green Energy 'Gold Rushes'
It's about time that green energy IPO gold rushes are replaced by IPOs that make sense.
NEW YORK (
) -- There's gold in "dem dar" hills ... again.
Well of course there is; there's only ever gold when it comes to the green energy initial public offering market. That is, until the mixed tracked record of green energy IPOs -- like any sector's IPO track record -- proves that it's not.
So here's a modest proposal: Let's stop comparing green energy growth opportunities to the iPhone and iPad, and let's stop saying every time another green energy company is about to go public that a green energy "gold rush" is about to follow.
Maybe solar modules sales will grow to match the popularity of the Angry Birds app, and maybe the next green IPO will open the floodgates -- but the green energy sector is more likely to produce its mix of high-flyers and flops and everything in between. That is, in fact, the normal way capitalism operates.
Indeed, this is the way the green energy sector has operated itself in the past when it comes to IPOs. So why would it change?
If the green energy space is here to stay, why should there be gold rushes of green energy IPOs as opposed to IPOs being a regular component of a functioning securities marketplace? Rushes are by nature "get out" events while the getting is good for the early venture capital crowd, and often less profitable for the retail investor who is convinced by marketing materials that the company going public is about to change the world. Ernst & Young recently noted that venture capital investment in green energy companies doubled year over year from 2009 to 2010 -- even as the total number of companies invested in declined -- so maybe venture capital has a vested interest in making sure another green energy IPO gold rush begins.
Still, there's something about the way that the press, for one, covers green energy that's likely to lead to post-purchase remorse from investors.
A piece in
The New Yorker
earlier this year caught my attention when the writer -- within a piece pontificating in the wake of the financial crash on whether or not our financial system creates "value" -- held the IPOs of green energy companies apart from the rest of the capital raising work done by investment banks as specifically creating social good. Yet they only create social good if the company is still turning a profit and generating returns for investors after its IPO is done.
A green energy IPO does nothing for social good -- and a lot of damage to investor portfolios -- if the company's stock never sees its IPO price again the day after it begins normal trading, and as secondary after secondary offering occur as the company's cash burn rate rises as quickly as profitability descends. At the other end of the capitalist spectrum, there's Berkshire Hathaway chief operating officer Charlie Munger saying that a Costco does more for the world than all the NGOs combined.
Isn't there a middle ground that can be found and put an end to the rhetorical high ground that is often the low-water mark for green energy companies? If there's one thing that covering green energy has made me realize, it's that the stock-trading profile of green energy stocks is one of extremes, and for good reason: this volatility goes hand in hand with the euphoria and/or doom that often dictate the headline coverage of the space.
Too often the green energy IPO is associated with a secular trend that's about to explode, and the secular growth opportunity is so large that if and when financial algorithms ever dare attempt to model the opportunity, the machines will break down in a fit of hissing steam. Indeed, I would go out on a limb and venture that if an iPhone app to model the green energy IPO and secular trend opportunity could be created, the green energy IPO app itself should go public -- and ultimately, there won't just be a gold rush in green energy IPOs, but a gold rush in green energy IPO apps that model the iPhone-like sales opportunity for green energy companies. Venture capitalists and app designers, please call me!
To take the other extreme, when green energy is not being proclaimed as the new "gold rush" and the answer to all of our energy problems, it's an existential crisis for green energy stocks. Electric car sales projections stall out and solar energy is judged an "energy welfare mom" that's no match for coal and gas without the helping hand of the government, and all of these once-splashy initial public offerings are doomed to go the way of the dodo -- or so the naysayers (i.e. Big Oil and Dirty Coal and hedge fund shorters and their press representatives and the headline writers) tell us.
Clearly, it's about time for the marketing of green energy revolutions and the green energy gold rushes to be replaced by the simple fact that a company is as good as its roadmap to sustained profitability, no matter what business it is in.
But, of course, this weekend, much to my chagrin,
The New York Times
went with a headline about the planned IPO of thermal energy company BrightSource, "BrightSource IPO Could Spark Clean-Tech 'Gold Rush.'
Nat Goldhaber, managing director of Claremont Creek Ventures in Oakland, told the
NYT
that a "monster showing by BrightSource could spark a 'Google effect' that leaves investors as enthusiastic about pioneering energy firms as they have been about information technology."
Wow! That sounds awesome (though if we could suggest an edit, we would have preferred "iPhone effect" over the Google reference). And one more thing we might add: we've been here and done this before with green energy companies, many times in the past decade. Thankfully, the
New York Times
wasn't willing to let the venture capitalist's enthusiasm completely set the tone, and included a smattering of more sober comments from green energy backers, focused on BrightSource as a company, as opposed to just another "green energy" revolution maker.
That's the least that should be done. In particular, when referencing the solar sector IPO market, the recent investment atmosphere includes as many references to "solar fatigue" among investors as it does examples of investors picking up their pick axes and gold pans and heading off to California -- if not for Sutter's Mill but Silicon Valley.
Our recent interview with the CEO of MiaSole provided one view on the
that still exists. The comments from MiaSole's CEO that the company would like to go public eventually, but isn't rushing until its business roadmap is proven, seemed like a reasonable outlook, especially compared to the past few years of comments from solar peers including Solyndra and Google-backed Nanosolar. Solyndra was ready to dominate the solar market after its IPO, until, of course, its IPO had to be pulled because the company was in significant financial trouble and hadn't been able to achieve a goal still more fundamental than "sparking a revolution to rival Google" -- namely, achieving a cost model and economy of scale in operations that generated a profit, or at least provided a roadmap to profitability.
Indeed, the boom-and-bust mentality is so pervasive that in the past week
rhetoric myself (!), albeit ironically, when discussing the solar outlook.
"BrightSource IPO Could Spark Renewed Interest in Green Energy IPOs," might be a better way to think about the "gold rush" in green energy IPOs. The interest was there before, it just dimmed when the companies didn't all pan out and generate hefty returns for investors year after year, let alone prove that they could effectively manage their balance sheets as adoption rates for their technology often occurred at a slower than anticipated rate.
BrightSource, in particular, operates in a solar thermal market that is not as cost-efficient, at this point, as photovoltaic solar. California Governor Jerry Brown has said as part of his support for the state's new renewable energy portfolio standard of 33%, that green energy sources like solar thermal will be supported even if they don't lead the cost race and need additional assistance to stay in the race. BrightSource is also one of only a select group of green energy companies to benefit from a large loan guarantee from the Department of Energy.
Additionally, the BrightSource business of building large-scale solar plants in the desert runs into a host of land use and endangered species issues, which make its business model and business risks fairly unique. From a cost perspective, the concentrated solar technology can come closer to "baseload"-like power generation through its ability to generate electricity even at low sunlight hours during the early morning and evening. On the other hand, deals BrightSource has signed which it says are at prices similar to the market price referent in California were signed in previous years and market prices can change quickly. Southern California Edison canceled its power purchase agreement for the 850 megawatt Calico Project with Tessera Energy in last 2010, and the project was re-sold and
revised to focus on photovoltaic solar
, a move analysts said indicated how quickly market pricing can change and make solar thermal seem less competitive.
These specifics of the BrightSource case aren't intended to show anything other than the fact that every case is specific -- and to talk in terms of one company sparking a new age in green energy IPOs seems misleading, or in the least, not the kind of due diligence that should support the case for more green energy stock offerings. One analyst who had looked at the BrightSource S1 filing said, "there are lots of questions it didn't answer. I don't think this is a 'gold rush' type company that's so disruptive to the market a flood of similar IPOs occur."
Take
A123 Systems
(AONE)
, the lithium ion battery company that was going to ride the electric car market to riches, yet reported another losing quarter on Monday after the close. A123 Systems generated
in the first quarter. When A123 Systems recently completed a secondary equity offering to keeps it balance sheet from collapsing, shares were priced at $6. Its 52-week high is just short of $15. After pricing its IPO offering in Sept. 2009 at $13.50, A123 shares jumped the next day above the $20 mark. Shortly after its 2009 IPO A123 Systems traded near the $26 mark.
On Tuesday, A123 Systems competitor Ener1 wrote-off its entire investment in an electric car market partner,
effectively exiting the electric car market (at least for now)
saying the electric car market and the lithium ion battery makers should be partners in the long run, but the economic model isn't working. Of course, these business realities didn't stand a chance against the secular growth story for electric cars when the companies went public.
The
New York Times
also included a reference to oil major
Total's
recent decision to buy 60% of U.S. solar company
SunPower
(SPWRA)
at a
The huge premium offered by Total for SunPower shares equaled $23.25 per share. SunPower went public in 2005 and in its first day of trading rose from its IPO price of $18 to above $25. SunPower shares rose as high as $130 in 2007, and were still trading at the $40 mark at the outset of 2009 before declining to the current range, which over the past year saw SunPower shares move as low as $10 and as high as $20.
Of course, for investors who got into the SunPower IPO and got out when shares were at $130, the IPO was a great one. In the case of
First Solar
(FSLR) - Get First Solar, Inc. Report
, which at one point in 2008 was above $311 a share and now trades at $130, it's done better over the past five-year period than Google, with a return of more than 400% over its IPO price, versus a paltry 36% return for Google shares. Yet by and large the post-IPO market for green energy stocks has shown that it's been a "pick your spots" trader-friendly environment, as opposed to a straight road to sustainable profits.
SunPower and First Solar were part of the first gold rush in green energy, as were the lithium ion battery makers, and if venture capitalist Nat Goldberger is to be believed, the second gold rush is upon green energy investors.
If that's the case, "gold rush" is only the right term to us if it's reflecting the history of gold rushes, which amounts to "buyer (of pick axe and gold pan) beware" in every case.
Green energy IPOs are made no better or worse than IPOs in any sector of the market. Green energy companies should go public, not because of a revolution that will change the world and supersede the financial information in the filing document, but just because the companies are good ones and have a defined roadmap to cost leadership and profitability in a market that is sustainable.
You may say you want a revolution, but I'd take a big-box company or a utility paying a dividend, as long as its business plan is sound, and let the iPhones and Googles have their way with the hyperbolic headlines. Some green energy investors would take this boring growth, too. In a recent back-and-forth with solar investors on
TheStreet
, one comment stood out, and made no reference to revolutions or gold rushes. In response to my comment that a solar company was probably more like a Wal-mart, in being a "lowest cost wins, commoditized market" company, as opposed to be the next high-tech revolution, a solar investor said with a sigh, "What I wouldn't do for a 12x trading multiple like Wal-Mart."
The Ernst & Young green energy IPO report released on Tuesday indicated that the pure-play green energy sector increased 10% through 38 IPOs in 2010, which raised $9.7 billion, with 20 Chinese IPOs in 2010 raising $4.7 billion, accounting for 53% of the deal activity and 49% of the capital raised. The solar segment saw the largest number of IPOs in 2010, with 11 deals representing 29% of activity and 17% of capital raised.
Gil Forer, Ernst & Young's Global Cleantech Leader, predicted, "We can expect further growth in the number of pure-play public companies as well as improving financial performance as the economic recovery continues. Additionally, the return of global IPO activity to pre-downturn levels and a strong pipeline of offerings in China will likely generate a significant number of new entrants."
This might sound pretty boring, but it still sounds better than a gold rush to me.
-- Written by Eric Rosenbaum from New York.
RELATED STORIES:
>>Total to Take Majority Stake in SunPower
>>Is Italy's Last Solar Gold Rush Doomed?
>>How Thin Film Plans to Beat Chinese Solar
>To contact the writer of this article, click here:
Eric Rosenbaum
.
>To follow the writer on Twitter, go to
.
>To submit a news tip, send an email to:
.