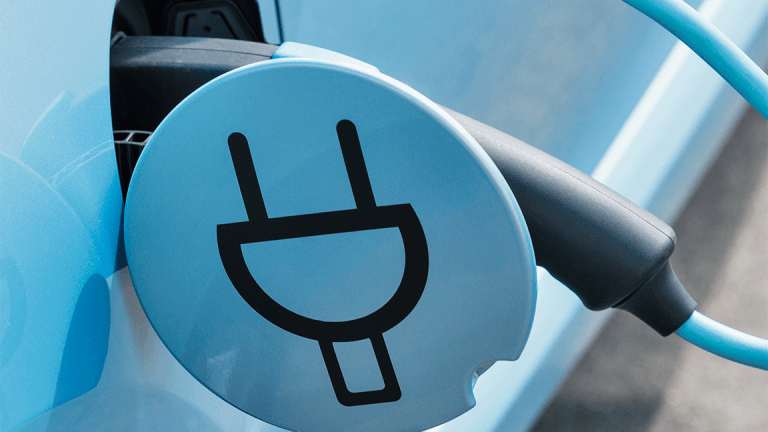 Nio Deliveries Beat Expectations. What Does It Mean for Tesla?
Nio beat its prior guidance for first-quarter vehicle deliveries. Does that mean Chinese demand is picking back up?
Shares of Chinese electric vehicle (EV) maker Nio (NIO) - Get Report are on the move, rallying over 3.5% on Tuesday after the company beat on delivery expectations for the first quarter. The move has shares back rallying up to $5.38, as Nio does its best to stay above the $5 mark after temporarily breaking below it late March. 
What does the news mean for the company, as well as other automakers like Tesla (TSLA) - Get Report ?
Nio was red hot coming into March as the stock had almost doubled from the start of the year. Then the company reported earnings and it went downhill from there, as management warned of a "greater than expected" slowdown in electric SUV demand.
Worries over demand and Chinese electric vehicle subsidies persisted and weighed heavily on Nio stock, which ultimately fell more than 50% last month. In the earnings release, management called for ES8 SUV deliveries between 3,500 and 3,800 units for the first quarter of 2019. Ultimately, that number came over the high end of the range, with Nio announcing on Tuesday that it delivered 3,989 vehicles in Q1.
While better than previously anticipated, those numbers are still down 50% from the prior quarter. That helps explain why shares are seeing a slight bounce on the day, although the rally is far from robust when considering the preceding decline.
China is the world's largest EV market, so to see Nio struggling would be a sure concern to other electric automakers. But it's not just EVs that are feeling the pinch, it's the entire auto industry in China. This is something we pointed out back in the fourth quarter, while General Motors (GM) - Get Report and Ford (F) - Get Report have also seen their share of slowdowns in the country.
To see Nio's deliveries come in better-than-expected could mean that demand is picking back up. For a company like Tesla, that would be a crucial development, given that the automaker recently began shipping its Model 3 to the country and as it builds its Gigafactory 3 plant in Shanghai.
We'll likely get Tesla's first-quarter production and delivery numbers between now and April 3. Consensus estimates call for production of roughly 64,000 Model 3s in the quarter, although deliveries will likely be notably lower thanks to the company's efforts to expand into Europe and China during the quarter. While this move increased demand, it made delivery more difficult in the short term.
However, while production estimates are generally in the mid-60,000 range, the Bloomberg tracker estimates more than 79,000 Model 3s were produced in the quarter.
Some may argue that better-than-expected results from Nio is bad news for Tesla, a competitor. I don't know if that's the case. I'd view it as a more bullish development out of China. The market is surely large enough to accommodate multiple players and if demand is picking up, that could bode well for Tesla.
Even if that's the case, though, China is more likely to be a second-quarter story rather than a first-quarter story, since the move is fairly recent.
Will You Have Enough Money to Retire?
Want to learn about retirement planning from some of the nation's top experts? Join TheStreet's Robert "Mr. Retirement" Powell live in New York on April 6 for our Retirement Strategies Symposium. For a limited time, tickets are available for $99 for this full-day event. Check out the agenda, learn about the speakers and sign up here.
This article is commentary by an independent contributor. At the time of publication, the author had no positions in the stocks mentioned.