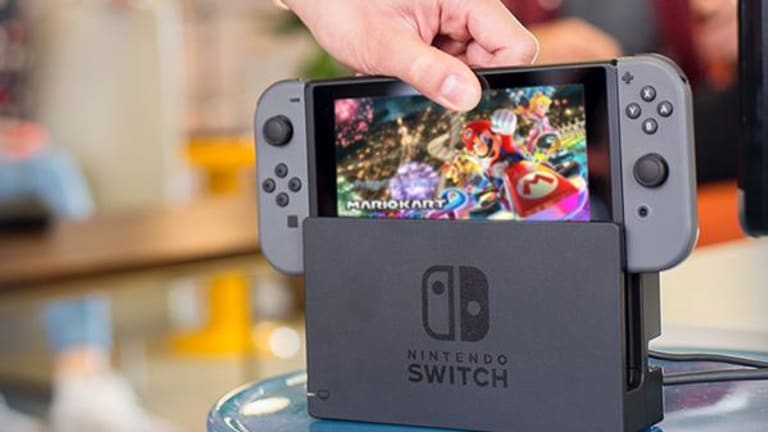 Nintendo Has Finally Launched One of the Most Important Gaming Consoles in Its History
The Nintendo Switch, the Gameboy beyond your wildest childhood dreams, was launched on March 3.
Say hello to one of Nintendo's (NTDOY) biggest console launches ever.
The new Nintendo Switch game console was released on March 3 for $299. Videogame retailer GameStop (GME) - Get Report said that it will only have limited quantities of the console available on launch day. In all, there will be more than 60 indie games on the Nintendo Switch eShop this year, the company has confirmed. 
To be sure, Nintendo has some lofty sales for the Switch. The company is forecasting sales of 2 million units in the first month. More than 8 million units could ship within a year -- a faster clip than the Wii U, though not as much as the Wii, says IDC. 
Pros for the console, aside from the nostalgia is its portability (it can be played connected to a TV or elsewhere), adaptability (players can enjoy games with up to eight others online and buy software anywhere in the world) and functionality (the battery will last up to 6.5 hours and can be re-charged whilst in use). This is certainly not the Gameboy of yesteryear. 
"The Nintendo Switch inherits and packs in all the entertainment DNA at Nintendo," said Shinya Takahashi, director, and general manager of Nintendo's entertainment planning & development division recently.
Takahashi, also a managing executive officer, said that the new console reflects all of the features in the past Nintendo games. For instance, the two controllers of the Family Computer released in 1983, the portability of Gameboy sold in 1989, the analog stick of Nintendo 64 launched in 1996, and the motion control of the Wii released in 2006. 
Here is what else we know about the Switch from seeing it up close and personal recently. 
Doesn't it remind you of the hours spent playing Gameboy? 
Loving the multi-color joysticks. 
In case you don't feel like enjoying sweet, sweet solitude. Fun fact: Skylanders is made by Activision Blizzard (ATVI) - Get Report . 
Switch being used in a home setting. 
It almost looks like the Playstation 2 console, but it's not. 
Family-friendly controllers. The crowds around Zelda at the event were fierce -- the title has a very loyal following. 
One of the most talked about launch games for the Switch is Super Mario Odyssey. 
Street Fighter also has a cult following. 
The Switch comes with a build in stand (in the back) so you could watch videos and movies while sitting at a table.