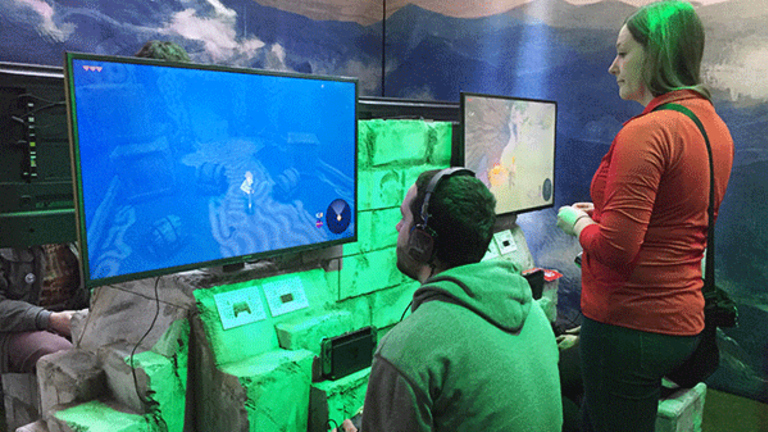 Nintendo Cuts Full-Year Guidance, but Its Shares Are Still a Buy
The video game company reported disappointing profits for the first nine months of its fiscal year and slashed its full-year guidance by one-third. Is it time to pull the plug?
Japanese video game and console maker Nintendo (NTDOY)  on Wednesday reported earnings for the first nine months of the fiscal year ended Dec. 31 that disappointed investors hoping for Donkey Kong-sized profits.
In addition, the company slashed its full fiscal year operating profit outlook by a hefty one-third.
Nintendo's tumbled Wednesday, only to regain some lost ground on Thursday morning. However, the stock price of about $25 is still a far cry from July's spike above $37.
Should savvy investors look beyond the near term and grab shares while they are still relatively cheap?
Operating income for the nine-month period fell by 38.1% to 26.3 billion yen or $231 million. And sales for the period were down by more than 36.5% year over year, falling to 311.1 billion yen from 425 billion yen a year earlier.
Nintendo lowered its guidance for operating income for the full fiscal year to 20 billion yen from 30 billion yen. This slash in the forecast is what is really spurring the bearish sentiment toward this company and its stock.
However, Nintendo is still a promising stock for those who want to profit from the enduring popularity of video games. And Nintendo's stacked schedule for this year could yield plenty of opportunities.
On March 3, Nintendo will roll out its first next-generation console in quite a while, Switch. This new console is intended to bridge mobile and console gaming.
The company expects 2 million Switch units to be sold by the end of next month, and analysts forecast that the company will sell 10 million to 11 million units through April 2018. Nintendo will be partnering with more than 70 third-party game developing companies to make as many as 100 new games for the console this year.
Nintendo Switch is expected to take the place of not only the company's last console system, the Wii U, but also its 3DS handheld system.
The 3DS sold very well during the last quarter, moving 6.46 million units, a 10% year-over-year increase. Software sales for the platform increased 20% year over year, with 46.78 million units sold.
These numbers are particularly impressive, given that the 3DS has been available in this fickle market for six years. And it shows that Nintendo Switch is coming at a good time as well because sales for the 3DS are likely to start decreasing soon.
Nintendo also said that it intends to release two or three mobile games per year.
The company unveiled its Super Mario Run for the Apple iPhone in December but received lukewarm sales. However, the game has yet to be rolled out for Alphabet's Android platform, and the company has only just begun to experiment in the mobile game world.
Apple and Alphabet are holdings in Jim Cramer's Action Alerts PLUS Charitable Trust Portfolio. See how Cramer rates the stocks here. Want to be alerted before Cramer buys or sells AAPL and GOOGL? Learn more now.
Nintendo also boasts strong intellectual property, with a portfolio of blockbuster, beloved brands including Pokemon that will continue to enhance the company's legacy.
This will be a busy year for Nintendo, and this is a terrific opportunity for bullish investors to load up on shares before they get too pricey. Nintendo remains a good long-term play.
---
However, if you don't want to wait for the long term, there is a way you could start making $67,548 per year - or more - in profitable trades right now just by following this simple step-by-step process? The trader who is sharing this secret has been right more than 8 out of 10 times, turning $5,000 into more than $5 million for himself. Click here to see how easy it is to follow his lead and collect thousands of dollars in "Free Money" every month.
The author is an independent contributor who at the time of publication owned none of the stocks mentioned.