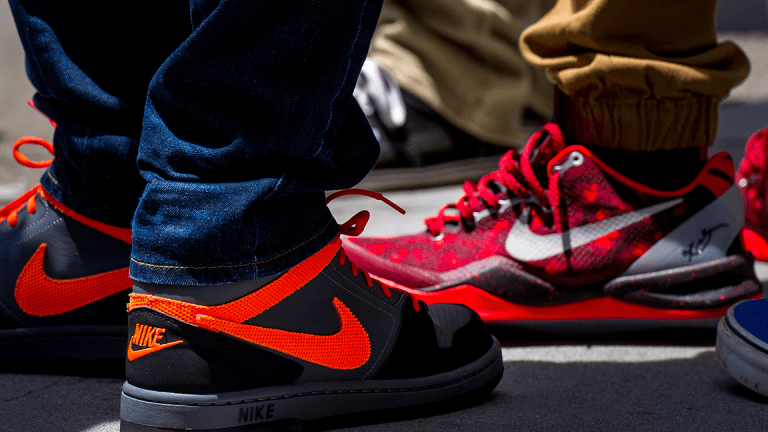 Nike's Breakthrough Sneaker Tech Could Send Future Profits Soaring: Macquarie
Trimming the amount of leather it discards to landfills can shave as much as 40% off Nike's material waste, Macquarie analysts say.
Nike Inc. (NKE) is getting serious about its waste problem, and that could mean enormous benefits to its bottom line.
Nike discards more than $1 billion of materials per year through traditional deductive manufacturing processes, Macquarie analysts wrote in a 19 note, representing about 300 basis points of gross margin loss per year.
But new manufacturing processes including Nike's popular Flyknit, waterless dyeing 3D printing and new Flyleather will "redefine product design," analysts said.
Flyleather is 40% lighter and five times more durable than traditional leather. The new material, which was created with U.K.-based partner E-Leather, could translate into a "win" for the transportation aspect of getting Nike shoes to market, as lighter loads translate to smaller fuel costs, analysts wrote. Plus, Flyleather is at least 50% recycled natural leather fiber and diverts waste from landfills.
"Turning to Nike, leather is listed as the fourth grouping in its 10K after rubber, plastic compounds and foam cushioning," Macquarie said. "And with Nike producing over 500 million pairs of shoes a year, leather really matters."
According to Macquarie's analysis, leather represents $2.6 billion in Nike's cost of goods sold for 2018. About 15% of leather is discarded to landfills through traditional manufacturing, which represents about $390 million in leather waste and 110 basis points of gross margin. If Nike can successfully reduce the amount of leather it discards, it can shave 40% off its total $1 billion in material waste.
Beyond just smarter leather, Nike is also working to develop its own bioengineered leather, analysts found. It's not just "pleather," they clarified, but rather leather made by editing the DNA out of living cells in a test tube to create the base materials.
Macquarie rates Nike stock as "outperform," and assigned a $72, 12-month price target on shares to imply a 12% upside. Nike stock traded lower 0.46% to $66.90 premarket Monday.
More of What's Trending on TheStreet: