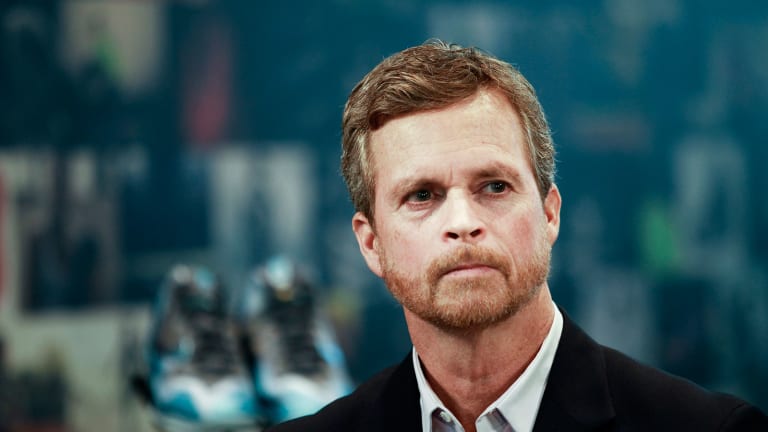 Slasher! Nike Wants to Cut Shoe Production Time by Half
Adidas is on board with speedier production, too.
Days before Halloween, Nike, Inc. (NKE) - Get NIKE, Inc. Class B Report  announced plans to slash shoe production schedules in half.
The sporting apparel company laid out its ambitions for improving supply chain processes on Wednesday, Oct. 25, during an investor presentation.
Nike wants to cut its design and production process in half to under six months as part of its five-year plan, according to Mark Spillane, the president of products and merchandising. After the streamlined initial production process, Nike aims for any product updates—or minor changes to product design—to happen in under 90 days, and product fulfillment under two days.
"We focus a lot of attention on manufacturing," said Chief Operating Officer Eric Sprunk. "We're in the early stages of major shifts in our supply chain."
Currently, Nike's design and production process takes at least a year, according to Bobby Eubank, a research analyst at Chevy Chase Trust, an investment management firm with interest in retail automation.
"If you're bringing in products from Asia, you're taking a long time," he told TheStreet. "This process would be over a year."
Nike is hardly the first retailer to aim for a drastically shorter timeline for merchandising, Eubank added. Adidas AG (ADS) - Get Alliance Data Systems Corporation Report , for instance, began piloting in 2015 its Speed Factory program, an automated manufacturing process that creates custom shoes in large numbers.
One crucial way for Nike to meet its new deadlines would be to localize production so that items are made and fulfilled closer to where they're sold. The execution of this model on a mass level is, for the moment, more aspirational than realistic, according to Eubank's colleague, Spencer Smith, the director of research for Chevy Chase Trust.
"Nike says they ship 1.3 billion products a year. Their new target for new automated products is only 3 million," said Smith. "There's definitely a big opportunity here, but it's just being tackled now."
In other words, for Nike to overhaul its entire production process could take much longer than five years. Still, Nike is at the forefront of retail manufacturing. Wall Street appears to be hopeful. Shares are up nearly 3% Wednesday as investors tuned in to the presentation, during which Nike CEO Mark Parker announced that the company expects earnings per share to grow in the mid-teens over the next five years.
His forecast for digital revenue growth reaches between 15% to 30% in the same period, with nearly three-quarters originating from the U.S. "We believe in the popularity of sports and active lifestyles, and we believe in the power of the consumer," Parker said. "To the consumer, there is no trade-off between sport and style."
As part of its presentation Wednesday, Nike also unveiled new shoe models, materials, and a membership program, as well as its goal for same-day delivery in key cities like New York and Los Angeles.
Last month, Nike reported lower-than-expected sales but higher-than-expected earnings for its first quarter. Sales totaled a little over $9 billion, the skimpiest in seven years.
More of What's Trending on TheStreet: