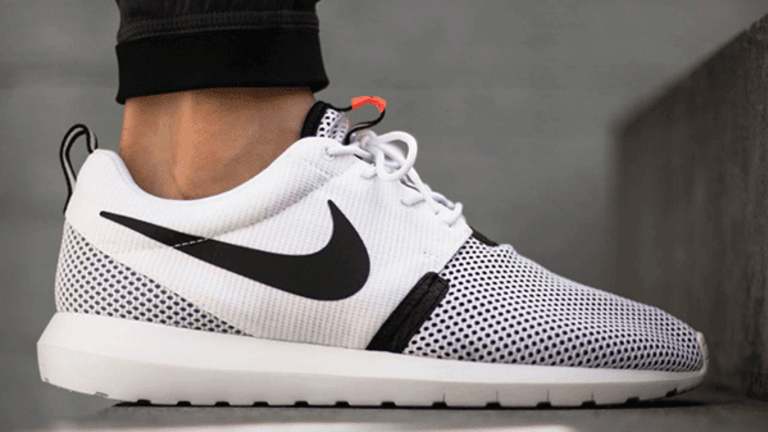 Nike: Stay Off The Court
Does anyone think margins will rise after doing business with Amazon?
Avoid the swoosh, investors. I think there is more bad news ahead for Nike Inc. (NKE) - Get Report .
The company, whose shares are up just 5% year to date, reports results for the fourth quarter and fiscal year 2017 (ended May) on Thursday, so beware. Nike is expected to post fourth-quarter earnings per share of $0.50 on revenue of $8.6 billion. For the full year, analysts are looking for EPS of $2.41 and total revenue of $34.3 billion.
On its third-quarter conference call, management failed to provide much guidance for the fourth quarter (or the year ahead). Usually management provides guidance during the third quarter, so the lack of commentary is unnerving and to me, likely means bad news down the road.
Nike reported third-quarter EPS of $0.68, $0.15 better than expected. Revenue rose 5%, year to year, to $8.43 billion. While the bottom-line number beat expectations, about $0.11 of that came from lower spending and $0.05 from a lower tax rate. Excluding that, Nike would have missed.
But the big disaster in the third quarter was gross margin, which was down 140 basis points. By my count this was the fourth consecutive quarter Nike missed gross margin estimates. And it doesn't look like it's getting any better.
Analysts are forecasting fourth-quarter margins to narrow 150-160 basis points to 44% and revenue to grow just 4.5%. Just two year ago, sales were growing 10% annually and gross margin was over 46%.
Inventory has been growing faster than sales for more than two years now. Retailers are heavily discounting Nike products and competition from Adidas (ADDYY) is really taking a toll. The company has lost floor space in stores such as Foot Locker (FL) - Get Report and Finish Line (FINL) .
In addition, Nike is taking a beating in its direct-to-consumer business (i.e., e-commerce). E-commerce is growing double digits but pressuring margins since this area carries lower margins because of the cost of free shipping and returns.
The growth in average selling prices of Nike footwear and branded apparel is decelerating. Just three years ago, Nike could jack up the price of its sneakers 5% and it would actually sell more units. But now Nike has lost much of its pricing power. Indeed, according to company reports, in the third quarter, the growth in average selling price for its footwear business was up just 1%, and unit volume rose only 6%.
Add it all up and it makes for a very difficult situation. The last time Nike lost market share was back in 2009 and revenue barely budged. By 2011, Nike was back on track and revenue grew more than 8%, but today's competitive landscape has changed dramatically. Nike has recently decided to sell its wares on Amazon (AMZN) - Get Report , which indicates management is looking for revenue while the company's traditional retail partners struggle.
Analysts are looking for fiscal year 2018 revenue of $36.45 billion, up 6.3%, and EPS of $2.48, both of which seem high to me. Inventory is still out of control and there doesn't seem to be an end in sight for the weakness in gross margin, especially after Nike adds its products to the Amazon catalog. (Who here thinks Nike's margins will rise after doing business with Amazon? Come on.)
I think investors should stay off the court until Nike can get its head in the game.
More of What's Trending on TheStreet:
Apple's iPhone Triggered Mind-Blowing Changes to How Investors Trade Stocks
Amazon Could Easily Own Whole Foods and Rite Aid or Express Scripts, This Top Analyst Says
This article is commentary by an independent contributor. At the time of publication, the author held no positions in the stocks mentioned.