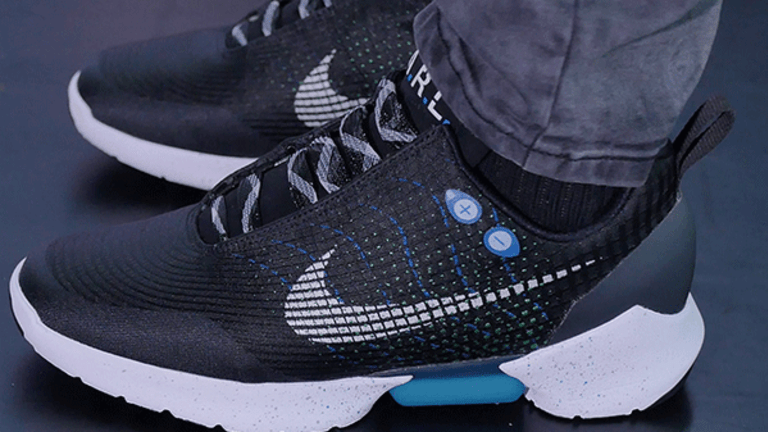 Nike's Battered Stock Price Won't Be Helped By 'Innovation Lull'
Nike investors, who have watched the stock fall this year amid greater competition from Adidas and Under Armour, may not be in store for relief anytime soon.
Nike (NKE) - Get NIKE, Inc. Class B Report investors, who have seen shares fall an uncharacteristic 17% this year because of slowing growth amid greater competition from Adidas and Under Armour (UA) - Get Under Armour, Inc. Class C Report , may not be in store for relief anytime soon.  
"It is clear that Nike is losing share to Under Armour and more broadly, a resurgent Adidas," wrote Canaccord Genuity analyst Camilo Lyon in a note on Monday after meeting with Finish Line's (FINL) new CEO Sam Sato. According to Lyon, Nike will have an "innovation lull" that persists into holiday 2017 and spring 2018, which will open the door for comeback kid Adidas to take market share at footwear retailers such as Finish Line.
"Adidas's new product introductions -- such as Boost and Yeezy -- look fantastic through fall 2017 and as such, we believe Adidas is gaining significant shelf space at retail as it is armed with multiple [sneaker] platforms, all of which are resonating with the consumer," said Lyon, who estimated that Adidas has gained a whopping 50% more shelf space at Finish Line of late. 
Lyon's analysis of Nike was echoed elsewhere, too. 
"We now expect Nike's market share loss to Adidas and Under Armour to continue through 2017 as our meetings with manufacturers/suppliers and competitors indicated a potential narrowing of the innovation gap for Nike's pipeline relative to the competition compared to historical levels, in our view," said Bank of America Merrill Lynch analyst Robert Ohmes in a note on Monday, where he downgraded his rating on Nike to underperform from neutral. Ohmes pointed out that Nike didn't launch a major platform during the Olympics -- which is rare -- and that he doesn't expect any significant new platform launches in the near-term.
For Nike shareholders, the downbeat commentary on its near-term prospects are now becoming commonplace.  
Nike's future orders numbers, a key metric at the company watched by Wall Street to help gauge sales in coming quarters, disappointed when the company reported its fiscal first quarter results back in September. Worldwide futures orders rose 7% to $12.3 billion excluding the effect of currency translation. Analysts had called for an 8% increase. Futures orders for the U.S. were the most disappointing, rising a meager 1% compared to analyst forecasts for a 5% gain.
Nike also slashed its full-year gross profit margin guidance. The company sees profit margins falling by 125 basis points in the second quarter and remaining unchanged in the second half of the year. In the first quarter, profit margins plunged 200 basis points, worse than guidance for a 100 basis point drop, as Nike liquidated inventory in off-price retailers such as TJ Maxx and wrote down inventory related to its decision to exit the golf equipment business.
Previously, Nike saw gross profit margins rising 30 to 50 basis points for the year.
Explained Lyon in a note after Nike's earnings, "All in all, this quarter raised more questions than it answered. In our opinion, Nike is having to navigate an environment it has not seen for years, one in which consumer preferences are shifting elsewhere and which likely does not change course for the foreseeable next six to nine months."