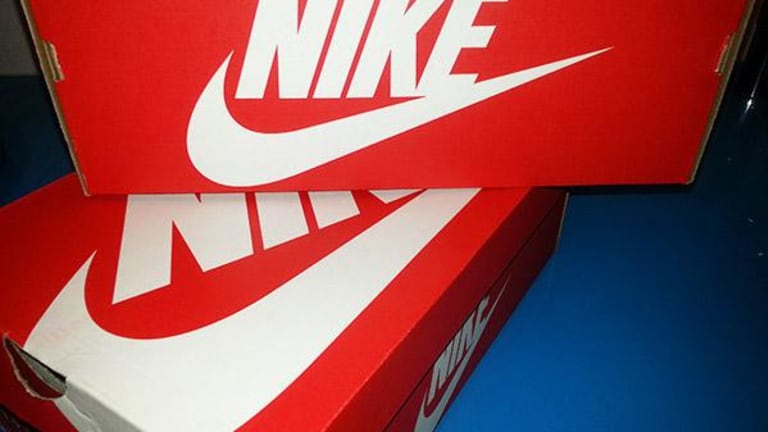 Nike Needs a Rebound
Nike fell out of favor and is down 18% in 2016.
Nike fell out of favor and is down 18% in 2016.
Nike (NKE) - Get Report stock is 18% lower in 2016. Shares of Nike fell out of favor around this time last year. Last November I asked if Nike had any more room to run.
The company reports second-quarter fiscal 2017 next Tuesday.
A year ago, I was concerned about the high valuation and huge amount of inventory Nike was carrying. Management blamed the West Coast port strike for the excess inventory. The stock was trading at 31 times forward estimates, and analysts had been taking numbers down. It seemed like the easy money had already been made.
In March, the company missed revenue estimates. Analysts had been looking for revenue of $8.2 billion, but Nike posted $8 billion in revenue. Expectations came down all summer long. The company reported an in-line quarter, but missed on lower gross margins.
Nike reports its second-quarter fiscal 2017 earnings on Tuesday. Analysts are looking for earnings of 43 cents per share, down 2 cents from last year. Weak gross margins and too much inventory continue to weigh on the stock.
Gross margins fell 200 basis points in the first quarter as the company worked to clear out inventory. North American inventory fell 0.8% in the first quarter, but inventory grew 39% in Western Europe, 60% in Japan and 10% in the emerging markets. Last quarter, inventory at Converse was up 37%.
Additionally, Nike has been hit with higher labor costs, foreign currency headwinds, lower e-commerce margins and extra costs related to getting out of the golf business. Even Nike's e-commerce business is holding down gross margins. Analysts are modeling gross margins of 44%.
Revenue is expected to be up 5% to $8 billion. That represents a huge slowdown. As recently as 2015, second-quarter sales were growing by nearly 15%.
Nike's big problem is increased competition. Adidas and Under Armour (UA) - Get Report have become more competitive and closed the gap. They have been able to match Nike shoe for shoe. Nike's technical and high-performance edge in footwear is no longer enough as consumers have switched back to traditional basketball shoes, which favors Under Armour and Adidas. Under Armour's Steph Curry and Jordan Spieth shoes have been huge hits. Adidas has been taking share in Europe, the emerging markets and China.
Analysts are looking for 2017 earnings of $2.35 and $2.66 for 2018, but those seem high considering all the pressure Nike is under. Sales growth of 6% over the next two years also seems overly optimistic.
Gross margin problems seem destined to linger for the rest of the year and there are no signs that competition is letting up. I think Nike shares will be under pressure for the near future.
This article is commentary by an independent contributor. At the time of publication, the author held no positions in the stocks mentioned.