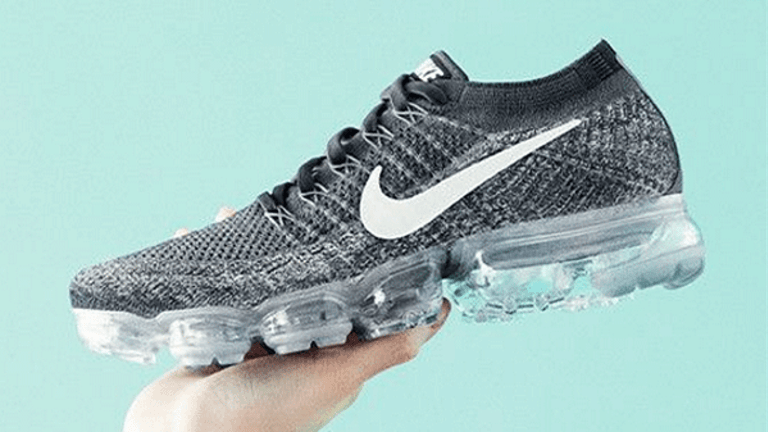 Nike Isn't Going to Change Overnight, Analyst Says
It will take time.
It will take time for Nike's (NKE) - Get Report new reorganization to pay off on the bottom line.
"Putting the pieces together, we are encouraged by management's more efficient SG&A approach and forward thinking initiatives, but change takes time with the North American marketplace disruption and elevated promotional acivity pressuring management's mid-teens [profit] algorithm in our view," wrote JPMorgan analyst Matthew Boss on Friday. The analyst downgraded his rating to neutral from buy.
Nike announced Thursday its Triple Double Initiative, which aims to push sales to online platforms. Nike's Triple Double Initiative plans to double innovation, speed and direct connections with consumers, the company contends.
One result of that new plan is a 2% cut of its global workforce of some 70,700 employees.
"Nike may have realized that it got bloated and is taking radical action, so that will drive the stock down but will later drive it up," TheStreet's founder and Action Alerts PLUS Portfolio Manager Jim Cramer said of Nike's fresh round of jobs cuts. Cramer added that while Nike CEO Mark Parker may be struggling today, "he won't stay struggling."
Nike still rules the market, but German rival Adidas (ADS) - Get Report is moving forward nipping at the sneaker king's heels, analyst Christopher Svezia of Wedbush told TheStreet.
"For over 18 months, Adidas has taken market share from Nike. And to a lesser degree, Puma has too," added Svezia. Under Armour (UA) - Get Report also took market share from Nike some two years ago when the Golden State Warriors won the NBA championship and Under Armour introduced a Steph Curry sneaker, honoring Golden State's premier shooter.
In a note from Svezia on Thursday, the analyst maintained his neutral rating on Nike, saying that challenges are in foreign exchange and likely higher operating expenses that could result in "flat to down" earnings per share in 2018.
Svezia wrote that the U.S. market remains a headwind for Nike.
"Broadly the Nike brand continues to lose share while Jordan continues to dominate in a subdued category (basketball)," he wrote. "Changes in MAP [minimal advertised pricing] have allowed retailers to promote more aggressively but could lead to continued [pressured] orders as retailers work through higher inventory levels."
Increasing the problem, wrote Svezia, is that two of Nike's biggest retailers, Foot Locker (FL) - Get Report and Dicks Sporting Goods (DKS) - Get Report have reported "softer results" in the first quarter of 2017.
The Wedbush analyst wrote that he was impressed with the company's management of expenses, but he doubted Nike could maintain it next year, and he applauded Nike for its "speed initiatives," which he noted will take time to develop.
Read More Trending Articles:
Jim Cramer: Another Rotation Out of Apple and Nvidia Is in the Cards
Oil Reaches a Spot Where Nibbling at Energy Stocks Becomes Possible: Market Recon
Don't Forget Why You Love Tech Stocks Like Amazon, Jim Cramer Explains
Snap Has Shed an Astounding $13 Billion in Value and Now the Stock Is Trading Near Its IPO Price