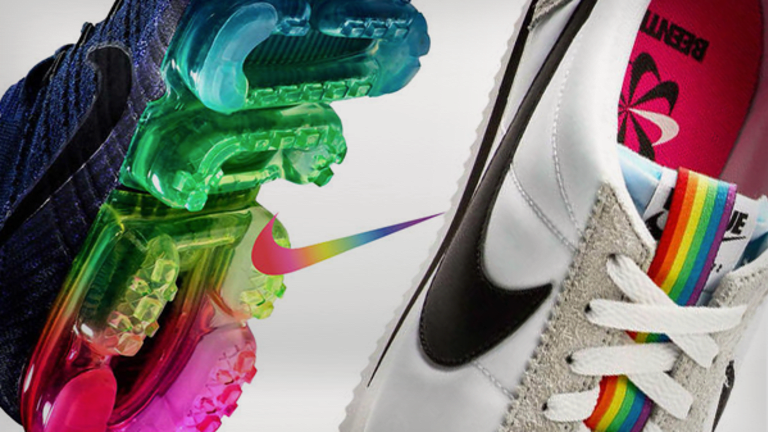 Nike Hopes People Rally Around These New LGBTQ-Themed Rainbow Sneakers
June is LGBTQ pride month.
Through a new sneaker collection, Nike (NKE)  hopes to play its part in encouraging LGBTQ athletes to be proud of who they are.
In coordination with its "Equality" initiative launched last February, Nike is releasing a line of Betrue sneakers and apparel on June 1 through June 5 in the U.S., all baring the rainbow symbol, to show support for the LGBTQ community. LGBTQ pride is celebrated nationally throughout the month of June.
"The key for us was to create something that people could unite around to show their support for LGBTQ athletes," Robert Gorman, leader of Nike's LBGT Network said in a statement. "Sporting your rainbow in the gym or on a run became a way to feel like you belonged to something larger - you were connected to being 'out' or being an ally."
The collection includes the NikeLab Air VaporMax Betrue, with its soles sporting the eight colors of the original 1978 pride flag; the Nike Flyknit Racer Betrue, featuring the eight colors of the flag on the Nike swoosh logo; the Nike Classic Cortez Betrue; the Nike Air Zoom Pegasus 34 Betrue and a few t-shirts and socks.
Betrue, a grassroots effort started up by Nike employees in 2012, designed the new Nike collection. Since its start, Nike, through Betrue, said it has donated $2.5 million to LGBTQ causes.
READ MORE: How Federal Same-Sex Marriage Affects Your Social Security
Nike's Betrue campaign is similar one by PepsiCo.'s (PEP) Frito-Lay two years ago. In 2015, the company sent customers who donated $10 or more in support of the It Gets Better Project a bag of its Doritos Rainbows - the Cool Ranch-flavored chips clad in pride colors.
It Gets Better was a YouTube campaign launched by activist Dan Savage and his partner in 2010 to show support for young LGBTQ people, after an increasing number of students had committed suicide due to bullying and harassment.
Last February, in support of Black History Month, Nike launched its "Equality" campaign, through which it released a line of apparel and sneakers featuring imagery of cultural icons and athletes including Michael Jordan, LeBron James, Serena Williams and Kevin Durant.
Click here for the latest business headlines.
Editors' pick: Originally published May 26.