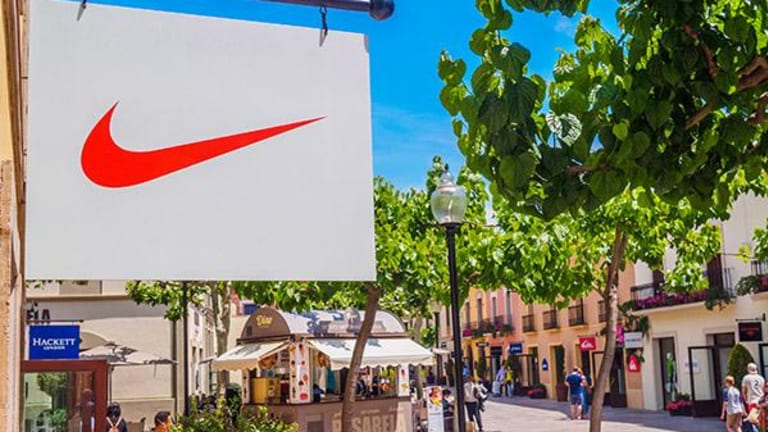 Nike, Dow 30's Worst Performer, Has 15% Upside Potential for 2017
This iconic athletic-apparel and footwear company is poised to turn around and outperform.
It has been a forgettable year for athletic-apparel and footware company Nike (NKE) - Get Report , with shares down 16%-plus on concerns regarding market share loss to rivals such as Adidas and Under Armour.
Surprisingly, in terms of earnings, the company has been a solid performer with a 100% record of beating estimates over the past four quarters. Nike is an undervalued growth opportunity for 2017.
Nonetheless, investor antipathy has meant that Nike is the worst performer among the Dow Jones Industrial Average stocks this year.
But Nike could gain big from President-elect Donald Trump's buy American mantra.
In addition, the company maintains a strong credit profile and has been able to navigate the terrain effectively, despite rapidly changing consumer preferences and a possible "fashion risk."
Nike, whose characteristic swoosh logo is one of the most recognized consumer brands in the world has a very strong market position. 
Meanwhile, constraints driven by the inherent cyclicality in its sector and emerging competition in the global apparel and footwear industries, haven't tarnished Nike's financial capabilities.
The company doubled its annual sales to more than $32 billion in the past decade, sustained gross margins of more than 46% and delivered consistent profits running into the billions every year.
But the competition has been breathing down the company's neck, with Under Armour, in particular, billed as a "Nike-killer" by many.
However, Nike has held its ground, and as its latest fiscal second-quarter earnings report shows, the company has garnered massive growth in direct-to-consumer sales, has upside in China and has regained its mojo in the basketball niche.
Clearly, execution has been solid at Nike. The same can't be said of Under Armour, whose shares have plunged 27.84% this year.
Nike remains one of the most preferred footwear brands among teens, which is one of its true strengths.
The company should maintain its leading market position across geographies and products. Like pure-play footwear companies such as Crocs and Steve Madden, Nike will always face unfavorable macroeconomic conditions in key markets.
But the company, led by Chief Executive Mark Parker, will continue to maintain a balanced financial policy and strive to maintain a solid liquidity profile. Its efforts to change the distribution game with direct-to-consumer sales, attempts to diversify across product categories and consistently drive innovation such as with the self-lacing shoe HyperAdapt 1.0 are remarkable.
Analysts may have voiced concerns about Nike's "light" future orders compared with the consensus, but revenue is growing and profits have been stable.
For a large company, Nike's ability to deliver 7% to 8% annual revenue growth and a double-digit future earnings increase are massive advantages.
With a modest dividend yield of about 1.4% and stock appreciation potential of 15.7%, next year looks promising for Nike.
---
As an investor facing what promises to be a volatile 2017, you want to be in control of your own destiny. That means being able to predict in advance how much money your investment portfolio will generate. Think it can't be done? Our top analyst has a system that can ensure you will make a profit on more than 80% of your trades. To find out the secret, just click here!
The author is an independent contributor who at the time of publication owned none of the stocks mentioned.