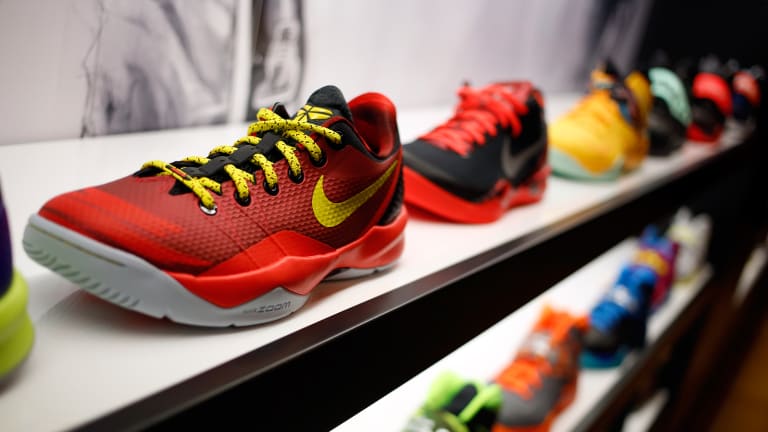 Consumers want more sneakers, faster than ever before, that much is for sure.
And the supply chain innovations necessary to bring those products to market faster could permanently change both the footwear industry and footwear related stocks, according to Morgan Stanley analysts.
Traditional footwear making is slow, low tech and highly labor intensive, says Morgan Stanley, and vulnerable to volatile commodity costs, foreign exchange fluctuations, tariffs and rising labor costs in Asia. In contrast, new technology and automation "could upend the old paradigm and speed up the footwear development process," the analysts wrote. "The potential financial impact could be game-changing and make athleticwear stocks superior long-term investments."
Benefits include faster delivery to market, delivery of the right number of products to market, lower production costs and customizable products. For example, it takes 18 months to develop a new shoe, the analysts point out, which regularly causes mismatches between inventory companies invest in and actual consumer demand. Fine-tuning the supply chain "helps companies not just cut back on 'bad' inventory purchases, but also more importantly, capture sales upside on hot products in season."
The analysts increased their 2021 global athletic wear sales forecast to $355 billion, a $30 billion hike from previous forecasts, and up from $290 billion currently. "Supply chain reinvention" led the analysts to increase their industry profit margin estimate to 8.5% from 7.9% at present.
Crucially, the Morgan Stanley analysts emphasize, supply chain innovation is not a pipe dream, but rather is already in the works. Adidas (ADDYY) , for example, is set to open a stat-of-the-art "Speedfactory" in Atlanta during the second half of this year, similar to its existing Speedfactory in Ansbach, Germany.
Nike (NKE) - Get NIKE, Inc. (NKE) Report is also focusing on building proprietary technology to grab a first-mover advantage.
The analysts note that Nike in 2015 partnered with Flex (FLEX) - Get Flex Ltd. Report , which provides supply chain and other services to equipment manufacturers, to enhance its manufacturing capabilities. Nike CEO Mark Parker said in March that the company is focused on "shifting to an event faster innovation cycle and scaling more effectively" as well as "cut[ting] our average product creation cycle in half." On the design front, Nike partnered with DreamWorks the same year to build "a three-dimensional digital design system that will transform its product creation process."
All told, the analysts expect that athletic footwear's "basic cost structure" could be reduced by up to 10%, equivalent to about 500 basis points in gross profit margin savings.
Even if their competitors catch up, the analysts add, cheaper manufacturing capabilities at Nike and Adidas could spell trouble for competitors like Asics, New Balance, Under Armour (UAA) - Get Under Armour, Inc. Class A Report and Sketchers (SKX) - Get Skechers U.S.A., Inc. Class A Report .
Click here for the latest business headlines.