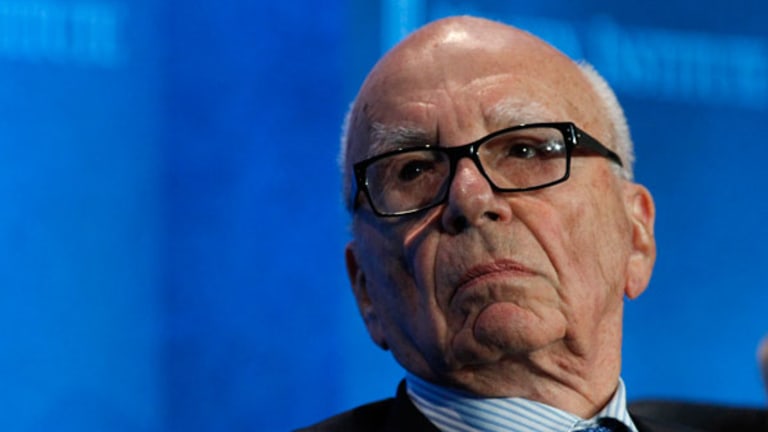 News Corp Investors Are Still Waiting for a Dividend or Buyback
As News Corp's fortunes improve, so do the odds that the media titan will entertain returning cash to investors.
As News Corp's fortunes improve, so do the odds that the media titan will entertain returning cash to investors.
NEW YORK (TheStreet) -- Investors in billionaire Rupert Murdoch'sNews Corp (NWSA) - Get Report  would like to see some payback for their patience.
Despite signs that the owner of The Wall Street Journal and publisher HarperCollins is expanding its digital operations, News Corp has yet to reinstate a dividend or initiate a stock buyback, important triggers that could boost the share price of the New York-based media company.
"A key factor holding back the stock has been the absence of dividends and buybacks," FBR Capital Markets analyst William Bird wrote in a recent report, noting that the debt-free company has $1.9 billion in unrestricted cash.
News Corp's stock has been on the move over the past three months, climbing 10% at a time when the S&P 500 has gained just 0.7%. Yet CEO Robert Thomson has chosen not to move ahead yet with a $500 million stock repurchase program announced almost two years ago when Murdoch carved out New Corp's television and film businesses to form 21st Century Fox (FOXA) - Get Report .
But as the legacy print publisher's fortunes have begun to improve, and ironically Fox has begun to look shaky, expectations for a buyback or a dividend at New Corp are mounting. While Fox retained the company's dividend at the split, News Corp investors were told that a similar payout would eventually be restarted, but no timeline was given.
Expectations for a dividend or stock buyback rose last week following the company's fourth-quarter earnings in which News Corp beat analysts' estimates for both profit and revenue thanks to strong sales at its book and digital real estate Web site units. As a result, FBR's Bird upped his price target on the stock to $19.60, 20% above its Friday closing price.
Yet even as 21st Century Foxauthorized a $6 billion buyback last year, and pays a semi-annual dividend of 15 cents a share, News Corp has yet to return money to shareholders, choosing instead to use its cash flow for acquisitions.
"We will obviously be reviewing capital allocation in the coming months," News Corp CEO Robert Thomson told analysts during a conference call last week. News Corp executives declined a request for an interview.
Eager to transition its core print newspaper businesses to digital revenue, News Corp has been using its cash flow to expand into areas with higher growth potential. HarperCollins recently added popular romance book publisher Harlequin, and in November, News Corp completed its acquisition of Move, the owner of real estate Web site realtor.com.
The Move acquisition allowed News Corp to start incorporating ads for the realtor.com app into WSJ.com and NYPost.com. The upshot: The number of average monthly realtor.com users surged more than 30% in January. By its fiscal year 2016, news and information's share of profits is expected to drop to a 47% slice of News Corp's overall business, down from 59% in 2013, according to FBR estimates.
While the Move investment looks promising, analysts are less pleased with Amplify, News Corp's educational products unit. The division, which remains in an investment phase, has been losing about $200 million a year for two years.
"Management indicated a 'meaningful reduction in investment' in fiscal 2016, which we believe will have a positive impact on investor psychology related to the segment, and could ultimately help fund a future return on capital plan," John Janedis, a Jefferies analyst, wrote in a report on Friday. Janedis has a $21 price target on News Corp.
In the second quarter, News Corp's revenue rose 2% to $2.28 billion, helped by a 20% jump in book publishing sales and a 50% revenue surge in its digital real estate division. Nonetheless, the company's news and information division has continued to struggle, reporting a 6% drop in revenue, dragged down by its U.K. newspapers.
There were some bright spots. The decline in advertising revenue at News Corp's newspapers in Australia -- a trouble area in recent quarters -- is slowing. In the U.S., the Wall Street Journal saw ad revenue climb 2% in the quarter as demand from technology and financial services advertisers grew. The company doesn't break out digital vs. print advertising sales.
Big challenges remain for News Corp's U.S. operations. News Corp recently installed a new CEO at Dow Jones Newswires, William Lewis, to lift its professional information business as well as the Wall Street Journal. It remains to be seen whether his efforts will lead to sustained growth in digital subscribers and advertisers at the paper.
"Obviously, this has been a major year of transition," said Ken Doctor, a media analyst with Newsonomics. "My sense is, [The Wall Street Journal operations] are not seeing the fruit yet."
This article is commentary by an independent contributor. At the time of publication, the author held no positions in the stocks mentioned.