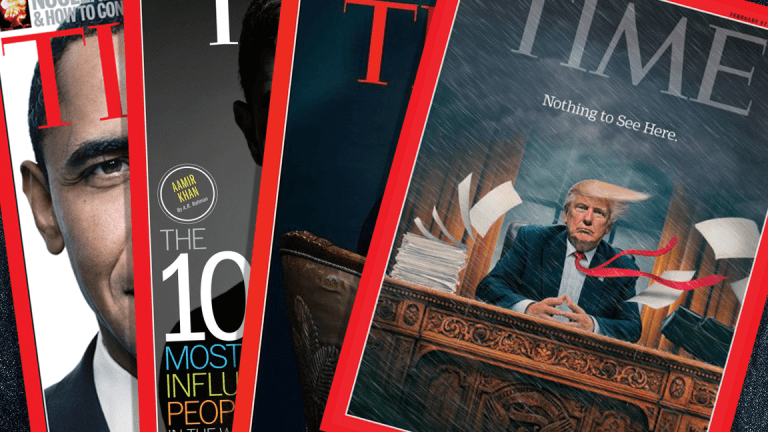 Who Will Buy Fortune, Sports Illustrated, Time and Two Major Cox Newspapers?
It may not be the best time to be selling struggling news publications, but some iconic titles are likely going to try.
It's time to reset the clock on Time Magazine, as well as its sister publications Fortune and Sports Illustrated.
As Meredith Corp. (MDP) - Get Free Report announced its ability to close its long-anticipated buy of Time Inc. (TIME) , one door closed, but another opened. Though Meredith CEO Steve Lacy has diplomatically said he's not making any rash judgments on which Time pubs he'll keep and which he'll sell, the marketplace is abuzz with speculation.
Editor's note: This article was originally published by The Deal, a sister publication of TheStreet that offers sophisticated insight and analysis on all types of deals, from inception to integration. Click here for a free trial.
The fit -- and ill-fit -- isn't hard to see here.
Meredith now makes claim to the position of the number-one women's marketing company in the U.S. Lacy won his big prize -- People, with a 70% female readership -- as well as women-friendly Real Simple, Southern Living, In Style and Cooking Light, among others.
Time Inc. itself, prior to the closing of the merger, which is expected in January, has already jettisoned one publication -- the venerable, but not very profitable West Coast bible of the good life, Sunset. Regent LP -- owner of Military Times, Army Times, Navy Times, Defense News, PBS TV's Defense News Weekly, Federal Times and HistoryNet magazines -- bought it last week. The price of about $20 million came in at the lower end of Time's hopes; it had shopped the magazine for $30 million, sources tell me. In addition, current Time Inc. management continues to shop Essence, and its British magazines, all of which were kept out of the Time Inc. sale.
That leaves women's marketer Lacy with three profoundly ill-fitting -- if hugely iconic -- brands. All three skew male, and Fortune and Time both skew older. Each publishes more often than monthly -- which is the Meredith standard for its magazines, and Meredith's magazine group itself has its own share of woes, let's note, as the company's magazines lost four percent of overall revenues in the last quarter.
So, the question turns to who might buy Fortune, Sports Illustrated and Time. And these three national titles though aren't the only subject of valuation and bargaining in the last month of the year.
On Halloween, the Cox Media Group put a bit of fright in its employees' baskets when it put a "for sale" sign on two of its long-standing properties -- major dailies in Austin, Texas and West Palm Beach, Florida. Now, chains are lining up to consider the value -- and the potential combined value -- of those properties.
These print media assets all face a market that has only gotten materially worse over the last year. Print advertising -- in both newspapers and magazines -- is down 12-20% for the year, and that is off an increasingly small base, reduced by years of digital disruption. Further, the Google/Facebook digital ad juggernaut has taken the oxygen out of the digital ad market for most everyone else; that's why all the gloom-and-doom stories about the fortunes of Vice, Buzzfeed and Mashable have been topping the trade press recently.
Of the three likely-to-be sold titles, Time-the name on the shuttered door-belongs the most to history (its popular Person of the Year issue was just released on Wednesday and was generating plenty of online buzz). It is likely the least valuable of the three brands, however, as the business news niche still commands above-average print and digital ad rates, and sports provides an enviable passion among audiences. Time-its weekly sum-up take on the world glaringly still a vestige of the print age and its "general news" category the toughest-may be the hardest sell.
It's difficult in this harrowing ad market to assess value and valuation. Each brand offers a prism of possible value. Consider these five:
1) the intangibles of a well-known brand, and remaining influence/stature? All diminished, but still of value.
2) more audience reach
3) relationship with advertising buyers
4) events business
5) revenue and profits
It is digital potential, of course, that drives discussions of value today. To that point, consider the digital audience trajectory of each of the three.
Fortune, according to Comscore, ranks tenth among finance sites in the U.S. It has grown its audience 21% year-over-year to 19 million. Ahead of it are Yahoo/Huffpost Finance Network, Business Insider Forbes Digital, CNBC, Dow Jones, CNN Money, IBT Media, Bloomberg and Reuters.
Sports Illustrated, according to Comscore, ranks fourth among sports sites in the U.S., as part of a Fox Sports-SI Group-Perform Media rollup. That roll-up lost 18% of its audience in the last year, now standing at 55 million users.
Time, according to Comscore, ranks tenth among general news sites in the U.S. It's off one percent year-over-year, with a digital audience of 48 million.
One conclusion: these publications have built significant audience, but given likely substantial overlap with would-be strategic owners, they may not offer enough scale to justify much of a price.
Who, then, might buy?
Let's consider two kinds of buyers-strategic and non-strategic. The former type of buyer would see a fit with their current business news businesses; the latter have other reasons, ego or political influence among them, to buy.
Among non-strategic buyers, the Koch Brothers have now asserted themselves to the top of the list. While Meredith has said that the Kochs' $650 million financing of the Time Inc. purchase is a passive investment, indicating no active involvement in the ongoing business, I and others have raised the question of the Kochs' call on properties to be divested. Fortune, a bible of American capitalism, could be a handy tool in public persuasion of the Kochs' political priorities.
Then, there's that gnarly question of strategic fit. Over the years, publishers have looked at acquisitions as ways to increase their overall digital audience in target areas. That's what Meredith itself just did in buying Time Inc, trumpeting a 200 million audience number across a number of platforms. So, a question for the would-be strategic buyer: Would adding Fortune's 19 million unique visitors (and then subtracting for duplicate audience) really provide enough of a business boost in this flagging digital ad market? That's a big gating question. As one savvy deal-expert executive told me yesterday, "There's no longer much difference between 100 or 130 million readers."
Let's take a quick look at the strategic buying suspects for each title:
Fortune
It's tough to see an easy fit. Bloomberg already bought and incorporated one of the top three legacy business magazines, Business Week. Nikkei and its Financial Times have their global strategy fairly well set, and it's about digital reader revenue, not a strong suit of Fortune. Axel Springer made its big business bet on start-up Business Insider, and despite the major hiccups in the digital ad field, is unlikely to change course; why take on the hassle of digital transition of a brand?
Could Oath with all that business content through Yahoo and AOL opt to buy a brand to front it? Its brandlessness seems increasingly odd these days. CNN's Money vertical is a key one, but Turner ended its Time Inc. partnership, which included the major magazines, three years ago. Furthermore, Time Warner and Turner are rather wrapped up in the AT&T acquisition/DOJ suit.
How about Dow Jones? Its print magazine, Smart Money, shuttered five years ago. Unless the next Murdoch strategy-after selling most of 21st Century Fox (FOX) to Disney (DIS)-is to double down on business news, as well as Fox's news and sports franchises, this option seems unlikely.
Sports Illustrated
Joke if you want about Victoria's Secret being the logical buyer just for the swimsuit franchise, but the meltdown in the digital ad business comes at a bad time to sell SI.
Several years ago, ESPN, on a roll, might have been a logical home, a mating of two top sports brands. But Disney has been cutting at ESPN-150 jobs just recently-and the proposition just seems ill-timed.
Again here, the new Verizon-owned Oath could pair a legacy brand with a sports franchise that's not had one. Or is it just too late in the digital game to consider such potential value?
Gannett has invested heavily in sports, locally and nationally, but the brand seems wrong for its Middle American orientation.
Time Magazine
Then, there's the title that invented the weekly newsmagazine. Despite strategy after strategy, it's failed to find a place for itself in the news digital news cycle. It's not a must-read, and it's tough to name the writers or topics that distinguish it today.
If it's a tough strategic fit at this point in time, who else might buy? Could Chinese investors, like those who bought into Forbes in 2014, be intrigued this time around? How about Russian oligarch money? Russia Today may need to register as a foreign agent, so why not buy American media and forget all the Facebook fake folderol? Let's recall that much of the value in U.S. magazines is increasingly found abroad. Print magazines survive better there than in the U.S., for the most part. In addition, iconic American brands- though diminished here-still shine abroad, as the continued licensing business shows.
Then, there's this intriguing scenario, offered by a veteran of the business press. Essentially, it's an inside/out media owning model.
"Consider a business with a non-media revenue model," suggests Gordon Crovitz, former Wall Street Journal publisher, digital business investor and a co-founder of the new NewsGuard. "Fortune's brand stands for getting ahead and aspiring in business and doing well in one's career. A company that is already in some part of the management/career/business workflow industries could find other revenue streams for Fortune by offering its audience services integrated with the brand in some way. WeWork? Spencer Stuart? LinkedIn?" To that end, Fortune represents as much a means as an end for a smart buyer.
Another top executive confidentially offers similar thinking about Fortune. "Maybe it would be private equity or others looking to create access and influence in various business sectors with a trophy brand." That thinking extended to SI, he says, may be a weaker version of this same path-could IMG/Ari Emanuel be interested?
To these ends, it's the long-built brand allure that support distinctly non-publishing business models. And in that thinking may lie these publications' future. Their brand allure is undeniable-with events and related businesses, iconic lists and more the fruits of that standing. It's just that the brand needs to be monetized with fresh thinking, as gassed business models-both print and digital-have little remaining fuel.
Then, there's the buyer who straddles a number of lines. in that vein, David Pecker, National Enquirer owner, recent US Weekly buyer (from Jann Wenner) and someone who has wanted to buy Time Inc. titles as recently as mid-year, could re-emerge. And like the Kochs, Pecker is Trump-friendly.
Few newspaper titles today are bought on their singular value. It is their relationship to other properties that determines value-and price.
Take Cox's Palm Beach Post. What was once a small property saw go-go growth for decades as South Florida's East Coast welcomed millions fleeing Northern climes. To the south of Palm Beach County lies Broward County, the territory of Tronc's Sun-Sentinel. To the north of Palm Beach County lies Martin, St. Lucie and Indian River Counties. Or a geography that Gannett, the largest U.S. newspaper company, like to call the Treasure Coast, served by its Treasure Coast News.
Within this long and intensively competitively newspaper region (and with McClatchy's Miami Herald situated farther south), there's already lots of border competition. Competition, though, isn't the C word that will drive a sale; "clustering" is. With revenues in free-fall, it is cost consolidation that drives this industry, and clustering that reduces costs. Clustering, or megaclustering, allows newspapers to cut many local costs from production and printing to general administration to advertising and news gathering.
That's why observers expert a fierce competition between Gannett and Tronc for the 82,000 Sunday (52,000 daily) circulation Palm Beach Post. In addition, either can add some number of the paper's digital audience to their local target ad market. The paper doesn't have many digital subscribers to add to either Gannett's or Tronc's totals; in its last quarterly report, it counted no more than 6,000 digital-only subscribers.
Both Tronc and Gannett have available cash of between $175 and $200 million.
While in other times, both companies may also have been interested in Cox's Austin American-Statesman, Austin's location affords little synergy. Gannett owns five Texas properties, but they are all fairly distant from Austin; Tronc owns none.
Clearly, Hearst Newspapers would be the logical buyer for the Austin American-Statesman. The newly acquisitive company already owns two big Texas properties in Houston and in San Antonio. Hearst President Mark Aldam has proven a savvy, disciplined buyer, so price will ultimately decide whether Hearst will come to dominate Texas, as it has now done in smaller, more compact Connecticut.
Lastly, there's the new intangible of local news media ownership: the Federal Communications Commission's in-progress elimination of the rule that had prevented large dailies from owning large local TV broadcasters, and vice-versa. Now, as the rule fades away, any buyer of newspaper properties can ask the question of what adding a TV station to a cluster of local newspapers might mean. That's a potential move for a Tronc or a Gannett in Florida-and, I hear, is fast being included in the new newspaper selling and buying calculus.
More of What's Trending on TheStreet: