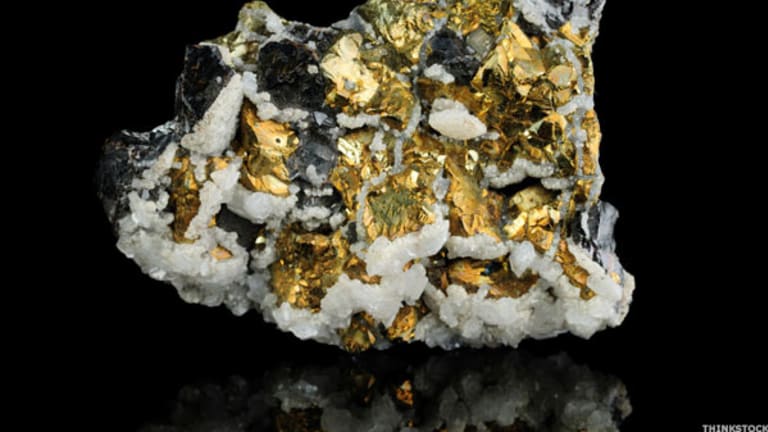 Newmont Misses on Aussie Woes
Newmont posts strong year-over-year numbers, but a mining project in Australia disappoints.
Newmont posts strong year-over-year numbers, but a mining project in Australia disappoints.
DENVER (TheStreet) -- Newmont Mining (NEM) - Get Report rode gold's epic rise during the second quarter to post strong year-over-year profit and revenue gains, but the quality of ore grades at an important new mining project in Australia turned out worse than expected, causing the company to miss Wall Street profit targets when it reported results Wednesday.
Newmont, the largest U.S.-based gold miner, reported adjusted income of $377 million, or 77 cents a share. Analysts were calling for the company to post 84 cents a share. Sales amounted to $2.15 billion in the quarter, also missing the consensus estimate, which was targeting $2.22 billion.
A year ago, Newmont earned $211 million, or 43 cents a share, on revenue of $1.6 billion, which means the company's bottom line surged by 79% and its top line by 34%.
The Secret Gold Market
var config = new Array(); config<BRACKET>"videoId"</BRACKET> = 292176979001; config<BRACKET>"playerTag"</BRACKET> = "TSCM Embedded Video Player"; config<BRACKET>"autoStart"</BRACKET> = false; config<BRACKET>"preloadBackColor"</BRACKET> = "#FFFFFF"; config<BRACKET>"useOverlayMenu"</BRACKET> = "false"; config<BRACKET>"width"</BRACKET> = 265; config<BRACKET>"height"</BRACKET> = 255; config<BRACKET>"playerId"</BRACKET> = 1243645856; createExperience(config, 8);
Newmont also said that its board agreed to hike the company's dividend to 15 cents a share from 10 cents, distributing to holders some of the cash Newmont has horded from the surge in gold prices -- and gold demand -- since the onset of the recession.
But the company's Boddington mine in Australia has caused the company some problems. In a written statement, Newmont boss Richard O'Brien said, "Our portfolio continues to deliver despite operating costs being higher than expected during our ramp-up at Boddington, where we are experiencing lower gold grades than modeled."
Newmont said its cash costs during the second quarter amounted to $492 an ounce on a co-product basis (the company also extracts copper along with gold). That's higher than the $450 to $480 an ounce in costs that Newmont had predicted as an average for 2010.
Indeed, the company was forced to tweak that cash-cost forecast, narrowing the predicted range to $460 to $480 an ounce. Newmont kept in place its projected output target for 2010 of 5.3 million to 5.5 million ounces of gold.
Newmont has said previously that it expects Boddington to produce 1 million ounces a year once it reaches full production, making it the biggest gold mine Down Under. The company, which completed construction of the expanded mine last year and has been ramping it up since, had expected to extract 850,000 to 875,000 ounces of gold from the site in 2010, but the poorer-than-expected ore grades have forced a re-reckoning.
Newmont now expects to produce 750,000 to 825,000 ounces of gold from Boddington this year. It also increased its estimate of Boddington's cash costs, which it now puts at $475 to $550 an ounce, up from an original prediction of $375 to $395 an ounce.
For 2011, Newmont said it expects to remove 850,000 to 925,000 ounces of gold from the Australian ground at costs of $475 to $525 an ounce, but refused go beyond that. "It is still too early in the ramp-up process to conclusively determine any longer-term impacts of the lower gold ore grades experienced to date," Newmont said in its press release.
-- Written by Scott Eden in New York
Follow TheStreet.com on
and become a fan on
Scott Eden has covered business -- both large and small -- for more than a decade. Prior to joining TheStreet.com, he worked as a features reporter for Dealmaker and Trader Monthly magazines. Before that, he wrote for the Chicago Reader, that city's weekly paper. Early in his career, he was a staff reporter at the Dow Jones News Service. His reporting has appeared in The Wall Street Journal, Men's Journal, the St. Petersburg (Fla.) Times, and the Believer magazine, among other publications. He's also the author of Touchdown Jesus (Simon & Schuster, 2005), a nonfiction book about Notre Dame football fans and the business and politics of big-time college sports. He has degrees from Notre Dame and Washington University in St. Louis.