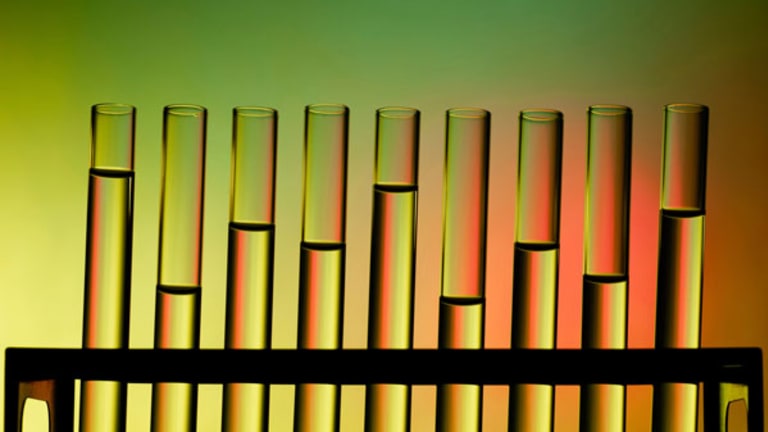 NewLink's Pancreatic Cancer Vaccine and the Feuerstein-Ratain Rule
If history repeats, investor optimism for NewLink's phase III study is misplaced.
Amidst the stock-rocket phenomenon that is NewLink Genetics (NLNK) - Get Free Report, I've seen several fans of the company invoke the Feuerstein-Ratain Rule to support their prediction of a positive outcome from the ongoing phase III study of HyperAcute Pancreas (HAP), NewLink's experimental pancreatic cancer vaccine.
Let's work through the math to see if NewLink bulls are right to be optimistic.
The data crunched to derive the Feuerstein-Ratain Rule found an 80% success rate for phase III cancer drug clinical trials conducted by companies with market values greater than $1 billion.
NewLink's stock price has been nothing short of incredible this year, doubling in value to Tuesday's close of $50.40. The company's market cap now tops $1.3 billion, which explains why I'm seeing tweets from bulls abundantly confident in the outcome of the HAP phase III study in pancreatic cancer, which the company dubs "IMPRESS."
Not so fast. The market caps used in the Feuerstein-Ratain Rule are measured four months prior to announcement of top-line study results. Moreover, the F-R Rule was not created with interim analyses in mind, which for obvious reasons, have a higher efficacy hurdle than the analysis used to determine final study results.
NewLink has told investors the first interim analysis of the IMPRESS study will be conducted in the second quarter. Technically, the F-R Rule doesn't apply, but I'm willing to bend the rules in the interest of speculation. Besides, there seem to be many NewLink bulls who believe the HAP vaccine is so effective that it will show a statistically significant benefit for pancreatic cancer patients at the first interim look.
This is where we have to apply some guesswork to predict how NewLink fares under the Feuerstein-Ratain Rule. I'll run through three different scenarios:
1. Assuming the IMPRESS interim analysis is announced on April 1, the relevant Newlink market cap for F-R Rule purposes is roughly $550 million.
2. Use May 15 (midway through the second quarter) as the data release date and NewLink's F-R Rule market cap is roughly $770 million.
3. Finally, use the last day of the second quarter, June 30, and NewLink's market cap for F-R Rule analysis can't be calculated until the end of February but let's just use today's $1.3 billion. Close enough.
Average the three scenarios together and NewLink's market cap relevant to the F-R Rule sits in the middle bucket of market caps between $300 million and $1 billion. These companies had an 18% success rate with phase III cancer drug studies, according to the data Ratain and I crunched for our analysis.
[We only had 11 phase III clinical studies to examine in this middle bucket, so admittedly, that's a small sample size upon which to draw a strong conclusion.]
Still, NewLink bulls should probably throttle back their confidence for the upcoming IMPRESS study results, according to the F-R Rule. The probability of success might be higher than 18% but it's not 80%, either.
One more point to make:
Part of the NewLink pancreatic cancer vaccine bull thesis rests on the longer-than-expected run of the phase III trials. This is a survival study so the timing of the analyses is tied to patient deaths. The first interim analysis at 222 deaths was originally expected last summer. NewLink bulls believe the efficacy of the vaccine is responsible for the supposedly slower death rate in the phase III study. In other words, HAP-treated pancreatic patients are living a long time, while patients in the control arm are dying at historical rates seen in past studies
Biotech investors with a decent memory have heard "the clinical trial is taking longer than expected so it means good news" theory before. Unfortunately, reality almost always rudely interrupts.
Remember Vical (VICL) and its melanoma vaccine Allovectin? Vical bulls insisted Allovectin was a winner because the phase III study was taking so long to read out results. Wrong. Allovectin failed.
Then there was Stimuvax, the lung cancer vaccine developed by Oncoythyreonundefined and Merck KGaA. The analysis of the Stimuvax phase III study was also delayed by a slower death rate, but it didn't matter. The Stimuvax study eventually failed.
Ziopharm (ZIOP) - Get Free Report, Celsion (CLSN) - Get Free Report, Keryx (KERX) - Get Free Report (perifosine), Genta (Genasense), Cell Therapeutics (CTIC) - Get Free Report (Xyotax) -- all conducted phase III studies of cancer drugs that took longer than expected to reach the predefined time point for analysis. All failed.
I'd love to cite an example of a successful and delayed cancer drug trial but I can't think of one.
Maybe NewLink's HAP vaccine will be the first. It's possible, but not if history repeats.
Adam Feuerstein writes regularly for TheStreet. In keeping with company editorial policy, he doesn't own or short individual stocks, although he owns stock in TheStreet. He also doesn't invest in hedge funds or other private investment partnerships. Feuerstein appreciates your feedback;
to send him an email.