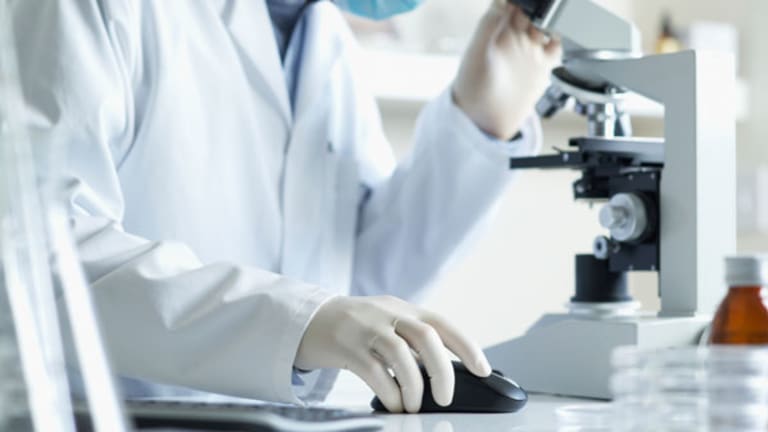 NewLink's Pancreatic Cancer Vaccine on Long Road to Study Failure
The odds are now high that NewLink's HyperAcute pancreas vaccine will prove to be a failure once a final survival analysis is conducted later this year or in early 2016.
Correction: A previous version of this story stated incorrectly that 75% of the pancreatic cancer patients enrolled in the NewLink Genetics phase III study died. The story has been corrected to say that 75% of the 444 patient deaths required to reach the final analysis of the study has occurred.
NEW YORK ( TheStreet) -- More than three-quarters of the required deaths among pancreatic cancer patients enrolled in NewLink Genetics (NLNK) - Get Newlink Genetics Corporation Report phase III study have been recorded but the company's experimental therapeutic vaccine is still unable to demonstrate a survival benefit significant enough to declare victory.
The odds are now higher that NewLink's HyperAcute pancreas vaccine will prove to be a failure once a final survival analysis is conducted later this year or in early 2016. NewLink tried to put a positive spin on the outcome from the study's second, interim analysis, but investors didn't share the optimism.

In pre-market trading on Tuesday, NewLink shares were down 21% to $41.
NewLink supporters will no doubt defend HyperAcute by claiming that cancer vaccines take longer to generate an immune response, which then requires longer follow-up to demonstrate a survival benefit. The problem with the explanation is that half the 722 pancreatic cancer patients enrolled in NewLink's study aren't being treated with HyperAcute, and so they shouldn't be living any longer than expected.
But these control-arm patients are living longer. If they weren't -- and HyperAcute was even moderately effective -- the study would have stopped already with a positive survival benefit.
The second interim analysis was triggered by 333 patient deaths, or 75% of the 444 deaths needed for the final analysis. Without a clear benefit at this late stage in the study, my best guess is that the HyperAcute Pancreas and control survival curves are sitting right on top of each other. No difference. The only reason the study was not stopped for futility at the second interim analysis was because the statistical analysis plan doesn't allow for that to happen. As long as the HyperAcute Pancreas is not harming patients, the study continues to the final analysis, even if the outcome will almost certainly be negative.
We've seen this same scenario play out with other therapeutic cancer vaccines, including Oncothyreon's (ONTY) Stimuvax in 2012.
The Food and Drug Administration denied a request by NewLink to change the statistical plan used to analyze the HyperAcute phase III study, the company said Monday.
NewLink executives have proven to be more adept at selling their own stock -- about $20 million in company shares during the first quarter, according to regulatory filings.
The same therapeutic cancer vaccine technology used to create HyperAcute is also being deployed by NewLink to develop therapies in lung and skin cancer. Unfortunately for NewLink, checkpoint inhibitors are showing strong efficacy in both those cancer indications already, which may make modestly effective vaccines clinically irrelevant.
If NewLink's therapeutic cancer vaccine platform turns out to be a zero, the company's $1 billion-plus valuation relies even more heavily on its so-called IDO inhibitors -- another form of cancer immunotherapy -- in early stages of clinical development. The field of companies developing cancer immunotherapies is competitive and crowded.
Adam Feuerstein writes regularly for TheStreet. In keeping with company editorial policy, he doesn't own or short individual stocks, although he owns stock in TheStreet. He also doesn't invest in hedge funds or other private investment partnerships. Feuerstein appreciates your feedback; click here to send him an email.