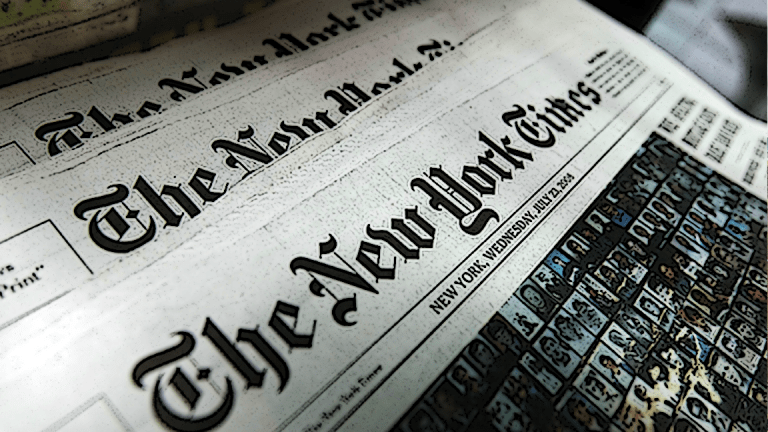 New York Times' Good Quarter Shows Its Separation From Newspaper Pack
Revenue at the paper is up 6.8% year to date over 2016 -- largely due to 2.5 million digital subscribers. The good news for the Times: It is retaining those new subscribers a year after they signed up.
Roll those digital presses. With its third straight better-than-the-economy-growth-rate quarter, New York Times Co. (NYT) can almost mark 2017 as its turnaround year. There's no doubt the paper has regained its national news standing in a year of unprecedented American turmoil. Yet its business prospects -- into the next five years -- have experienced their own unexpected revival. 
Times CEO Mark Thompson on Wednesday, Nov. 1, launched into this morning earnings call with analysts by trotting out a new metaphor for an increasingly expansive company. "Our newsroom is like a multiocean navy," he said, as he then gave several minutes of shoutouts of journalists' achievements during the quarter and of the big success of its now flagship podcast, "The Daily."
In the Times' third-quarter earnings report on Wednesday, Thompson announced a 6.1% increase in revenue year over year. That's impressive, as once-peer newspaper companies report losses ranging from 5% to 10%. It's all the more impressive in its continuity, which has been picking up some steam through the year. That 6.1% follows a 9.2% revenue increase for the second quarter and 5.1% for the first quarter.
Compare those outstanding 2017 numbers to the four quarters of 2016, chronologically: -1.2%, -2.7%, -1.0%, -1.1%.
For the year to date, Times revenue is up 6.8%. For full-year 2016, it dropped 1.5%.
What's the biggest difference maker? Clearly, it is digital subscriptions, which combined with healthy double-digit increases in digital advertising now overwhelm still-stunning print ad losses. Print ads -- once the engine behind the Times' profits -- and those of newspapers generally -- now account for only 17% of Times revenue, Thompson said Wednesday morning. 
In a word, The New York Times begins to taste an experience no daily newspaper has sampled for almost a decade: growth. Investors, perhaps reacting to a more tepid fourth-quarter forecast, had knocked Times shares down 5.2% by Wednesday afternoon, though they are still up 36.5% in 2017. 
The headline numbers offered Wednesday do back up Thompson's toward-2020 transformation story:
Reader revenue now tops 60% of all Times revenue, with digital-only subscriptions continuing their post-Trump Bump growth. The company added 154,000 digital subs in the quarter, a 14% increase over the same quarter last year. Significantly, about two-thirds signed up for the main news subscription. The remainder paid a few dollars for the Times' newer digital verticals. Crosswords found 26,000 new subscribers, and Cooking -- launched in July -- gained its first 23,000. In total, then, the Times can now claim 2.5 million digital subscribers. The best news of all for the Times: "From everything we are seeing so far, we are actually doing better with the election cohort [those new digital subscribers gained through the Trump Bump] on the same kinds of offers," Times COO Meredith Kopit Levien said on the earnings call. "Based on their level of engagement, we have no reason to believe we are going to see a steep fall-off."
Digital advertising growth of 11% couldn't, by itself, offset a print ad drop of a whopping 20%. Credit for the continuing double-digit increases in digital ad revenue goes to the Times' newer digital ad revenue streams, most prominently its T Brand Studio branded content business and sponsorships with Alphabet Inc.'s (GOOGL) Google and Samsung Corp. Though a small number, the newly expanded Wirecutter product review business managed to add almost $4 million in revenue to the Times' "other" category.
Operating profit came in at $33 million in the third quarter of 2017, compared with $9 million in the same period of 2016.
Third-quarter diluted earnings per share from continuing operations of 20 cents topped the 0 cents in the same period of 2016. Adjusted diluted earnings per share from continuing operations were 13 cents, versus 6 cents a year ago.
The Times, then, offers an aura of crossover, as Thompson noted that his crew is "on track" to meet his 2020 goal of doubling digital revenue to $800 million.
Will it be among the very first, along with the Financial Times, and then possibly The Wall Street Journal and The Washington Post, to become a successful, sustainable news publishing business? That's the fundamental question as we move into 2018 -- a time that still sees more press loss, in reporting strength and regional news brand impact. Just Tuesday, longtime newspaper owner Cox Media Group Inc. announced it would put up for sale its Austin American-Statesman and Palm Beach Post. That's a move that follows multiple acquisitions by New Media Investment Group Inc. (NEWM) , aka Gatehouse, over the past three years. Gatehouse, under CEO Mike Reed, has become the leading rollup company in the country, now controlling more than 10% of daily press titles across the country. 
As significant as is Cox's putting a for-sale sign on long-standing properties is its statement about which newspaper properties it will keep and why.
"After careful consideration, we have made the difficult but strategic decision to put our newspapers in Palm Beach and Austin up for sale," Cox president Kim Guthrie said. "We have made the decision that we will be better equipped to operate our newspapers in Atlanta and Ohio, where we have the integrated opportunity with our TV and radio operations." In Atlanta and in Dayton, Cox now sees the nearer-term potential of combining broadcast and TV. As the FCC moves toward a vote on eliminating a broadcast/newspaper cross-ownership rule, regional property-owning media executives now restrategize what to own where.
That new layer of valuation sits atop the more persistent question of legacy (print and broadcast) transition to a mainly digital business world. That's where the Times' rapid print-to-digital print transformation offers benchmarks for many.
Today, let's just consider two of them, both ratios that I believe measure real crossover from legacy to digital businesses -- and tell us so much about the business and valuation disparity of the Times compared with regional newspaper groups -- Gannett Co. (which reports results Thursday) (GCI) , Tronc Inc. (later on Wednesday) undefined , McClatchy Co. (MNI) , Gatehouse and Lee Enterprises Inc. (LEE) -- generally. 
First, let's look at reader revenue. We used to call it circulation revenue. Now newspapers no longer need distributors to work routes and some have finally mastered the art of paid digital delivery. Here, consider this  impressive Times' ratio: 2-1. The number of digital news subscriptions, at 2.1 million, outpaces total Sunday print subscriptions, at 1.04 million, by more than that ratio.
It's even more impressive when we consider the ratio reality in the rest of America's daily press. That's 1-9 or so. Mather Economics LLC, which works to optimize subscription pricing for hundreds of daily newspaper titles, said that fully 93% of daily subscriptions are print-based. Only 7% can be counted as digital. Certainly, some of those print subscribers use their all-access ability to access their newspaper's digital product. The fact remains, though, the paying subscribers' main identification is with that fading print product. 
In those two ratios, the Times' 2-1 and the daily industry's overall 1-9, we can see writ large the chasm in where they stand with digital transformation of their businesses. 
Then, consider one more ratio, print advertising revenue to digital advertising revenue. The Times now approaches a 1-1 ratio there -- one that it will likely reach within 18 months. On Wednesday, it reported that 43.3% of its ad revenue is digital. That's up from 41.7% in the second quarter and 34.3% in 2016's second quarter, the latter producing about a 1-2 ratio, digital to print. What's the significance? In short, the less dependence that print advertisers have on the part of their business -- print advertising -- fading away most quickly, the better their odds of a successful transition.
Here, too, the regional press' figure differs markedly from the Times' ratio.
Gatehouse, for instance, offers up an about 1-9 ratio. Its just-reported third-quarter digital ad revenue of $35.6 million (which apparently includes some digital subscription revenue) equals about 11% of its total ad revenue of $317.2 million. Tronc shows about a 1-6 ratio, while Lee comes in at 1-5. In better transition shape would be McClatchy. Its recent report shows a digital to total ad ratio of a little better than 1-2.
Yet those companies that are investing most heavily in regional digital marketing solutions for small and midsize businesses may see Times-like numbers. A.H. Belo Corp.'s (AHC) The Dallas Morning News likely leads the pack there. In its third quarter, reported Monday, fully 39.3% of its total revenue was digital, for a 2-3 ratio. (Coming Thursday on TheStreet is a report on Belo's marketing services restructuring and innovation.)
Of course, these ratios tell only a part of the transition tale. 
Consider, for instance, the Times' revenue driven by its subscribers. Even though it can count twice as many digital subscribers than print ones, those print subscribers account for almost 65% of all reader revenue. Print payers -- and print advertisers -- pay a lot more than do digital ones, though of course the cost of serving them is lower as well. Transition offers a complex math, but in relatively few numbers, we can see both how the Times has separated itself from its former newspaper pack and the challenges that still lie ahead for the rest of the press. 
Alphabet is a holding in Jim Cramer's Action Alerts PLUS Charitable Trust Portfolio. Want to be alerted before Cramer and the AAP team buy or sell GOOGL? Learn more now.
More of What's Trending on TheStreet: