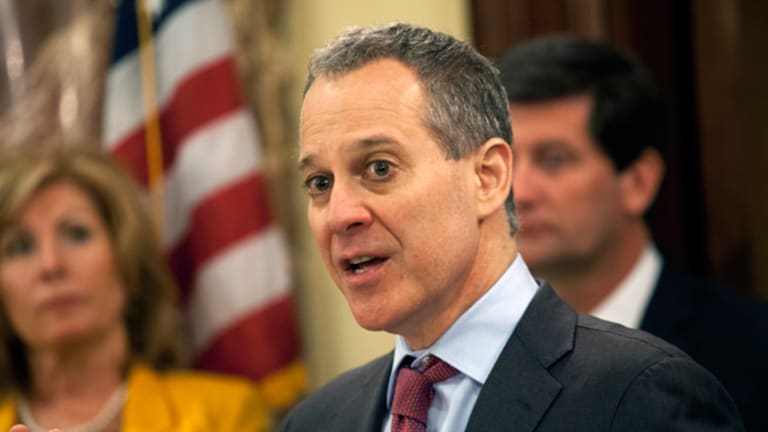 [video] New York AG Gathers 11 Raves for His Role in JPM Deal
In case you had any doubt that Eric Schneiderman will fight to the death for the helpless homeowners of his state, he and his staff got 11 people to say so.
NEW YORK (TheStreet) -- Was it a mortgage settlement against a big bank or a Broadway play?
New York Attorney General Eric Schneiderman did his best to place himself front and center on Tuesday as he announced a $13 billion settlement with JPMorgan Chase (JPM) - Get JPMorgan Chase & Co. Report over mortgage securities, gathering effusive sound bites praising his work from 11 people in all -- a mixture of elected officials and leaders of non-profit organizations.
"Schneiderman is delivering accountability" -- New York State Comptroller Thomas P. DiNapoli
"I commend Attorney General Schneiderman" -- Erie County Executive Mark Poloncarz
"When others gave up or threw obstacles in his path, Attorney General Schneiderman insisted that federal and state prosecutors keep digging" -- Rep. Jerry Nadle
And on and on.
But the award for the suckuppiest quote gathered by New York taxpayer dollars to celebrate its top attorney should probably go to Kirsten Keefe, Senior Staff Attorney at the Empire Justice Center.
"Once again, Attorney General Eric Schneiderman is at the helm, fighting for New York's working class and holding a big bank accountable for its illegal behavior."
It's not to say Schneiderman doesn't deserve some credit. He, along with attorneys general from Delaware, Massachusetts and California refused to sign onto a multi-state settlement with the big banks over mortgage servicing abuses until the deal left room for them to go after the bigger mortgage-related sins of misrepresenting the quality of mortgage-backed securities they sold.
Schneiderman reportedly resisted pressure from the Obama administration to strike a deal in 2011. Obama then made him head of a task force during his 2012 State of the Union address. 
For a long time, it looked like the task force was going nowhere. Three months after its formation, a pair of veteran activists, Mike Gecan and Arnie Graf from the Industrial Areas Foundation reported running into Schneiderman, who told them that he had no staff. He added that Obama had created five other task forces with the same objective since 2009 and that their combined staff consisted of one person, according to an opinion essay they wrote in the New York Daily News.
There were lawsuits against the bank from Fannie Mae (FNMA) and Freddie Mac (FMCC) , from the Justice Dept. and several states. Did the task force eventually acquire a staff and do anything the DoJ lawyers or Fannie and Freddie's lawyers or the different states wouldn't have done anyway on their own? It makes you wonder -- to again use the Broadway analogy -- if there is anyone who couldn't claim a producing credit.
Who cares? Obama created a task force and Schneiderman milked it for all he could when it came time to announce a settlement.
While Wall Street's cops have worked harder than ever to get admissions of wrongdoing from the banks following recent criticism of the longstanding "neither admit nor deny" deals that used to prevail, the admissions don't appear to actually mean anything.
Schneiderman's office stated in its press release that JPMorgan "acknowledged it made serious, material misrepresentations to the public -- including the investing public -- about numerous RMBS transactions."
Sounds bad, right? Not if you listen to JPMorgan CFO Marianne Lake:
"We do acknowledge the Statement of Facts, but obviously don't admit to any violation of law, and we don't believe that the Statement of Facts has any direct impact on the remaining civil, class, and direct purchaser risks other than that we've got reserved," she told analysts Tuesday.
Maybe it is worse than Lake and JPMorgan want to acknowledge. At least one attorney interviewed by my colleague Antoine Gara believes the admission by JPMorgan, whatever it was, will strengthen the hand of private plaintiffs against the bank.
But you have to wonder, if the deal is so tough on JPMorgan, why does Schneiderman need 11 people to certify that fact? The Attorney General doth protest too much.
-- Written by Dan Freed in New York. 
Disclosure: TheStreet's editorial policy prohibits staff editors, reporters and analysts from holding positions in any individual stocks.