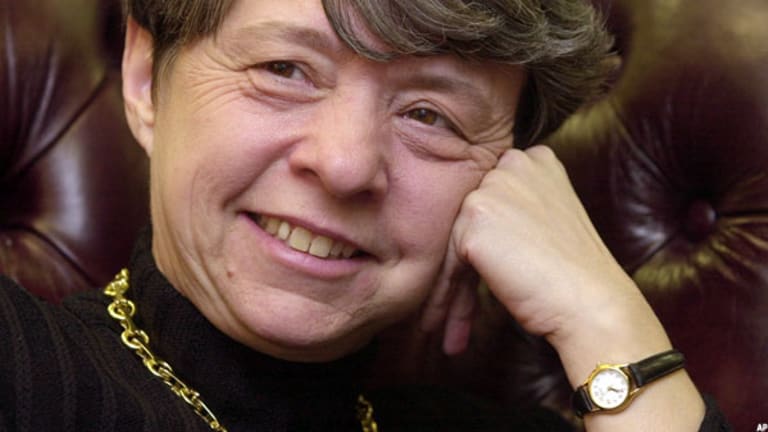 New Watchdog Has Limited Wall Street Chops
White has an impressive record of prosecuting terrorism cases organized crime, but does not seem to have handled many cases on Wall Street
NEW YORK (
) -- The expected appointment of
Mary Jo White as Chair of the
Securities and Exchange Commission
might mean tougher enforcement action against individuals, though her limited experience in he U.S. capital markets may be a cause of concern for some.
White, a former U.S. attorney in the Southern District of New York, has an impressive record of prosecuting terrorism cases and organized crime but does not seem to have handled many cases on Wall Street.
Her most prominent Wall Street case as a private attorney was the
defense of Ken Lewis, former chief of
Bank of America
(BAC) - Get Bank of America Corp Report
against a civil securities fraud lawsuit filed by former New York Attorney General Andrew Cuomo.
"We do not think her nomination will be market moving but it could lead to a more aggressive SEC regarding the investigation and prosecution of cases stemming from securities fraud," KBW analyst Brian Gardner writes in a note.
Gardner notes that White has taken a narrow view of corporate liability in the past, which means the SEC will be more likely to pursue enforcement actions against individuals.
"Given the SEC's failure to detect Bernard Madoff's fraud and its reputation for being weak in pursuing litigation against Wall Street for issues stemming from the financial crisis, we expect that the SEC will try and step up their prosecutions against the investment banking industry, especially specific individuals," says Gardner.
But when it comes to issues such as market structure, high-frequency and the like, investors should expect little action in the near term according to the analyst.
"Ms. White's husband, John White, previously served as the head of the SEC's Capital Market's Division but Ms. White has limited experience with corporate finance and market structure issues as well as issues such as the Volcker rule and money market fund regulation. She previously served as a director on the NASDAQ but her experience is mostly related to enforcement," he said.
Paul Hastings Securities and Capital Markets Partner Michael Zuppone shares similar concerns. "The appointment signals a continued a policy interest in strong enforcement of the securities laws," he said in a statement. "What's unknown is how she will shape the rule-making required to implement the Dodd Frank Act and the recently JOBS Act. With respect to the JOBS Act, a deregulatory initiative aimed at facilitating capital formation, market participants are anxiously waiting to see what direction the SEC will be heading. With her enforcement background, many will be concerned that we'll see rules advanced that do not fully embrace that policy purpose."
-- Written by Shanthi Bharatwaj in New York.
Disclosure: TheStreet's editorial policy prohibits staff editors and reporters from holding positions in any individual stocks.