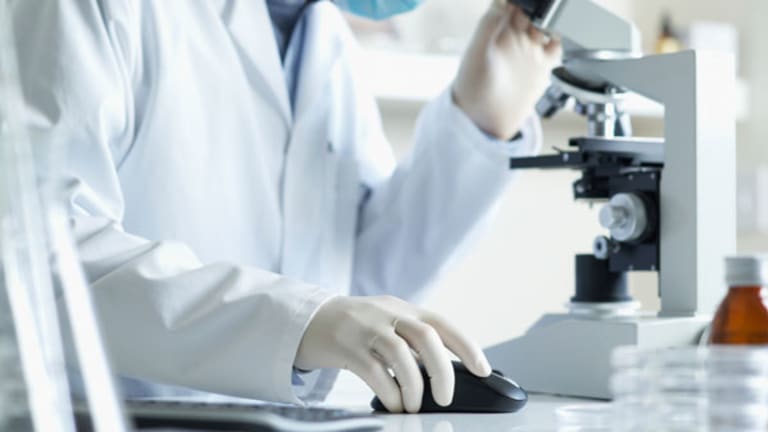 New Use for Genentech's Avastin
The drug can be used in a combination treatment of a common lung cancer.
Updated from 5:26 p.m. EDT
Genentech's
(DNA)
cancer drug Avastin received Food and Drug Administration approval Wednesday for use in treating the most common type of lung cancer.
Avastin, currently approved as a treatment for advanced colorectal cancer, may now be used in combination with two chemotherapy drugs as a first-line of defense against non-small cell lung cancer.
Genentech said FDA approval was based on a clinical trial that showed patients taking Avastin plus chemotherapy had a 25% improvement in survival vs. patients receiving chemotherapy alone.
The company, citing data from the American Cancer Society, said lung cancer causes 30% of cancer deaths in the U.S. The American Cancer Society estimates that more than 170,000 Americans will be diagnosed with lung cancer this year, and 162,000 will die of the diseases.
Avastin was approved by the FDA in February 2004 as a first-line treatment, in combination with chemotherapy, for colorectal cancer that had spread to other parts of the body. As a lung cancer treatment, Avastin is approved for tumors that had grown, recurred or spread to other parts of the body.
The company also is testing Avastin as a treatment for 25 other types of cancers in 130 clinical trials. Late-stage clinical trials include kidney, breast, prostate and ovarian cancers.
Genentech also said Wednesday that it will limit the yearly cost of Avastin to $55,000 per patient who receives the drug for an FDA-approved use, regardless of whether patients are insured. Genentech will start this policy in January 2007.
When Avastin came on the market, Genentech set the price for treating colorectal cancer at $4,400 per month. Patients with advanced lung cancer require a higher dose of the drug, pushing the typical monthly cost to $8,800. Based on clinical trial experience, however, the company says the average cost of lung-cancer therapy will be about $56,000.
Genentech shares closed Wednesday at $84.15, down $1.45, or 1.7%, after the company's third-quarter earnings report showed weaker-than-expected sales of certain drugs. Avastin's sales in the quarter totaled $435 million, up 34% from a year earlier.