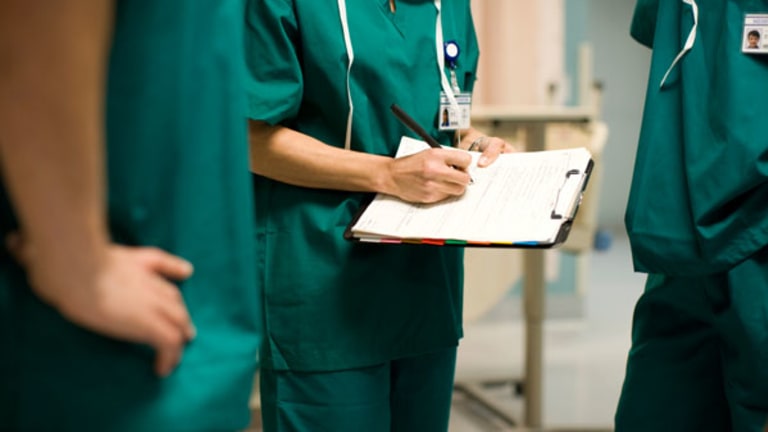 New Twist at Zimmer
Longtime CEO Ray Elliott plans to step down.
Zimmer
(ZMH)
CEO Ray Elliott is taking a knee.
The 56-year-old executive looks to be quitting near the top of his game, as he seeks to advise other players in the medical device field. He will vacate his post as CEO during the first half of 2007 but will continue to serve as chairman until at least this time next year.
Elliott has been calling the shots at Zimmer since 1997 -- before it was spun off from
Bristol-Myers Squibb
(BMY) - Get Bristol-Myers Squibb Company Report
to become a stand-alone company -- and has spent much of that time enjoying a long winning streak. Zimmer did weather some tough quarters starting last year when prices for orthopedic devices came under intense pressure, but has staged an impressive comeback in recent months.
For his part, Elliott feels that Zimmer will keep on scoring big going forward.
"Our company continues to be in excellent shape," he insisted when announcing his new plans. "With a host of new products ... and our strongest pipeline to date, the future should be bright."
Investors seemed a little nervous by their leader's call, however. They pushed the company's shares down 2.6% to $73.07 on Monday morning. Competing orthopedic stocks
Biomet
( BMET) and
Stryker
(SYK) - Get Stryker Corporation Report
stumbled as well.
Biomet lost its own veteran CEO, Dane Miller, earlier this year. With his company struggling more than its larger peers, Miller suddenly resigned in March but has stayed on as a well-paid consultant since that time. All told, Miller stands to pocket some $9 million in consulting fees over the next four years.
"This amount comes to an annual salary of more than four times his current pay as a full-time CEO," Proxy Governance complained this summer. "Additionally, we note that the agreement limits Miller's hours to no more than 40 hours per month and no more than 20 hours in any given week. This results in an hourly wage of over $3,800 -- if Miller works the maximum number of hours allowed under the agreement."
Zimmer has yet to announce a formal retirement package for Elliott. Until recently, however, Zimmer has always seemed more generous than Biomet -- which paid Miller conservatively, giving him no stock options, before arranging his lucrative consulting deal.
In contrast, Zimmer has granted its own CEO plenty of valuable stock options. Elliott scored an extra $19.6 million through stock-option transactions -- on top of his $1.91 million salary -- last year alone. He currently holds 17,544 "phantom" shares, which he can cash in when leaving the company, and options to purchase nearly 1 million additional shares as well.
In the meantime, Elliott has been rewarded with some loud applause for his performance.
"We are grateful and indebted to Ray Elliott for his extraordinary service to Zimmer," stated John McGoldrick, chairman of the company's corporate governance committee. "He has guided the company exceptionally well through a period of unparalleled growth."
Zimmer went public in the summer of 2001 with its stock trading around $28 a share. The stock steadily climbed higher as the years passed, eventually topping the $80 mark -- with Elliott cashing in some shares at that level -- before recent pricing pressures finally brought the extended rally to an end.