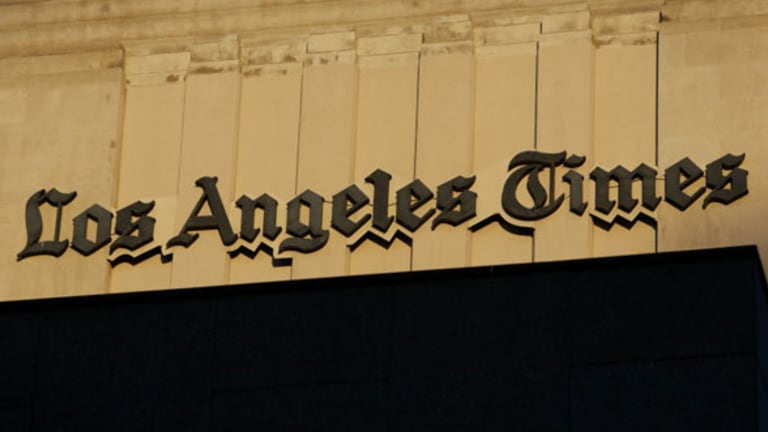 Tronc's Latest Fusillade Targeting Soon-Shiong Gets to Core Question
It's Season Two of the Tronc drama, but the real question is now acknowledged: who will own the Los Angeles Times?
Only one mystery is resolved. We now know what the much-ridiculed Troncundefined name means: acrimony. 
Tronc re-engaged in a war of words Thursday morning, as it told its now disgruntled, soon-to-be-ex Vice Chairman Patrick Soon-Shiong to put up or shut up in a new letter from its attorney, Yosef Riemer of Kirkland & Ellis. As Tronc's legal counsel launched the new fusillade, addressed to Soon-Shiong's attorneys at Quinn Emanuel, further detailing Soon-Shiong's alleged violation of company policies in buying Tronc shares, they got to the core of the battle: Who will own the Los Angeles Times.
"In conclusion, its seems clear that your client's acquisitions of stock in violation of Tronc's insider trading policy, as well as your media campaign against the company, are all part of your client's strategy to coerce the company into selling your client the Los Angeles Times," Riemer wrote. "But the [paper] is not for sale. As was discussed with your client in December of 2016, the only way for your client to own the LA Times is to acquire the whole company. And if your client wants to make such a proposal, the board will do its duty and consider it."
Were it so easy. As the battle for who owns Tronc's (nee Tribune Publishing) nine metro newspapers, including the Times, Chicago Tribune, Baltimore Sun and Orlando Sentinel, moves into its second year, that endgame of ownership finds itself newly clouded by an array of corporate governance allegations and counterallegations. It's a field day for the attorneys, as "round-tripping," "pre-clearance," "trading windows" and the wider question of "fiduciary responsibility" all populate the press releases and Securities and Exchange Commission filings. 
For the past 10 days, Tronc, led by Chairman Michael Ferro, its largest shareholder, has engaged in a public exchange of allegations with Soon-Shiong, the second-largest shareholder, through their attorneys. That exchange mimics, in vitriolic tone, last year's oh-so-hostile battle as Gannett (GCI) - Get Free Report , the country's largest daily newspaper publisher, tried to buy Tronc, the second-largest publicly owned newspaper chain.
This thicket of allegations, one more tangled than last year's with Gannett, likely will serve merely as prologue for a contest for ownership. While Tronc has publicly acknowledged for the first time that it had discussions with Soon-Shiong regarding his interest in buying the Times -- an interest revealed by TheStreet in March -- Ferro clearly has rebuilt the fortifications against any sale.
As previously noted, Soon-Shiong missed a deadline to engage in a 2017 proxy fight. Given that Ferro is set to remove Soon-Shiong both as vice chairman of the company and as a director following Tronc's forthcoming April 18 annual election, and that Ferro more tightly will control the board, which must approve any sale, Soon-Shiong is likely to have to wait until early 2018 to mount a campaign to buy Tronc or the Times. 
The medical technologist billionaire, of course, could make a public bid at any time, though. After Tronc revealed he would not be nominated for re-election to the board, Soon-Shiong went public with his complaints about Tronc board governance on March 27.  That initiated the sparring letters between Soon-Shiong's attorneys and Tronc's, the latest exchange explained in detail by Anders Keitz at sister publication The Deal.
Are the exchanged letters a prelude to lawsuit? Is a lawsuit a prelude to a buyout offer? Insiders speculate the volley of charges derives more from ego than endgame, but with all things Tronc, bets are tough to make. 
The Odd Tronc-NantHealth Connection
Tronc's recent allegation that Soon-Shiong demanded a quid pro quo for his $70.5 million investment in May 2016 in then-Tribune Publishing further drags another public company into this fray. Tronc has said that Soon-Shiong wanted Tribune Publishing (the company was renamed Tronc weeks after Soon-Shiong's investment) to buy shares of his NantHealth (NH) - Get Free Report . The company said it refused that alleged quid pro quo but that Ferro-led Merrick Media instead acceded to the demand with its own $10 million investment in Nant.
The Chicago-based Merrick Media partnership has served as Ferro's investment vehicle to buy into and control Tronc. In effect, then, Ferro's Merrick Media ponied up $10 million to assure Soon-Shiong's investment it needed to stave off Gannett's early bid; it was a price it was willing to pay.
Was this a "round-trip transaction," as some associated with Tronc whisper? Though both Tronc and Merrick Media agreed to the transaction then, and no public disclosure was apparently made connecting the two investments, the recent inclusion of it in a Tronc letter suggests that Tronc aims to further wound Soon-Shiong where he's ailing -- with NantHealth.
In a series of articles, STATnews, a national health site associated with The Boston Globe, has pointed to another kind of round-tripping. In its piece, "How the world's richest doctor gave away millions -- then steered the cash back to his company," STAT reported Soon-Shiong had made a $12 million donation to the University of Utah, which then paid Soon-Shiong's NantHealth $10 million for services in a "contract for his gift [that] was worded in a way that left the University of Utah with no other choice."  
NantHealth itself has seen a share price drop by about 50%, as STAT has questioned the company's scientific progress. Further, an investor has filed a lawsuit. Soon-Shiong called the charges against his company "maliciously false" in a Los Angeles Times story and has rebutted the charges in a statement.  
Clearly, Tronc aims to send a strong message to Soon-Shiong, reaching well beyond his Tronc dealings. Soon-Shiong had been seen as a rising figure nationally, even in apparent consideration for a Trump "health czar"-like position, after he twice visited Trump Tower following the election. Now the Tronc claims multiply his woes.
Is This a Case of False Equivalency?
If we step back from the current rounds of invective, Tronc's potential legal exposure still remains. 
What may look like a tit-for-tat exchange between Tronc and Soon-Shiong may be something less than that on deeper analysis.
In its most recent letters, Tronc clearly claims that Soon-Shiong serially violated company policy in failing to get its counsel's clearance to buy additional Tronc shares. 
Is Tronc alleging that any harm was caused by that alleged violation?
"We're not alleging an unjust enrichment or unjust profit," Tronc spokesman Dennis Culloton said Thursday morning. "We are saying you violated company policy and should have checked first. We're not making a federal case of it." 
Then why make a public case of it? 
"It's a matter of the pot calling the kettle black," Culloton said. Yes, it's the pot the kettle brought heroically -- proclaiming Soon-Shiong's smarts and gee-whiz technology -- into the kitchen just last spring, but that's ancient Tronc gastronomy.
In Tronc's furious response to Soon-Shiong's 10-day-old public complaints about Tronc's governance, the company has pointed to his buying of stock outside of "trading windows," of failing to get clearance first and of him missing board meetings in which some of the board decisions of which he complains were approved. 
Soon-Shiong's attorneys at Quinn Emanuel denied the allegations of improper stock purchases in a letter Thursday obtained by The Deal, pointing instead to "yet another feeble attempt to divert attention from the real issue: Tronc's poor corporate governance."
There's no doubt that Tronc intends the public rebukes to reduce consideration of Soon-Shiong's own charges against the company.
Those charges -- detailed earlier -- look on the surface to be far more substantive. Was Ferro/Merrick Media's original early 2016 deal to buy effective control of the company at $8.50 a share fair? Was his 2017 selective purchase of a portion of H.G. Vora's stake at $15 fair to other shareholders? Is his board's continuing allowance of Merrick Media to up its own stake, now to 30%, an exercise in good governance, especially as it disallows Soon-Shiong from moving beyond 25%? Overall, are the whole of Ferro's many moves a violation of Rule 13e-3 of the Exchange Act, in effect taking a public company private, a creeping privatization? 
Merrick Media holds a 27.7% stake, Culloton said.
At midsummer 2016, it looked like major Tronc investor Oaktree Capital would file its own lawsuit, based on some of those concerns. With Oaktree's stake now bought out -- by both Soon-Shiong and Tronc, with the latter buyback pushing Soon-Shiong's stake above the 25% cap for now to 26.7% -- that potential suit now likely falls to Soon-Shiong himself. (Meanwhile, Lifshitz & Miller, a trial firm seeking a class for an action, went public with its search today.)
How does Tronc defend Ferro's many moves?
"Michael's decisions have been approved by the board, and they have increased the company's market value," Culloton said. Tronc's share price hovers around $14, showing numerous ups and downs as investors and speculators prognosticate on their own chances of cashing out. 
If suits were filed, likely hearings would move into summer and then fall, just as the run-up for what could be a real Tronc proxy fight took place. Of course, we saw that drama in the Gannett/Tronc brouhaha of last year, and this year's sequel could find an equally odd, pull-a-new-trick-from-the-hat successor by 2018. Ferro is a man famously obsessed with celebrity and awards shows, and he may be producing a nonstop hit. 
Traditionalists may eschew Tronc's ongoing boardroom dramas, yet the protagonists just can't seem to battle quietly, even as Culloton suggested, with uncertain tongue-in-cheek, "It's not helpful to conduct this air war."