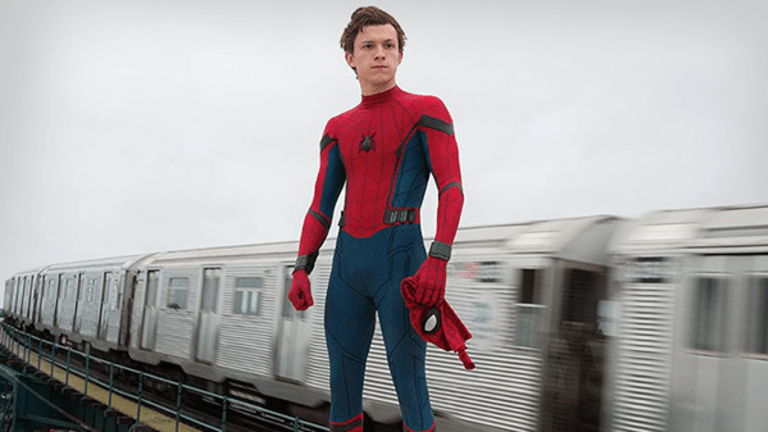 New 'Spider-Man' Will Swing to the No. 1 Spot at the Box Office This Weekend
The Sony-Marvel team up looks to be the third straight superhero film to open with $100 million+ this summer.
Count on the trusty superhero genre to keep the film industry afloat.
This weekend, Sony (SNE) - Get SONY GROUP CORPORATION SPONSORED ADR Report  will release its highly anticipated "Spider-Man: Homecoming," which cost $175 million and looks to return the web-slinging superhero to his glory days at the box office. The film, opening in 4,341 locations in North America, will also attempt to reverse the current box office slump, which has found the summer of 2017 trending 9% behind last year's summer. Elsewhere at the box office, Universal's (CMCSA) - Get Comcast Corporation Class A Report  "Despicable Me 3" will struggle to retain its family audience in the shadow of "Spider-Man: Homecoming," and Sony's own "Baby Driver" will attempt to capitalize on strong word-of-mouth for a strong second weekend. Overall, the Top 12 films should earn around $205 million, a 28% increase from last weekend and down a mere 2% from the same frame last year.
"Spider-Man: Homecoming" is Sony's second attempt at rebooting the franchise, after the Andrew Garfield-led "Amazing Spider-Man" films ($1.5 billion combined worldwide gross) failed to live up to the heights of the original "Spider-Man" trilogy directed by Sam Raimi ($2.5 billion combined worldwide gross). After "The Amazing Spider-Man 2" disappointed with $709 million worldwide a few years back, the studio went back to the drawing board to figure out how to make its most lucrative property a juggernaut once more. The answer was, of course, to fold Spider-Man into the most popular superhero franchise at the moment, Disney's (DIS) - Get Walt Disney Company Report Marvel Cinematic Universe (MCU). Disney and Sony struck a deal wherein Marvel Studios President Kevin Feige would oversee the creative direction of the character while Sony would finance the new "Spider-Man" movies. Under this deal, Sony retains all the box office revenue, while Disney gets to keep the money from merchandising as well as have Spider-Man interact with other Marvel characters within the MCU.
Tony Stark (aka Iron Man), for example, plays a supporting role in "Spider-Man: Homecoming" and has been featured prominently in the marketing. It's a smart move--no film featuring Iron Man has ever opened to less than $98.6 million at the box office, as Robert Downey Jr.'s Tony Stark is arguably the most popular character in the MCU. Tom Holland, the new actor portraying Spider-Man, has already won over a large number of Marvel fans with his appearance in last year's "Captain America: Civil War." Although his role in that film did not amount to much more than a glorified cameo, Holland's performance was one of the most widely praised aspects of "Civil War," with critics noting his comic timing and earnestness.
Holland's Spider-Man left so great an impression that people already seem to have forgotten about the lukewarmly-received Andrew Garfield films. Indeed, "Homecoming" has topped media measurement company ComScore's (SCOR) - Get comScore, Inc. Report most talked-about movies chart for three weeks straight, and reviews for the new "Spider-Man" are through the roof, with the film sitting at a 93% 'Fresh' rating on Rotten Tomatoes at the time of publication. The film's marketing has differentiated itself from the previous "Spider-Man" films by emphasizing that this is a lighter take on the character, with the movie reportedly sharing some of its DNA with the filmography of John Hughes.
Sony is conservatively predicting an $80 million debut, but tracking has indicated that Spidey will swing to over $100 million on opening weekend. Given that the past four weekends have seen four straight big-budget films underwhelm at the box office ("The Mummy," "Cars 3," "Transformers: The Last Knight," and "Despicable Me 3"), the market is wide open for a breakout debut. Expect "Spider-Man: Homecoming" to capitalize on its four-quadrant appeal and Marvel mojo to capture $115 to $120 million this weekend. In second place we find "Despicable Me 3," which came in below expectations last weekend with a $72.4 million debut. The film was likely hurt by franchise fatigue as well as fourth of July-related activities distracting moviegoers, but the Illumination Entertainment threequel may struggle again this weekend as "Spider-Man" steals away family audiences. Expect "Despicable Me 3" to fall roughly 58% this weekend for a $30 to $31 million second frame.
Third place should belong to Sony's "Baby Driver," which sped past expectations last week with a $30 million five-day opening. The film has benefited from being an ecstatically reviewed original film in a sea of poorly-received franchise fare. Older audiences who are not interested in "Spider-Man" will probably fuel the second weekend of the heist film. Expect "Baby Driver" to keep its foot on the gas this weekend with a $16 to $17 million second weekend, which would represent a slim drop of around 20% from last weekend.
Rounding out the Top 5 will be Warner Bros.'s  (TWX)  "Wonder Woman" and Paramount's  (VIAB) - Get Viacom Inc. Class B Report  "Transformers: The Last Knight." The DC superheroine film should take fourth with a $10 to $11 million second weekend, which would represent a light drop around 33%. The latest "Transformers" installment will almost certainly be facing a steeper drop; expect "The Last Knight" to fall around 55% for a second weekend in the $7-$8 million range.