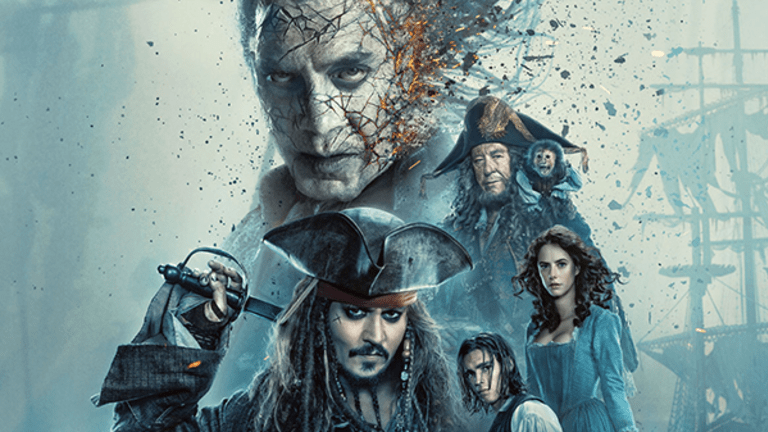 New 'Pirates' Movie Expected to Drown Out 'Baywatch' Reboot Despite Rotten Reviews
'Pirates of the Caribbean: Dead Men Tell No Tales,' the fifth installment in the Disney series, comes ashore in theaters this weekend.
Disney's (DIS) - Get The Walt Disney Company Report fifth Pirates of the Caribbean movie starring Johnny Depp as the clever Captain Jack Sparrow should rake in the booty during its opening on Memorial Day weekend. 
Pirates of the Caribbean: Dead Men Tell No Tales is expected to grab $65 million over the weekend, generously topping expectations of $25 million for the Baywatch remake from Viacom's (VIAB) - Get Viacom Inc. Class B Report  Paramount Pictures, according to Wells Fargo analyst Marci Ryvicker. The first four films in the Pirates series grossed a worldwide total of $654.3 million, $1.1 billion, $963.4 million and $1 billion, respectively, and the third entry, Pirates Of The Caribbean: At World's End, had the biggest domestic Memorial Day weekend of all time, collecting $139.8 million, according to comScore.
The latest Pirates film follows Captain Jack Sparrow as he goes on a journey in search of the Trident of Poseidon while enemy Captain Salazar and his ghost pirates are searching for him.
Baywatch is an action comedy about a group of good-looking lifeguards that find a dead body with drugs on their beach, prompting two of the lifeguards to go into the ocean to figure out what happened. The film, based on the popular television series that originally ran from 1989 to 1990 -- it was revived in syndication from 1991 to 2001 -- stars Dwayne "The Rock" Johnson, Zac Efron and Priyanka Chopra. 
"Riding on the good will of the film series and with a wide release (hitting 4,276 screens), Dead Men Tell No Tales looks set to top the box office, despite poor reviews," Wells Fargo wrote in a note to investors on Friday. 
The reviews have indeed been less than stellar. Rotten Tomatoes has a 30% approval rating on the fifth installment, versus the 79% approval rating on the first film in the series. New York Times reporter A.O. Scott said of the film, "This movie would be a ripoff even if someone paid you to see it."
But the Pirates film will do well despite poor reviews because the films in the series have always been "more of an audience favorite than critical darlings," comScore senior media analyst Paul Dergarabedian pointed out. The film has received a four out of five stars rating from audiences polled by comScore on its PostTrak survey. These results prove that there's a disconnect between the films audiences want to see and the films critics recommend, he said.
"This will still be the 'go to' movie over the holiday weekend for audiences just looking for a pure popcorn movie experience," Dergarabedian said. 
Unfortunately for Baywatch, it has received even worse reviews -- 19% on Rotten Tomatoes. It also was tagged with an R rating, meaning that families gathered together for Memorial Day weekend will be going to see the Pirates film instead, Exhibitor Relations senior box office analyst Jeff Bock pointed out. In addition, Pirates has the "Johnny factor," as Captain Jack Sparrow is the beloved actor's signature role, he said.
This is bad news for Paramount, which needs a win more than any of its competitors, he said. Paramount's last film, Ghost in the Shell starring Scarlett Johansson, bombed at the box office earlier this year and is expected to lose $60 million, deadline.com reported. The studio has trailed behind the box office take of its major studio peers for several years.
It's worth noting that the Pirates series owes the majority of its box office success to the international marketplace, Dergarabedian said. About 77% of the box office for the last Pirates film, 2011's On Stranger Tides, came from outside of the U.S. 
But even with international expectations for the Pirates film being about twice its domestic expectations, it still isn't likely to surpass its predecessor at the box office, Bock said. "This is a trend we saw last summer, too, of sequels not matching the heights of their predecessors," he said. 
If Pirates makes $700 million to $800 million in the end, then that's a good performance for it, Bock said. Meanwhile, if Baywatch can earn just $30 million to $40 million this weekend, then that's pretty good, he said. While this film has "The Rock factor," it isn't picking up much traction in the U.S., so will need to rely on international results if it wants to pick up speed. 
Next Friday will bring competition from both films from one of the biggest summer releases, Wonder Woman from Time Warner's (TWX) Warner Bros. The superhero film starring Gal Gadot and Chris Pine is coming at a time when Warner Bros. is under some heat for two poorly reviewed superhero movies from 2016, Batman v Superman: Dawn of Justice and Suicide Squad, although box were box office hits. In addition, Wonder Woman is the first DC Comic film from new DC film heads Geoff Johns and Jon Berg.
Editors' pick: Originally published May 26.