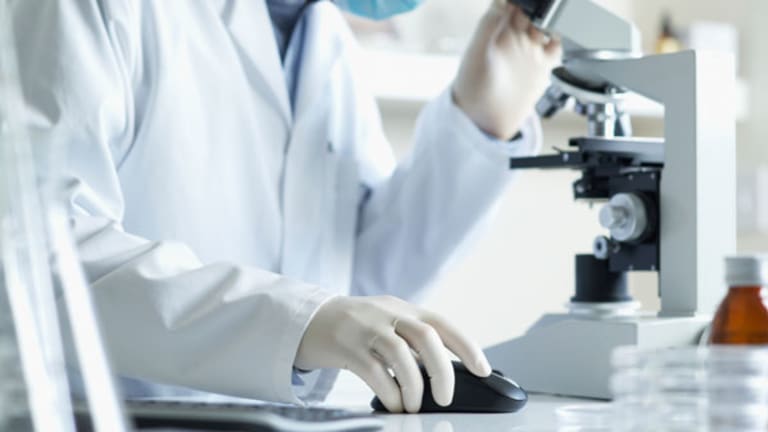 New Data Improves Sales Outlook For Celgene's Apremilast
Street expectations for Celgene's arthritis drug should rise as efficacy is comparable to current therapies.
SUMMIT, NJ (
) --
Celgene's
(CELG) - Get Celgene Corporation Report
strong stock performance this year started with the release of bullish, long-term (2017) guidance in early January. While Street estimates are generally close to Celgene's own forecasts, the biggest difference is with sales expectations for apremilast, the company's new oral drug for psoriasis and psoriatic arthritis.
Celgene's guidance implies about $1.5 to $2 billion in 2017 apremilast sales versus Street consensus of about $876 million. This discrepancy creates a lot of room for either Street estimates to increase or company guidance to decrease. Celgene has been fairly consistent on their guidance despite skepticism and has argued it has a more complete view of the data than investors. Celgene is presenting additional apremilast data this week at a rheumatology meeting in Europe, which should be quite positive.
The take-home point from the updated apremilast data will likely be that response rates increase over time with treatment. Early data put apremilast's efficacy in psoriatic arthritis clearly below the biologics --
Johnson & Johnson's
(JNJ) - Get Johnson & Johnson Report
Remicade,
Amgen's
(AMGN) - Get Amgen Inc. Report
Enbrel and
Abbvie's
(ABBV) - Get AbbVie, Inc. Report
Humira. However, Celgene believes apremilast will be positioned as a psoriatic arthritis therapy to be used after patients no longer respond to methotrexate and before biologics (which require injections) are prescribed. Importantly, Celgene is not positioning apremilast as a direct competitor to biologics.
Celgene believes there is a market for a safe, oral option with solid efficacy to be used before the injectable biologics. Obviously, the closer apremilast can get to the biologics in terms of efficacy, the greater the likelihood doctors will find it a useful option.
While there are a lot of data, I want to focus on results from the Palace-1 trial in psoriatic arthritis. In particular, for the 20 mg dose of apremilast, the ACR-20 score (a common measure of response) increased from 31 percent at 12 weeks to 38 percent at 24 weeks to 63 percent at 52 weeks. This increase in efficacy came without any increase in adverse events. The 30 mg apremilast dose saw a similar increase in ACR-20 response from 41 percent at 12 weeks to 47 percent at 24 weeks to 55 percent at 52 weeks.
At one year (52 weeks), the ACR-20 response rate for apremilast is fairly close to what's been observed in clinical trials for the biologics: 50 percent for Enbrel, 57 percent for Humira, and 58 percent for Remicade). Of course, it is always difficult to compare results across different clinical trials.
The apremilist data are not without flaws and questions. Response rates measured by ACR-50 scores (a more stringent measure of response) are significantly higher for the biologics than for apremilast. In addition, for some unknown reason the ACR-20 scores for the higher 30 mg apremilast dose fell below the 20 mg dose at 52 weeks despite being higher at both of the previous time points. The response scores for apremilast are also not adjusted for placebo.
All caveats aside, the key points remains the deepening of response to apremiliast over time and that response rates are in the same efficacy ballpark as the biologics. As patients are followed beyond one year, response rates to apremilast may increase further.
Why does it matter that apremilast's efficacy gets close to the biologics? Because of the divergence between Celgene's sales expectations for apremilast and what investors and analysts currently model. Relatively modest Street numbers for apremilast paint the picture of a drug that has some efficacy but which will not be widely adopted by doctors and patients. Analysts derive these low from early efficacy data that put apremilast well below the biologics.
The improved response to apremilast over time changes this calculation.
It now looks like apremilast is an oral treatment option that can used for an extended period of time with a relatively benign adverse event profile. Over time, the efficacy of apremilast is comparable to the biologics. This makes apremilast a much more attractive treatment option for doctors and patients. Remember, apremilast is a pill; biologics require injections.
The updated apremilast data being presented at the rheumatology meeting in Europe this week should prod investors and analysts to raise their sales forecasts. If the Street's sales expectations for the drug align more closely with Celgene's own guidance, Celgene shares should also move higher.
Sobek is long Celgene.
David Sobek has been writing on biotech for a number of years through various outlets with a general focus on small cap oncology and antibiotics companies. He received his PhD in political science from Pennsylvnia State Univeristy in 2003 and a BA in international relations from The College of William and Mary in 1997.