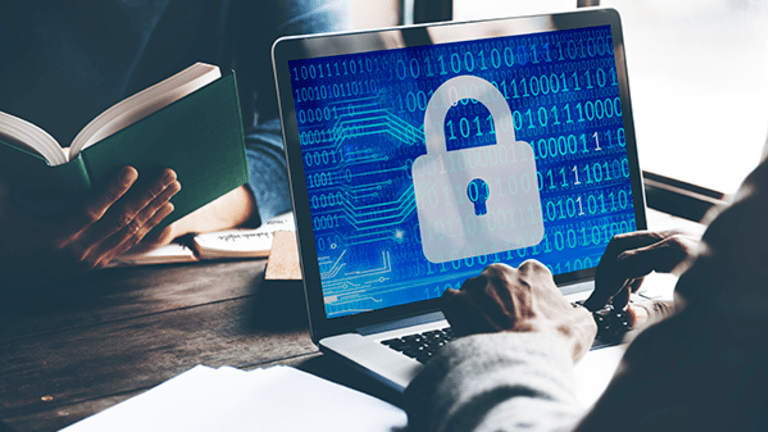 New Cyberattack Could Be Much Bigger Than WannaCry Attack -- Here Are the Stocks to Watch
The WannaCry attack affected over 230,000 computers in May, but researchers were able to find a way to stop it from spreading further.
The ransomware attack that started in Ukraine and Russia on Tuesday morning and has been spreading across Europe could get much bigger. 
The cyber-attack has already affected multinational companies around the world, including Ukraine's banks, Kiev's Boryspil Airport and Russian oil company Rosneft, according to Reuters. The attack went global within hours, spreading from Ukraine and Russia to Romania, the Netherlands, Norway and Britain. 
Attackers are exploiting the same vulnerabilities that were used in last month's WannaCry attack that affected over 230,000 computers in over 150 countries. The ransomware program infects a computer and demands ransom payments in the digital currency Bitcoin. 
Here's what a computer looks like once it's infected, according to a tweet from Symantec threat analyst Ankit Singh: 
Fortunately, in the WannaCry attack, researchers found a defect in the attack and were able to stop it earlier than expected, Evercore analyst Ken Talanian told TheStreet. "If a defect isn't found in this attack, then it could be much broader," he said.  
In mid-afternoon trading on Tuesday, the security provider stocks weren't having a strong reaction yet to the news. Mimecast (MIME)  was up slightly to $25.57, Fortinet (FTNT)  fell slightly to $37.56, Qualys (QLYS)  was up slightly to $41.15, and FireEye (FEYE)  fell slightly to $15.77. Meanwhile, Symantec (SYMC)  dipped 1.5% to $28.44, Check Point (CHKP)  fell 1.4% to $110.97, and Proofpoint (PFPT)  was up slightly to $86.57.  
Talanian said he's surprised the security stocks weren't responding more to the attack based on what usually happens when a ransomware attack goes mainstream. FireEye, in particular, usually gets a boost, he said. The muted response could be a reflection of the overall stock market's downward trend today, he said. "Normally this story would get some heat in these stocks," he added. 
Ransomware attacks tend to serve as a wake-up call for companies and investors that the threat still exists and can succeed even if a company has taken steps to protect itself, Talanian noted. Although companies have been spending more and more money on cybersecurity, this will most likely lead to the continued search for more solutions. 
Ukraine's prime minister said the attack was "unprecedented" but that "vital systems haven't been affected," the Associated Press reported. The UK's National Cyber Security Centre said it's aware of the attack and is monitoring the situation closely, according to The Independent. 
Visit here for the latest business headlines.
Read More Trending Articles:
Stocks Extend Losses as Tech Falls, Senate Delay Hits Healthcare