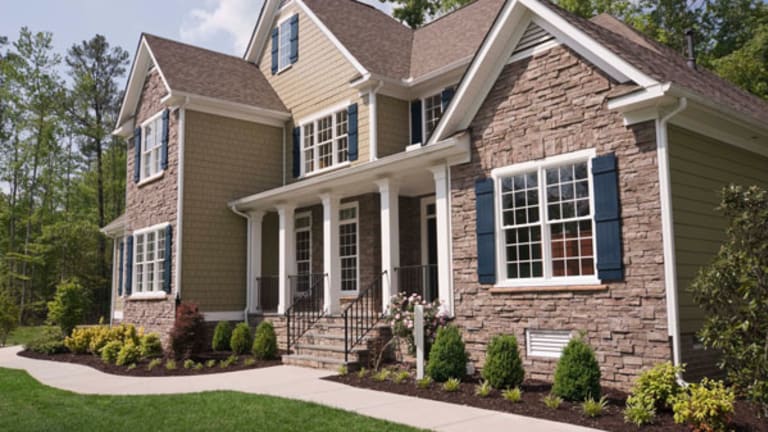 New Business Model for Homebuilders
There are several new trends in the new-home market, including an increase by homebuilders to build on contract, rather than on 'spec.'
NEW YORK (
) -- The U.S. Census data for new-home sales through July was released Wednesday and several new trends appear to be taking hold in the new-home market.
1
. In recent months, median prices are flattening and average prices are rising.
2
. Since January, there has been a strong rebound in new home sales.
3
. Higher-priced homes are gaining market share.
4
. The business model for homebuilders appears to be changing.
All these conclusions are derived from the data update just released.
Price Trends
The market share trends since the beginning of 2007 are shown in the following graph:
Since the beginning of the year, the three-year trends have changed. Higher-priced new homes (above $300,000) have been gaining market share; they had been losing. Houses between $200,000 and $300,000 have lost market share; they had been rising very slightly.
Below $200,000, market share has fluctuated, but is now little changed from January. This lowest-priced segment had been gaining market share since 2007. These short-term trends are shown in the following graph.
Median new home prices show a flattening trend, even though there was a 5% drop from May to June. The median new-home price may be settling into a bottom.
The average new-home price clearly has a short-term uptrend, even though July had a drop of nearly 3%. The more positive behavior of the average price, vs. median price, reflects the increased market share of higher-priced homes. See the following graph.
The R-squared values indicate the scatter of the data around the quadratic trend lines. A value of 1 would indicate all data points were on the trendline and a value of zero would indicate the trendline made no representation regarding the data.
Sales Volume
New-home sales volumes have been rising steadily since the low in January, although they are still less than a year ago. So far in 2009, sales volume has increased more than 60%. There have been increases greater than 9% each of the last two months. This is shown in the following graph.
The following graph implies that there have been a large number of "very old" new homes sold in 2009. The total inventory of new homes has come to 7.5 months from 11 months, while the median time on the market has risen to 12 months from nine. This graph implies that more than half of the new-home sales in 2009 were for houses completed in 2007 and earlier. Presumably the old stock will be consumed at some point and the median time on the market will turn lower.
Changing Homebuilder Business Model
The nature of new-home sales has moved from a large number of "spec" houses to an increased number of "contract" houses, in which construction isn't started until a contract is signed with a buyer. The number of contract houses has tripled since December, rising 200%, and for July constituted 31% of all new-home sales. The number of spec houses also has increased, but by a much smaller 50%.
Conclusion
New-home sales volumes have been increasing since December at an impressive rate. However, new homes are still being sold at a rate 9.3% below a year ago. Whether the housing market has actually bottomed or not, new-home building has increased so far in 2009. It remains to be seen how this holds up in the face of unfavorable seasonality and a high foreclosure rate. The risk to the housing market posed by foreclosures will be analyzed in a future article.
An increasing percentage of new homes is being built under contract with a buyer. This may indicate a new business model for homebuilders. Some big U.S. homebuilders are
Toll
(TOL) - Get Toll Brothers, Inc. Report
,
Lennar
(LEN) - Get Lennar Corporation Class A Report
,
Pulte Homes
(PHM) - Get PulteGroup, Inc. Report
and
Hovnanian
(HOV) - Get Hovnanian Enterprises, Inc. Class A Report
. If building continues to move in this direction, changes in the housing market will present less risk to builders compared with building a high percentage of spec houses.
-- Written by John Lounsbury in Clayton, N.C.
At the time of publication, Lounsbury had no positions in the stocks mentioned.
John B. Lounsbury is a financial planner and investment adviser, providing comprehensive financial planning and investment advisory services to a select group of families on a fee-only basis. He worked for 34 years with IBM, and spent 25 years in R&D management and corporate staff positions. He also was a Series 6, 7, 63 licensed representative with a major insurance company brokerage for nine years.
Specific interests include political and economic history and investment strategy analysis. He holds degrees from the University of Vermont, Columbia University and the Illinois Institute of Technology, where he studied chemistry, physics and mathematics. He is a contributor to Seeking Alpha and his own blog,
.