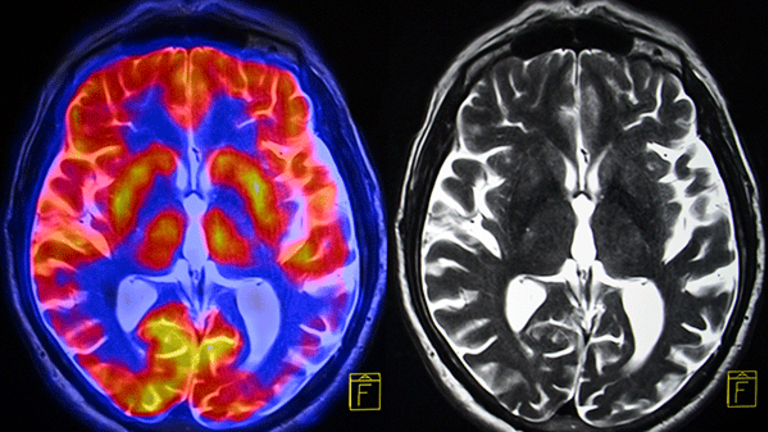 Neurotrope Spins a Failed Alzheimer's Drug Study
Bryostatin failed to produce a meaningful improvement in dementia, cognition or memory of Alzheimer's patients.
I ran a poll on Twitter over the weekend, asking people to predict the outcome of a clinical trial, conducted by Neurotrope Bioscience (NTRP) - Get Neurotrope Inc Report , testing its Alzheimer's disease drug bryostatin in patients with moderate to severe Alzheimer's disease.
Eight hundred people responded, more than half predicted bryostatin would show a small but insignificant improvement in cognition over placebo, with Neurotrope attempting to spin the negative trial result into something that looked more encouraging. Another 25% of the poll responders predicted no cognitive change at all between bryostatin and placebo.
The crowd was right. On Monday, Neurotrope issued a press release claiming "positive top-line results" from the bryostatin clinical trial, when in fact, the drug failed to produce a meaningful improvement in dementia, cognition or memory of Alzheimer's patients.
Neurotrope shares dropped $11.84, or 63%, to close at $6.97 Monday.
How did Neurotrope spin a negative Alzheimer's study into something positive? By excluding patients and the highest dose of bryostatin from the analysis.
Neurotrope enrolled 147 patients with moderate to severe Alzheimer's into the clinical trial, but chose to highlight results from a subset consisting of half the enrolled patients who completed the 13 weeks of the study and were treated with the lower of two bryostatin doses.
In this small subgroup of patients, there was a mean increase in the Severe Impairment Battery (SIB) of 1.5 points compared to a decrease in the placebo group of 1.1 points -- a difference of 2.6 points that did not reach statistical significance. SIB measures change in dementia and cognition in moderate to severe Alzheimer's patients.
Neurotrope did not provide results for patients treated with the higher dose of bryostatin. Diarrhea was the most frequently reported side effect of bryostatin.
The company claims the study results are strong enough to move bryostatin into a larger clinical trial. But a placebo-adjusted improvement in the SIB of 2.6 points at 3 months for bryostatin is not clinically meaningful. By comparison, the Pfizer Alzheimer's drug Aricept showed a placebo-adjusted change in the SIB of 5.9 points after six months. 
Bryostatin was first discovered more than 40 years ago, culled from a tiny filter-feeding sea organism that resembles seaweed. Initially, bryostatin and related compounds were believed to have anti-tumor effects, but years of cancer clinical trials returned disappointing results.
More recently, animal studies suggested bryostatin played a role in improving memory. The drug's purported mechanism of action activates a family of enzymes known as protein kinase C, or PKC. Among other functions, these PKC enzymes are believed to help form connections between neurons in the brain known as synaptic junctions. The enzymes are also believed to stop neurons from dying.
But outside of some rodent studies, there was scant scientific evidence to support the hypothesis that bryostatin improves memory or cognition in patients with Alzheimer's.
Neurotrope might claim otherwise, but Monday's negative study results won't help change many minds about bryostatin.
Adam Feuerstein writes regularly for TheStreet. In keeping with company editorial policy, he doesn't own or short individual stocks, although he owns stock in TheStreet. He also doesn't invest in hedge funds or other private investment partnerships. Feuerstein appreciates your feedback; click here to send him an email.