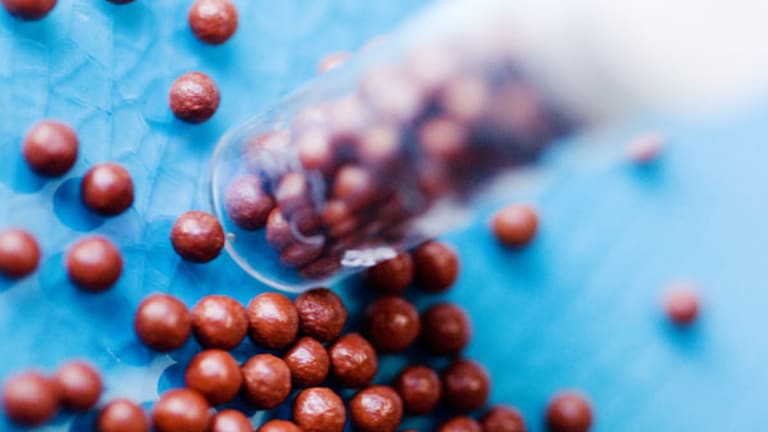 Publish date:
Neuralstem Stock Plunges After Latest Study on ALS Drug
Neuralstem is providing an overly optimistic picture about its surgical stem-cell therapy for amyotrophic lateral sclerosis (ALS), the degenerative and fatal nerve disease.
Neuralstem is providing an overly optimistic picture about its surgical stem-cell therapy for amyotrophic lateral sclerosis (ALS), the degenerative and fatal nerve disease.
GERMANTOWN, Md. (TheStreet) -- Neuralstem (CUR) - Get Neuralstem, Inc. Report is providing an overly optimistic picture about its surgical stem-cell therapy for amyotrophic lateral sclerosis (ALS), the degenerative and fatal nerve disease.
Instead of disclosing the results from all 15 ALS patients enrolled in Neuralstem's phase II study of NSI-566, the company decided to only release a comparison between the patients who responded and those who didn't respond. Of course, the seven responders in the study showed more stabilization or improvements in muscle function compared with the eight patients deemed non-responders.
The scientific term for this conclusion is, "Duh."
When you work backwards and do some simple math on the muscle performance of all 15 ALS patients in the Neuralstem study, the results aren't very encouraging. Neuralstem chose to stay mum on this more customary analysis.
Neuralstem shares are down 14% to $3.21 in Thursday trading.
Roll up your sleeves, and let's take a closer look at Thursday's Neuralstem announcement.
The phase II study enrolled 15 ALS patients. All underwent surgery during which NSI-566, a cocktail of neural stem cells, was injected into the spine. The goal of this study was to show that these stem cells could engraft into the spine, regenerate nerves and improve muscle function and breathing in ALS patients. All 15 patients in the study underwent surgery and transplantation with NSI-566, so there's no control arm to compare against.
In Thursday's announcement, Neuralstem said the NSI-566 phase II study achieved its primary endpoint of safety because the surgery and transplantation were well- tolerated. Only one patient experienced a serious surgical adverse event. No other details were provided.
On the more interesting secondary efficacy endpoints, Neuralstem said seven of the 15 patients, or 47%, responded to the stem cell therapy when they were assessed nine months after surgery. Response is defined as a slowing or improvement in the slope of the ALSFRS score over the nine months. ALSFRS measures muscle function in ALS studies, so a flattening or positive slope means patients are stabilizing or improving.
The average ALSFRS score for responders at nine months after treatment was 37 and these patients retained 93% of their baseline ALSFRS score, Neuralstem says.
The remaining eight ALS patients in the study did not respond to NSI-566 therapy. After nine months, their average ALSFRS score was 14, which represents just 35% retention of their baseline scores, the company says.
If we do some simple math, the baseline ALSFRS scores for responders and non-responders was 40, which is in line with other ALS studies.
Here's Neuralstem's conclusion: "As measured by an average slope of decline of ALSFRS, responders' disease progression was -0.007 point per day, while non-responders' disease progression was -0.1 per day, which was again statistically significant."
Responders benefited more than non-responders. Thanks, Neuralstem, but this analysis is not very helpful because the company can't identify patients who will respond to NSI-566 before they undergo the extensive surgical surgery required to transplant the stem cells into the spine.
If you can't preselect responding patients, it's important to know how all the patients taken together performed following surgery and implantation of the NSI-566 stem cell therapy. Neuralstem doesn't disclose this analysis in Thursday's release, but you can figure it out on your own.
I did the rough math, and this is what you get: For all 15 ALS patients in Neuralstem's phase II study, baseline ALSFRS score of 40 fell to 25 after nine months of follow-up. A lower ALSFRS score means worsening of muscle function in ALS patients over time. If you graphed the ALSFRS score over nine months, the slope would be negative. Taken together, Neuralstem's NSI-566 did not improve muscle function in ALS patients.
Did NSI-566 slow the rate of ALS disease progression? Unknown because Neuralstem's study lacks a control arm. However, if you compare these cumulative results to results from a natural history study of ALS patients known as Pro-Act, it looks like NSI-566 performed worse. Caveat: Cross-trial comparisons are imperfect.
Neuralstem and the investigator who conducted the phase II study say they are encouraged by the results enough to justify starting another clinical trial. ALS is a terrible disease with no cure, so there's no reason for Neuralstem to give up. A competitor, Brainstorm Cell Therapeutics (BCLI) - Get Brainstorm Cell Therapeutics Inc. Report, is doing the same.
But ALS patients and investors deserve a more complete airing of the results from this phase II study of NSI-566. False hope serves no one well. A Neuralstem spokeperson says the company intends to present or publish additional data from the phase II study at a later date. Let's hope they do.
Adam Feuerstein writes regularly for TheStreet. In keeping with company editorial policy, he doesn't own or short individual stocks, although he owns stock in TheStreet. He also doesn't invest in hedge funds or other private investment partnerships. Feuerstein appreciates your feedback; click here to send him an email.