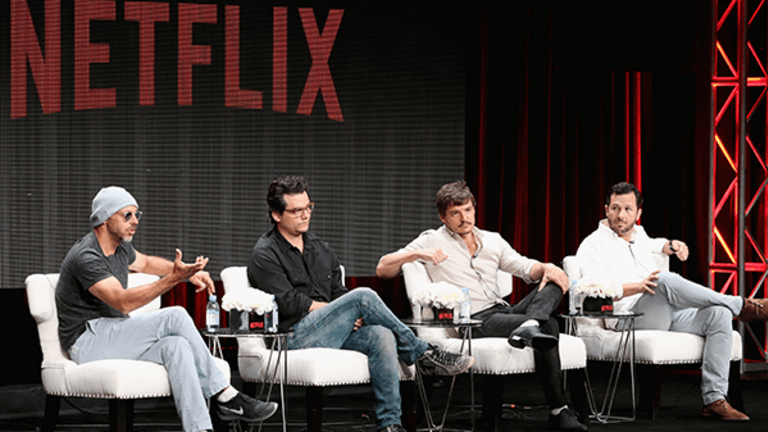 Netflix, With Blowout Quarter, Shows No Signs of Getting Crushed by Amazon
For now, Amazon isn't doing much to slow Netflix's blistering growth, in spite of strong customer overlap.
For now, Amazon isn't doing much to slow Netflix's blistering growth, in spite of strong customer overlap.
As the shares of everyone from Kroger Co. (KR) - Get Report to Foot Locker Inc. (FL) - Get Report to Blue Apron Holdings Inc. (APRN) - Get Report get hammered on fears that Amazon.com Inc.  (AMZN) - Get Report s gunning for their business, Netflix Inc.  (NFLX) - Get Report has soared to new highs after delivering yet another earnings report suggesting its business for now remains mostly immune to Amazon's aggressive incursions.
That Netflix has been so successful at fending off Amazon looks all the more stunning when one remembers that a large percentage of Netflix subscribers already have access to the Amazon service that directly competes against the company, via Amazon Prime subscriptions. But perhaps a little less so if one stops looking at Netflix's battle with Amazon as a zero-sum game.
Netflix chief Reed Hastings has long insisted that Netflix isn't just competing with other subscription streaming services such as Amazon's Prime Video, Hulu and Time Warner Inc.'s (TWX)  HBO Now and Go, but against video entertainment options in general, and to some degree other entertainment options such as music and gaming. Hastings has even gone as far as to quip that Netflix is "competing with sleep on the margin."
And in the context of video entertainment options in general, Netflix remains a great deal, even if the same could also be said about Amazon Prime. For $10 per month -- roughly the price of a movie ticket, and a fraction of the price of a typical pay-TV subscription -- consumers get access to a large on-demand library of ad-free shows and movies, including a lot of quality material not available anywhere else, and which is available in HD on virtually any device. And if they're will to forego HD streaming, the price drops to $8 per month.
Given all of that, the fact that Amazon bundles a quality streaming service -- if somewhat less impressive than Netflix's overall -- as part of a broader e-commerce and digital content subscription service that consumers like for a variety of reasons doesn't necessarily motivate consumers to cut ties with Netflix's. Consumers probably compare and contrast Netflix and Amazon's Prime Video more than Hastings' remarks would suggest, but it's hard to question his claim that many people are quite content to be signed up for both Netflix and Prime.
In a recent Morgan Stanley survey, 60% of respondents who said they were Prime members also reported being Netflix subscribers. On the flip side, 45% of Netflix subs reported using Prime Video. "We believe the debate over Netflix versus Amazon is less relevant compared to Netflix's broader opportunity to grow its share of consumer spend and time spend on entertainment, said Morgan Stanley's Benjamin Swinburne in response to the numbers.
Netflix finished Q2 with 51.9 million U.S. streaming subscribers, and Cowen estimated last November that Amazon had close to 50 million U.S. Prime members. Both figures point to U.S. household penetration rates in the 40% range (not counting people who are "sharing" subscriptions with friends/family), and with both Netflix and Prime's demographics skewing towards higher-income households, there's clearly a ton of U.S. customer overlap.
Chances are that there's also some meaningful overlap in foreign markets that have seen strong Prime adoption, such as the U.K., Germany and Japan. But this is harder to gauge, since Netflix doesn't break out its overseas subscribers by country. In time, one could see Amazon providing stiffer competition for Netflix overseas, as more cost-sensitive consumers decide that a subscription to either Prime or a standalone Prime Video service (available in many places for $6 per month) meets their on-demand video needs. But with Netflix having added 4.14 million international subs in Q2 and guiding for 3.65 million adds in Q3, its overseas momentum reamins pretty strong for now.
An important fact to keep in mind: Not all Prime subscribers are frequent Prime Video users. A February survey from retail research firm Field Agent found 80% of Prime members saying they use Prime Video, and just 53% saying they use it on a weekly basis. Meanwhile, comScore's December tracking data indicated Netflix was used in 75% of the 49 million Wi-Fi-connected U.S. homes accessing an online streaming service, and Prime Video in just 33%.
ComScore also reported over 75% of U.S. Prime Video viewers, and for that matter over 80% of HBO Go and HBO Now viewers, also watched Netflix. With Hastings having disclosed in April that Netflix now sees over 1 billion hours of weekly viewing, or roughly 10 hours per global subscriber, such numbers seem plausible.
Quiz: Where Were Your Favorite Netflix Series Filmed?
Contributing to Netflix's apparent usage edge: The company's content budget, set at $5 billion for 2016 and $6 billion for 2017, has from all signs been larger than Amazon's, which JPMorgan has estimated will spend $4.5 billion on content this year. It also doesn't hurt that Hastings and the rest of Netflix's senior management are almost solely focused on the company's streaming business, something which can't be said about Jeff Bezos and Amazon's leadership. Likewise, nearly all of Netflix's R&D work, whether for its website, apps or infrastructure, is focused on its streaming user experience.
Going forward, there's also the question of whether Amazon can financially justify keeping pace with Netflix's spending. The company's total retail subscription service revenue, whether for Prime memberships or other services, totaled $6.39 billion. While that figure represented a 43% annual increase, it still trailed Netflix's 2016 revenue of $8.83 billion (up 30%), and of course is used to support a lot of things besides Prime Video.
This year, Netflix is expected by analysts to see its revenue grow by another 30% to $11.5 billion. As the company leverages that extra revenue to keep upping its content spend, and uses its unmatched trove of viewing data to both make better content investments and improve its video recommendations, catching up to Netflix will be a tall order for any rival.
Amazon deserves credit for at least putting itself within striking distance of such a juggernaut, thanks in large part to its trademark willingness to absorb big near-term losses for the sake of long-term growth. But in this market, there's a big difference between being "competitive" and fully catching up to the leader.
More of What's Trending on TheStreet: