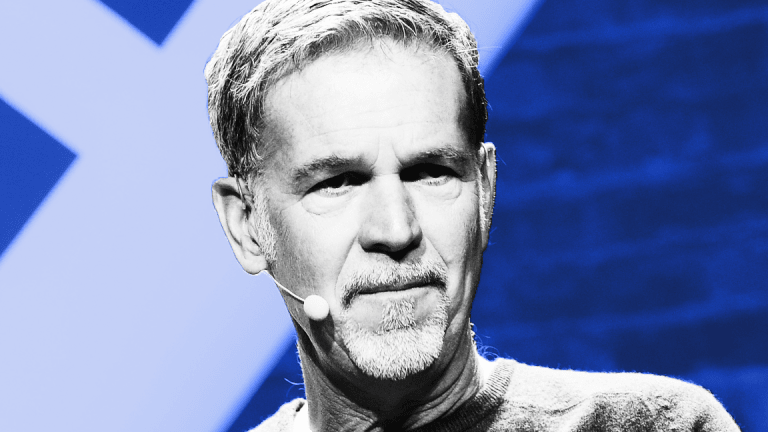 Netflix's 'Troubling' Subscriber Miss Suggests It's Approaching a Price Ceiling
Netflix reported just 2.7 million new subscribers in the second quarter, which included a net loss of 130,000 in the U.S. Last quarter was the first time Netflix has lost domestic subscribers in the years it's been reporting streaming separately.
Netflix's latest earnings release, in a word: Ouch.
Shares of Netflix  (NFLX) tanked 11% in after-hours trading after the streaming giant reported just 2.7 million new subscribers in the second quarter, far below prior guidance of 5 million new subscribers. Notably, its new subscriber figure included a net loss of 130,000 U.S. subscribers and an addition of 2.83 million in international markets.
Netflix pinned the weakness on a combination of factors: Firstly, it said that the discrepancy between new subscriber numbers versus forecasts was "slightly" higher in regions that saw price increases. It also blamed a relatively lackluster content slate for the quarter, as well as a pull-forward effect of strong subscriber growth (9.6 million) in the prior quarter.
Competition, however? "We don't believe competition was a factor since there wasn't a material change in the competitive landscape," the company said in the earnings release. In the coming quarters, Disney (DIS) , Apple (AAPL) and AT&T's (T) WarnerMedia are each slated to roll out their own streaming services.
In an earnings interview on Wednesday afternoon, Netflix CEO Reed Hastings and others elaborated on the reasons behind the dramatic miss on new subscribers, a metric that investors tend to hone in on even more than revenue or earnings figures.
"As you can see over the past three years, sometimes we forecast high and sometimes we forecast low. This time we forecasted high," said Hastings, also suggesting that investors shouldn't "overinterpret" the subscriber weakness. 
Asked if the subscriber miss indicates that Netflix is reaching maturity sooner that expected, Hastings reiterated the company's position that as streaming continues to grow worldwide, there's room for multiple players to thrive. 
"We're having a lot of new competitors enter the market in the next year, and our position is excellent," Hastings added. "If our investors believe in Internet television, then our position in that market is very strong."
As the streaming field grows ever more crowded, many industry analysts have wrestled with the question of how much households are willing to pay, and for what content. In addition to incumbents like Netflix or Hulu, consumers have a world of choice in niche streaming services, and those that offer live TV, at price points that range from $5 to more than $50 per month. 
What that means for Netflix's overall outlook is still an open question, and its third-quarter subscriber growth "should provide another crucial litmus test for the underlying growth trajectory," wrote CFRA's Tuna N. Amobi on Wednesday. Netflix forecasted 7 million new global subscribers for the current quarter, and Netflix executives said in the earnings interview that subscriber additions this quarter look promising so far. 
Wedbush analyst Michael Pachter added that in international markets, it makes sense that muscular growth in the first quarter would produce a subsequent shortfall -- but that the "troubling" loss in U.S. subscribers suggests that Netflix is approaching a price ceiling, even before its new competitors go live.  
"They make light of the loss of content and the increase in competition, but I think the domestic subscriber addition number speaks volumes. They are going to bump up against a Disney+ plan that is priced at $69.99 per year, and that is going to be attractive to middle-income households with small children," he wrote in an email. "Some of these may get Disney+ AND Netflix, but those on a tight budget are going to pick one or the other, and I think it spells slowing domestic subscriber growth for the foreseeable future."
Amazon, Disney and Apple are holdings in Jim Cramer'sAction Alerts PLUS Charitable Trust Portfolio. Want to be alerted before Cramer buys or sells these stocks? Learn more now.
Save 76% with our Prime Time Sale. Join Real Money to become a smarter investor! Click here to sign up!