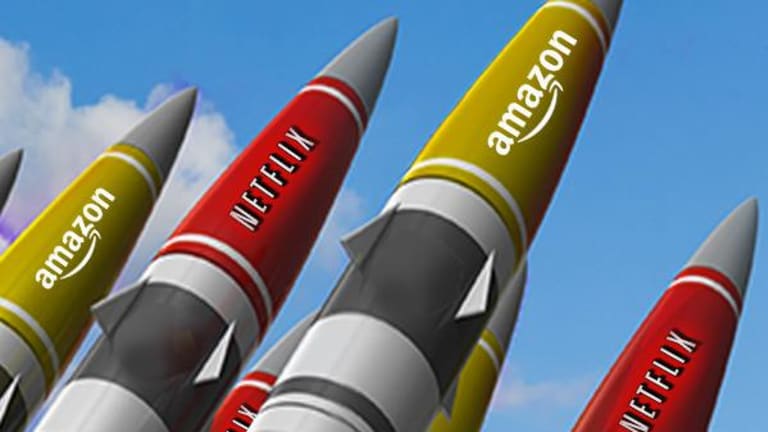 Netflix Still Leads in the Streaming Content Arms Race but Amazon Is Gaining Ground
The two leading streaming video services are spending hand over fist on content, and it appears to be paying off even as the field grows increasingly crowded.
When it comes to spending on content, both original and licensed, Netflix (NFLX) is still the clear leader, but the deep-pocketed Amazon (AMZN) isn't far behind. 
Analysts at JPMorgan estimate that while Netflix will spend $6 billion on original and licensed content in 2017, Amazon will spend about three-quarters of that, or $4.5 billion. That percentage is up from Amazon's roughly 55% of Netflix's spend in 2015, and 50% in 2013. Since Amazon premiered its first original shows in 2013, it has tripled its budget for video content, according to JP Morgan. 
The pair's big bets on content have paid off. Netflix said it plans to launch more than 1,000 hours of original programming in 2017, up from only a couple hundred hours a few years ago, according to analysts at Cowen. The firm estimates that Netflix's original U.S. content hours increased 102% year-over-year in the fiscal first quarter -- a trend that should continue to provide a "natural lift" to its average revenue per streaming user (ARPU) in the coming months.
"Originals positively impact gross subscriber adds and churn, in our view," Cowen said in a note to clients on Tuesday, meaning that the more Netflix invests in original content, the more that viewers will stay with its service, rather than switching to one of the many other available OTT options.
Meanwhile, JPMorgan noted that one of the biggest concerns weighing on Netflix shares is rising competition from Amazon, whose Prime Video supports its lucrative Prime Membership program that includes free two-day shipping on many items that Amazon sells. The two companies battled it out during the 2017 awards season, despite both taking home several Golden Globe Awards, among others. Netflix's "The Crown" -- the company's most expensive series to date -- garnered two Golden Globes, while Amazon's "Manchester By the Sea" was nominated 11 times and took the award for Best Actor in a Drama.
The two are spending significantly more than their rivals -- by comparison, Time Warner's (TWX) HBO spent about $2 billion on original content in 2016. And that's helped them generate a strong lead in the increasingly crowded market for over-the-top streaming services.
More than half of U.S. households with a WiFi connection use at least one over-the-top service, or are watching movies and TV shows over the internet, rather than via a cable box or through a cable provider, according to comScore. Streaming platforms are taking on the same role as traditional, linear TV programming, with users being the most active on over-the-top services during primetime viewing hours. 
Netflix remains king among over-the-top content providers, with the streaming giant reaching about 75% of homes who use over-the-top services, according to comScore. Surprisingly, YouTube came in second, as it's grown its reach to 53% of OTT homes. Amazon Video was in third with 33%, followed by Hulu with 17%. 
Several analysts argue that the rivalry between Netflix and Amazon depends less on subscriber counts and more on providing the high-quality original content that makes them spend more time on the platform. Morgan Stanley analysts said about 45% of Netflix subscribers also use Prime Instant Video, while 60% of Prime subscribers also use Netflix.
comScore noted that there are now 11 over-the-top services that reach one million or more homes in a given month, which likely includes AT&T's (T) DirecTV Now, Hulu's upcoming live TV service, Google's (GOOGL) just-launched YouTube TV, CBS's  (CBS) All Access and Sony's PlayStation Vue. Additionally, there's speculation that Apple (AAPL) could be developing its own streaming service, especially as it continues to roll out more original content.
Making the streaming arms race all the more competitive, Comcast (CMCSA) is also rumored to be entering the arms race by launching a streaming service exclusively for NBC shows. The service could also include content from Comcast cable channels Bravo, SyFy and USA. 
Alphabet,AppleandComcast are holdings in Jim Cramer'sAction Alerts PLUS Charitable Trust Portfolio.Want to be alerted before Cramer buys or sells GOOGL, AAPL or CMCSA? Learn more now.