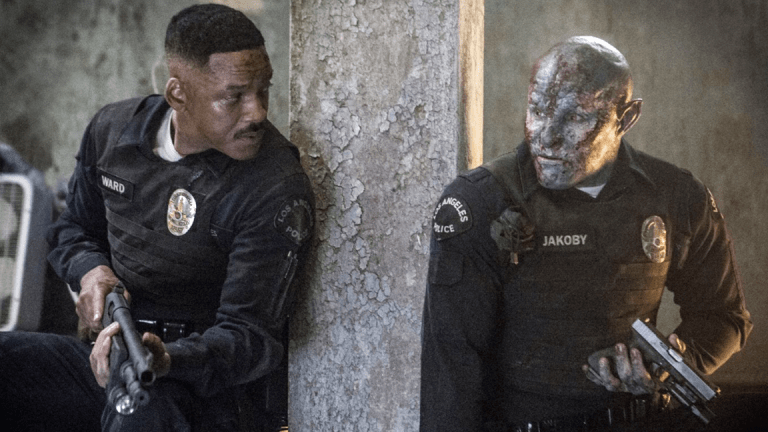 Netflix's Stellar Quarter Is More Bad News for Media Stocks, Especially Disney
Media stocks have been slipping all year, and Netflix's latest results point to a challenging future for Fox, Comcast, Disney and their peers.
Netflix Inc. (NFLX) this year has added more subscribers, actually 25% more, than Hulu LLC has attracted in the eight years since it was formed by the country's largest media companies.
It just happens that those giant entertainment companies -- Walt Disney Co. (DIS) ; Twenty-First Century Fox Inc. (FOXA) ; and Comcast Corp. (CMCSA) , owner of NBCUniversal -- plus the latest Hulu partner, Time Warner Inc. (TWX) , are all at a most uncomfortable crossroads in their general dominant and successful histories. Time Warner, of course, is nearing an acquisition by AT&T Inc. (T) in a transaction that might best be called a very convenient lifeline.
Taken together, the 16 largest U.S. media and advertising stocks, as represented by the S&P 500 media industry index, had gained 0.3% this year as of Tuesday, Oct. 17, compared with the overall index, which has jumped 14%.
As for Disney, CEO Bob Iger has finally acknowledged  the future is online. In August he announced plans to launch a direct-to-consumer service for ESPN early next year, followed by a rollup of its many movie studios into a Disney-branded streaming product in 2019.
Netflix's global reach may already have reached the moon by 2019, but such are the difficulties in trying to move a battleship the size of Disney. For the third quarter ended Sept. 30, Netflix added 5.3 million net subscribers, surpassing the average of analyst forecasts at 4.5 million. Netflix's subscriber base is now 109 million worldwide, a paying audience that's growing annually at a double-digit rate.
Disney, meanwhile, will be starting at zero subscribers in 2019 for its all-everything streaming service, albeit with the best-known entertainment brand in the world. The challenge is daunting though: Netflix accounts for 46% of all streaming video use by U.S. adults, according to Nielsen, followed by Alphabet Inc.'s (GOOGL) YouTube at 15%, Hulu at 8%, Amazon.com Inc. (AMZN) at 4% and 11% for other video services.
As investors have come to recite like prayer, Disney's entertainment business model remains dependent on a cable business model that is fraying. And while Disney's ESPN has become the poster child for the decline in pay-TV subscribers, all network owners are feeling the brunt of it: Fox, Discovery Communications Inc. (DISCA) , Viacom Inc. (VIAB) , even CBS Corp. (CBS)   despite CEO Leslie Moonves' exceptionalism argument.
The accelerating decline in pay-TV subscribers means lower affiliate fees from cable and satellite TV operators. Advertising remains in flux with more total dollars moving to digital platforms, primarily Facebook Inc. (FB) and Google. This steady redirection has been offset by the realization among advertisers (Procter & Gamble Co. (PG) , for instance), that broadcast television remains the best way to consistently reach a large audience (Moonves' chief talking point).
Yet the overarching trend is toward subscription-based video services and YouTube. Facebook is transitioning from mere aggregation to content creation, and Snap Inc. (SNAP) , Amazon and Apple Inc. (AAPL)   are right with them. There's also CBS' All Access, but although that service is direct-to-consumer, CBS has to pay for marketing and technology, costs traditionally handled by pay-TV operators,
The trends for both network affiliate fees and TV advertising are downward, Pivotal Research Group LLC media analyst Brian Wieser wrote in a note on Tuesday.
"Facebook and other digital media owners have finally come around to understanding that in order to capture ad revenues from budgets that would otherwise have gone to television, they actually need to have television-equivalent content to sell advertising against," he wrote.
In the note, Wieser lowered his 12-month price target on Disney to $83 from $85 per share. Disney was changing hands Tuesday at $98.39. "We remain most negative on Disney, as revenue and margin pressures will be significant for the company's cable networks on an ongoing basis," Wieser said. 
The pressure on the pay-TV model was most recently illustrated by AT&T, which last week disclosed that it lost about 390,000 subscribers to its traditional pay-TV video services in the third quarter. While the company said its DirecTV Now streaming video service gained 300,000 subscribers in the quarter, profit from the service is much less than what it generates from a traditional subscriber who often pays twice as much. DirecTV costs about $50 per month. 
No matter what CEO Randall Stephenson says at next month's earnings conference call, AT&T's subscriber results for the third quarter are a particularly ominous sign given that he's made a big bet that his company will be able to do more with Time Warner's television and film businesses than it might have without a large telecom distributor as its owner. AT&T shares have declined 14.8% this year, whereas the S&P 500 index has gained more than 14%.
It's a Netflix world, and media entertainment companies are trying to live in it.
One additional thought on this day of the Netflix fallout: There's been a lot of talk about the creation of a so-called entertainment bundle, featuring networks owned by Viacom, AMC Networks Inc. (AMCX) and the soon-to-merge Discovery and Scripps Networks Interactive Inc. (SNI) . But would a combination of networks from those four media companies be able to produce the quality of content coming out of Netflix right now, and at a similar price?
Would it get any more than a few million subscribers?
Here's What Jim Cramer had to say about Netflix:
Comcast, Alphabet, Facebook and Apple are holdings in Jim Cramer's Action Alerts PLUS Charitable Trust Portfolio. Want to be alerted before Cramer and the AAP team buy or sell CMCSA, GOOGL, FB and AAPL? Learn more now.
More of What's Trending on TheStreet: