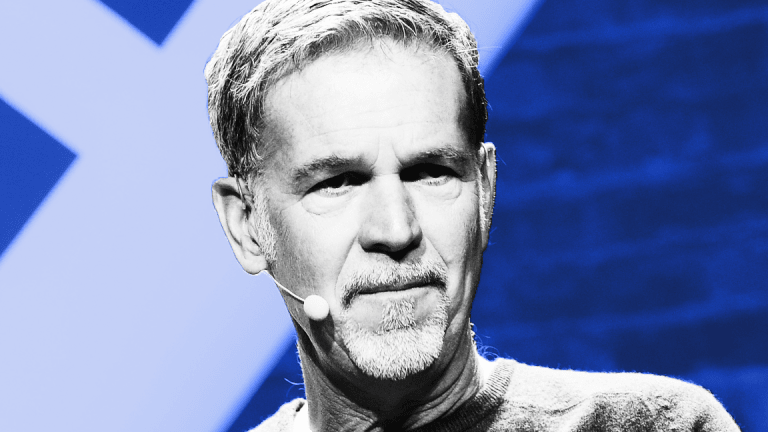 Netflix Shares Soar After Hours on Strong Subscriber Growth: 6 Top Takeaways
The streaming giant's market cap surpassed $100 billion for the first time ever as investors cheered the latest numbers.
Netflix (NFLX) - Get Netflix, Inc. (NFLX) Report shares spiked more than 9% Monday after the close as subscriber growth again exceeded expectations, taking the streaming media giant's market capitalization past $100 billion for the first time. Heading into Monday's earnings report, Netflix shares were already up 17% in 2018 and more than 60% over the last 12 months.
For the quarter, Netflix added 8.33 million net subscribers, of which 6.36 million were international (compared to Netflix's guidance of 5.05 million), and 1.98 million in the U.S. (above guidance of 1.25 million). Quarterly revenue of $3.29 billion was slightly above a $3.28 billion consensus, while EPS of $0.41 was in-line.
Here are the six biggest takeaways from the earnings report (follow our live blog to get commentary on the company's earnings call with investors, beginning at 6 p.m. ET):
U.S. and international net adds were both well above estimates. The healthy U.S. growth suggests the price hike instituted in October of $1 to $2 per month for some U.S. customers didn't do too much damage. And it might also suggest that the quarter's heavy marketing spend (much of it focused on U.S.) paid off.
Q1 international guidance was well above consensus forecasts, while U.S. guidance was only moderately so. There's still a ton of room for Netflix to grow internationally. Hopefully some details about specific individual markets will be shared on the earnings call.
Average selling prices (ASP) increased 5% in the U.S. and 12% elsewhere in constant currency as the price hike obviously helped out. Bundling deals, such as the one to offer Netflix free to T-Mobile wireless customers, may have kept a lid on U.S. ASP growth.
It's interesting that Netflix shared data on its per-user viewing, which was up 9% in 2017. The company wants to counter fears that consumers with access to multiple streaming services are watching less Netflix.
The 2018 spending plans are very aggressive -- not just for content, but also for marketing and R&D. Hence the guidance for 2018 negative free cash flow of $3 billion to $4 billion.
The overall debt load still isn't that high, however, and Wall Street clearly trusts Netflix to spend wisely. Not surprisingly, Netflix plans to keep relying on debt (rather than issuing more stock) to raise capital.
More of What's Trending on TheStreet: