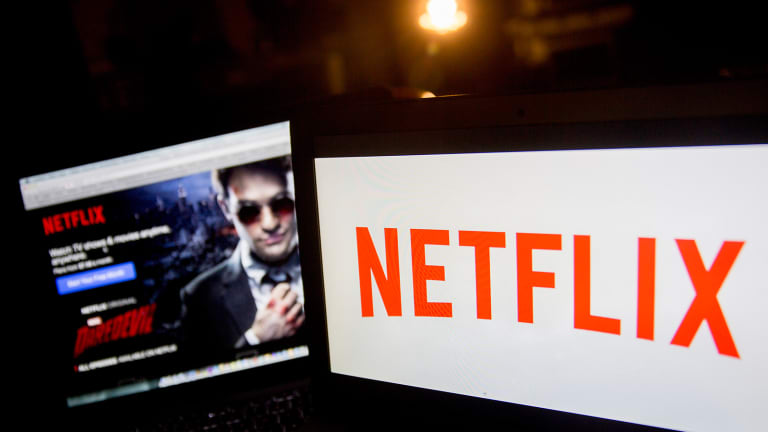 Netflix Price Hikes Give It More Ammo at an Important Time
The streaming giant's price increases come as its ramps up spending on big-budget productions, and as Old Media gets more serious about investing in its own streaming services.
Thanks to its latest price hikes, Netflix Inc.  (NFLX) - Get Report might have more than $1 billion in additional funds next year -- and even more in the following years -- to bolster its already-giant content budget with if it wishes. And in doing so, it may put more distance between its streaming library and those offered by a growing stable of rival services backed by media incumbents.
Netflix's action does come with one meaningful risk: It's further increasing the price premium its services carry (both directly and indirectly) relative to Amazon.com Inc.'s (AMZN) - Get Report Prime Video. But for now, one has to assume that Netflix's very data-driven management team did its homework before signing off on the move.
Starting in November, the price of Netflix's Standard U.S. streaming plan, which supports up to two simultaneous HD streams, will be increased by $1 per month to $10.99. The price of its Premium U.S. plan, which supports 4K content and up to four simultaneous streams, will be hiked by $2 to $13.99. The Basic U.S. plan, which only supports one simultaneous non-HD stream, will remain priced at $7.99. Customers will be notified of price hikes starting on Oct. 19 and are promised at least 30 days' notice.
Not surprisingly, investors who have long wanted to see Netflix further flex its pricing power are applauding the move: Shares rose 5.4% to $194.39 on Thursday, a new all-time high, and are now up 57% on the year. Netflix's $84 billion market cap is higher than that of every media giant except Walt Disney Co. (DIS) - Get Report .
For now, Netflix hasn't signaled whether it will also be hiking prices in overseas markets, which held slightly over half of the 104 million streaming subs the company had at the end of Q2 and have been responsible for the lion's share of its recent subscriber growth. But considering how Netflix's last price hike gradually were applied to overseas users, odds are good that the same will hold for this one.
As it is, Netflix hiked its Canadian prices in August, and began testing an Australian price hike a few months before that. Chances are that the reactions it saw to price hikes in smaller English-speaking markets (or lack thereof) made Netflix more confident about pulling the trigger on a U.S. price hike.
One big difference between this Netflix price hike and the last one: It will affect all U.S. subs almost immediately. Though Netflix first announced its last price hike in May 2014, many older subs didn't see their bills rise until well into 2016. With its 2011 Qwikster fiasco now a distant memory, Netflix now feels comfortable providing much less advance notice.
More of What's Trending on TheStreet:
Why Steve Jobs' Grand Vision for Apple TV Remains Unfulfilled
Netflix doesn't provide a breakdown of how many subs it has for each of its streaming plans, but the Standard plan is believed to be its most popular by far. If one assumes 70% of U.S. Netflix subs are on the Standard plan and 10% on the Premium plan -- Premium's share could rise as 4K TV sets and content proliferate further, but it's best to be conservative for now -- then the U.S. price hike would yield $561 million in additional revenue over the next 12 months, based on a Q2-ending subscriber count of 52 million.
For international subs, let's assume -- given limited broadband connectivity and/or cost-sensitivity in certain markets, as well as the gap that still exists between Netflix's U.S. and international streaming revenue -- that 60% of subs are on the Standard plan and 5% on the Premium plan. In that case, replicating the U.S. price hike overseas would yield $437 million in revenue over the next 12 months, based on Netflix's Q2-ending subscriber count.
And both Netflix's U.S. and international bases are still, of course, seeing healthy growth. On average, analysts polled by FactSet expect Netflix to end 2018 with 58.5 million U.S. streaming subs and 76.2 million international subs. By the end of 2020, those numbers are respectively expected to be at 66.9 million and 106.7 million. All those extra subs will eventually boost the top-line impact of a price hike by hundreds of millions.
Given its spending mindset in recent years, chances are that at least a portion of these additional funds will be poured into new content investments. And recent actions -- both by Netflix and rivals -- up the company's incentive to do so.
On one hand, the likes of Disney (DIS) - Get Report , Twenty-First Century Fox Inc. (FOXA) - Get Report , CBS Corp. (CBS) - Get Report  and Time Warner Inc.'s (TWX) HBO have either launched or announced plans for streaming services containing much of their best content. And some media giants, such as Fox, have given Hulu top priority for licensing TV shows, owing to their stakes in the Netflix rival. Disney, which by decade's end plans to pull its films from Netflix and launch a service that will become the exclusive streaming home of Disney, Pixar, Marvel and Star Wars films (along with some original content), has to especially be on Reed Hastings' mind.
On the other hand, Netflix is quickly dialing up its investments in big-budget original films and greenlighting more and more big-budget original shows -- including ones tailored for international audiences. The company expects to spend over $6 billion on content this year, and has set a 2018 budget of $7 billion.
Having additional revenue to direct towards its content budget will give Netflix more headroom to invest in the kind of material that can offset the upcoming loss of Disney films, as well as more broadly grow its scale advantage relative to rival streaming platforms. The company could also use the funds to address current weak points in its library, such as older films and family-oriented content.
From a financial standpoint, any price hike-related revenue that Netflix chooses not to reinvest will help the company pare its substantial cash burn: Free cash flow for the 12 months ending in June totaled $2.2 billion. And along the way, the funds stand to lower Netflix's need to tap debt markets. At $4.8 billion, Netflix's debt load was still pretty reasonable as of June, but it had risen from the start of the year thanks to a 1.3 billion-euro debt offering.
That said, Amazon is likely pleased to hear about Netflix's price hike. With Amazon charging just $99 per year ($8.25 per month) in the U.S. for Amazon Prime -- it, of course, comes with many things besides the Prime Video streaming service -- and just $5.99 per month for a standalone Prime Video service in many foreign markets, there's a risk that more cost-sensitive consumers will contrast Amazon and Netflix's pricing and decide that relying just on Amazon is fine with them. That's particularly true since Amazon, which is spending billions annually on Prime Video and is also stepping up its investments in big-budget productions, has a pretty solid library of its own.
But as Hastings frequently asserts, Amazon is just one of many, many rivals Netflix has when it comes to video entertainment options. And compared with many of those options -- U.S. pay-TV bundles especially -- Netflix, whose Standard plan still only costs about as much per month as a meal at Chipotle (CMG) - Get Report -- remains a very good deal. The tremendous overlap that clearly exists between Prime and Netflix subs in the U.S. -- there also seems to be some in other big Amazon markets, such as the U.K. and Germany -- drives home the fact that the Amazon-Netflix battle is far from a zero-sum game.
And as noted earlier, Netflix isn't hiking the price of its Basic plan, and hasn't yet rolled out price hikes in most overseas markets. If Amazon's discount pricing is seen as a larger threat in emerging markets such as Latin America and India, Netflix could refrain from raising prices there.
Hastings and the rest of Netflix's management has been nothing short of obsessed with mining data to inform their decision-making, which for the last few years has by and large been superb. In light of this, one has to assume that management put a lot of legwork into gauging whether the financial and competitive benefits of a price hike would outweigh any potential harm, and found that the answer was a clear "Yes."
More of What's Trending on TheStreet:
Editors' pick: Originally published Oct. 5.