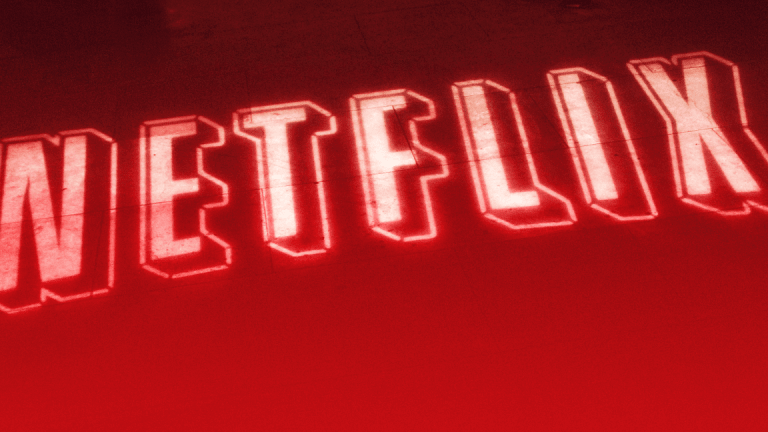 Netflix Seeing Stars as Goldman Hikes Price Target to New Wall Street High
Revenue growth is starting to outpace content spend, Goldman writes.
Revenue growth is starting to outpace content spend, Goldman writes.
Netflix Inc. (NFLX) - Get Report  has risen 90% since the start of the year, but the best may still be to come.
Goldman Sachs analyst Heath Terry this week hiked his price target on Netflix stock to a Wall Street high of $490, implying an upside of more than 34% from Tuesday's closing price of $363.83.
According to Terry, Netflix is on track for meaningful positive cash generation in 2022. In 2017, Netflix had negative free cash flow of $2.02 billion. FactSet analysts see that negative figure widening to negative $3.06 billion in 2018 before reversing direction to negative $2.12 billion in 2019 and negative $1.45 billion in 2020. According to Goldman, 2018 will be the peak negative cash flow year for Netflix.
"While the widening gap between Netflix's growing income statement profits and the increasing cash flow statement deficit has seemingly had little impact on the company's valuation, we do believe that as the gap begins to reverse and Netflix's cash flow inflects positively in the coming years, NFLX shares should benefit," Terry wrote.
Cash burn will reach its peak in 2018, Goldman forecasts, as a result of significant spending in content that will drive the cash burden to outgrow the amortization add-back for Netflix. But investing in that all-important content will be a major factor in reaching $500 million in positive cash flow in 2022, Goldman estimated.
Terry's bullish thesis contends that Netflix's revenue growth is beginning to outpace content spending growth. With $11.69 billion in sales last year, Netflix grew its revenue by 32.4% year-over-year.
"We believe the growing content offering and expanding distribution ecosystem will continue to drive subscriber growth above consensus expectations," Goldman said.
Analysts expect Netflix to spend roughly $14 billion in streaming content additions in 2018. That level of spend drives correlation-implied net subscriber adds of 34 million in 2019, Goldman said, a figure higher than both the analysts' 32.5 million and the consensus 26 million estimates.
"The additional $3 billion to $4 billion in cash investment into content is a crucial component of driving growth above consensus expectations over the next three to five years, solidifying Netflix's lead ahead of competitive launches, reducing its reliance on outside content and eventually reaching significantly positive [free cash flow,]" analysts continued.
Goldman's new price target of $490 is up from a previous $390 target. The average target price from 43 FactSet analysts covering Netflix was most recently $335.37, well below Netflix's current share price. Most FactSet analysts rate the stock overweight with a long-term growth rate of 51.6%.
"While our target multiple represents a clear premium relative to the sector, we believe it largely reflects Netflix's long term subscriber and margin potential," Goldman wrote.
Netflix stock climbed 2.34% Wednesday. Shares are higher 145% over the last year.
How to Play Today's Risky Markets. Click here and register for free to watch what top experts from Bank of America, Fisher Investments, Invesco and Wells Fargo say smart investors should do now.