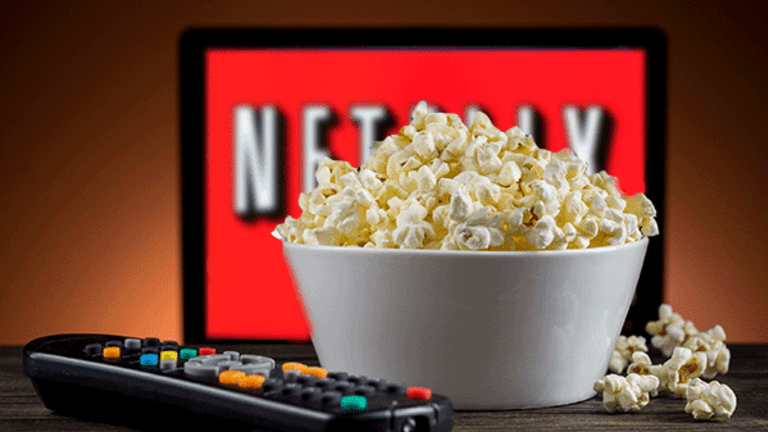 Why Netflix Stock Is At its Highest Price Ever
The company is crushing it.
Amazon (AMZN) - Get Amazon.com, Inc. Reporthas often talked about how its core services benefit from a "flywheel effect," one in which trends such as more Prime subscribers, new merchants, new warehouses, greater economies of scale and shorter delivery times feed on each other and serve to grow its total business.
In the wake of a very strong fourth-quarter earnings report, it looks like streaming rival Netflix (NFLX) - Get Netflix, Inc. Reportis benefiting from its own virtuous cycle of favorable trends, one involving rapid international growth, big original content investments and a ton of data on how so many users are watching so many movies and shows.
On Thursday morning, Netflix shares were up 6.9% to $142.26, a new all-time high. 
As was the case in October, Netflix easily beat subscriber estimates. The company respectively added 1.9 million U.S. streaming subscribers and 5.1 million international subscribers, topping guidance of 1.45 million and 3.75 million and bringing its total base to 93.8 million (89.1 million paid, the rest on trial memberships). Revenue of $2.48 billion (up 36% annually) and EPS of $0.15 slightly topped consensus analyst estimates of $2.47 billion and $0.13.
Subscriber guidance was also solid, though not as spectacular: Netflix expects to add 1.5 million U.S. and 3.7 million international subs in Q1, compared with pre-earnings analyst estimates of 1.8 million and 3.2 million. The company notes it expects subscriber growth to pick up in the second half of 2017 thanks to a strong original content slate, and thinks some subscriber adds were "pulled forward" from Q1 to Q4.
With both U.S. streaming contribution profits and international losses set to temporarily evaporate, Netflix is guiding for Q1 EPS of $0.37, well above an $0.18 consensus. The company is also guiding for a 7% operating margin for the whole of 2017, up from the roughly 4% margin it has delivered over the past two years. A 9% margin is expected in Q1 thanks to the timing of content expenses.
Clearly, Netflix's giant year-ago expansion into 130 additional markets -- it left the company operating in virtually every big foreign market except China -- is paying off quite well, as are some older foreign markets. The company mentioned on its earnings call it's seeing strong European momentum and "steady" Latin American growth. And though Netflix now operates in locales such as India, Japan, South Korea and Turkey, the company suggests its Asian subscriber ramp-up is still in its early stages.

Meanwhile, though much of the low-hanging fruit has been picked off in the U.S., there's still clearly further room to grow. Even after accounting for the "sharing" of accounts between households, Netflix's current domestic subscriber base (49.4 million) implies a penetration rate of less than 50% for a country with about 125 million households.
What's especially interesting about Netflix's subscriber surge is how investments in both foreign-language content and big-budget, English-language productions are playing roles, as well as how their impacts don't split as neatly along regional lines as one might think. Netflix points out that shows such as Gilmore Girls and Trollhunters are big overseas, and that Brazilian sci-fi show 3%, in addition to being big in its home market, has been watched by "millions of U.S. members."
This is the virtuous cycle at work. Subscriber growth and price hikes help Netflix finance more original material, and the content collectively grows Netflix's appeal to millions of additional consumers, and often in surprising ways. And as Netflix's user base and original content library grow, the company has more viewing data to figure out what content works, and in which markets.
Though the company can internally finance more spending than ever before, Netflix's content binge is still leading to a lot of cash burn. Free cash flow was negative $639 million in Q4 and negative $1.7 billion for the whole of 2016. With Netflix having set a 2017 content budget of $6 billion, the company expects another $2 billion in cash burn this year, and plans to tap debt markets to help pay for it.
In addition to the cash burn, it's worth keeping an eye on how Amazon's big international expansion (announced just a month ago) fares. Amazon has also been ramping its content spend, and is now squaring off against and undercutting Netflix in most of the latter's big foreign markets. Moreover, some of these places are more price-sensitive than the U.S.
But for now, Netflix is firing on all cylinders. And it's doing so with an investment-heavy, data-driven strategy that someone like Jeff Bezos can most certainly appreciate.